Medicare Part B excess charges are not common. Once in a while, a beneficiary may receive a medical bill for an excess charge. Doctors that don't accept Medicare as full payment for certain healthcare services may choose to charge up to 15% more for that service than the Medicare-approved amount. Below, we'll explain how excess charges work and what you can do to avoid them.
Find Medicare Plans in 3 Easy Steps
We can help find the right Medicare plans for you today
What Are Medicare Part B Excess Charges?
Healthcare providers generally accept Medicare assignment. Meaning, they agree with Medicare's payment terms and rates and bill Medicare accordingly.
However, there are a few doctors that may not accept Medicare-assignment and will charge you up to 15% more than the Medicare-approved amount for a specific service. Medicare excess charges are also known as balance-billing.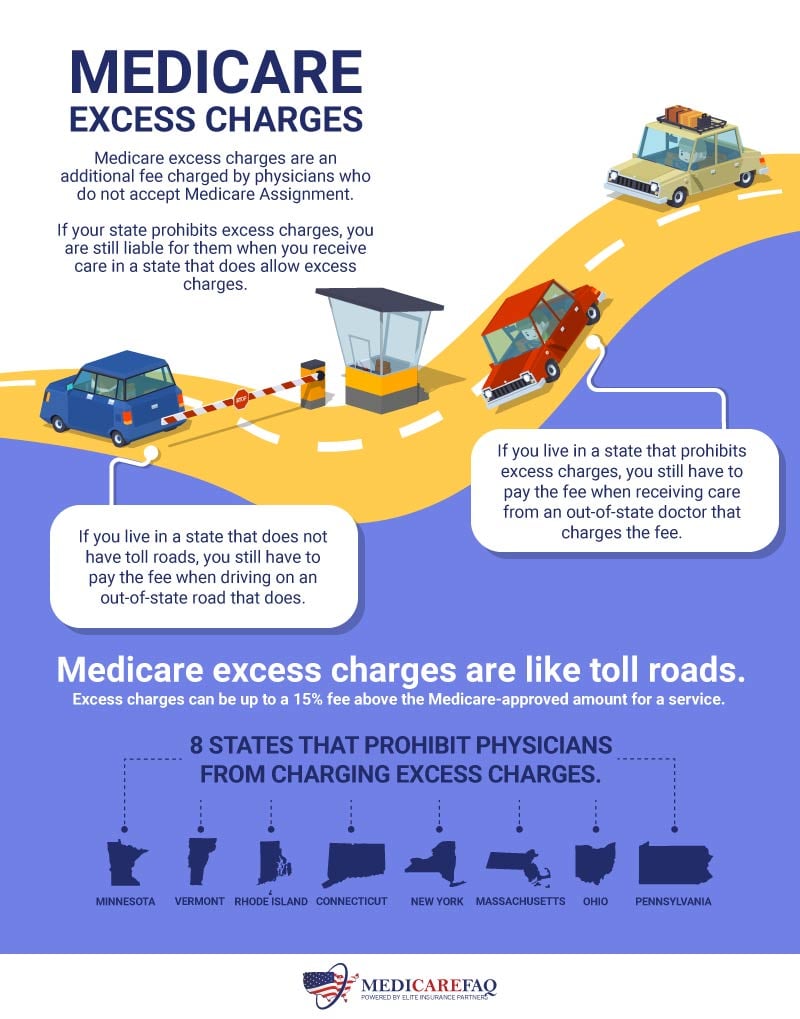 Today, over 96% of U.S. doctors choose to participate with Medicare and agree only to charge the amount Medicare has approved for the service.
How Medicare Part B Excess Charges Work
Let's say you visit a nonparticipating podiatrist to get a wart removed from your foot. If the Medicare allowable charge for the procedure is $300, the podiatrist could bill you up to an additional $45. Making the total cost for the procedure, $345. If you've already met the Medicare Part B deductible, your out of pocket costs would be $45 in addition to the 20% coinsurance. 20% of $300 is $60. Therefore, your total out of pocket cost for the procedure would be $105.
How to Avoid Part B Excess Charges
The most obvious way to avoid Part B excess charges is by only visiting doctors who accept Medicare Assignment. The easiest thing you can do is simply ask them if they accept assignment upon scheduling an appointment. You can also use the Medicare.gov physician finder tool to help speed up the process of finding a doctor who participates in Medicare. Additionally, you can supplement your Medicare coverage with a Medicare Supplement (Medigap) Plan that protects you from excess charges.
Medicare Overcharge Measure
The Medicare Overcharge Measure prohibits providers from charging beneficiaries excess charges. Currently, eight states are prohibited from charging excess fees due to the MoM law. If you live in one of these eight states, you'll never have to worry about excess charges.
FAQs
How to Get Help with Medicare Part B Excess Charges
If you're currently paying Part B excess charges, we can help! We can find a plan that covers excess charges. We'll search top insurers to find you the best coverage for your situation at the best price. Give us a call today! Get your free, no obligation quote and compare rates with all carriers in your area. Can't talk right now? We understand, and we're here to help. Complete our online rate form to see the available options in your area.

Enter ZIP Code
Enter your ZIP code to pull plan options available in your area.

Compare Plans
Select which Medicare plans you would like to compare in your area.

Get Quote
Compare rates side by side with plans & carriers available in your area.