There are many factors that impact the monthly premium price of your Medicare Supplement (Medigap) plan. Among other things, the pricing method used in your state or by the carrier you choose to enroll through does have a significant impact on the long-term cost of your Medigap plan. Because of this, becoming familiar with pricing methods will give you a deeper understanding of how insurance companies determine local rates.
Find Medicare Plans in 3 Easy Steps
We can help find the right Medicare plans for you today
There are three pricing methods used by Medicare Supplement insurance companies. While your state may require only one pricing method to be used by all carriers, some states allow the carriers to choose which method they use. Thus, you'll want to know how your premium is calculated before enrolling in coverage.
Below, we explain the difference between community-rated, issue-age-rated, and attained-age-rated Medicare Supplement premiums and how each rating method can impact your overall expenses.

Medigap Pricing Methods
Regardless of pricing method, carriers increase Medigap rates annually. Most of the best Medicare Supplement plan companies try to keep increases modest. It is easier to keep current policyholders happy than to find new policyholders.
Here are the three types of Medigap pricing methods:
Community-Rated
Issue-Age-Rated
Attained-Age-Rated
What Are Community-Rated Medigap Plans?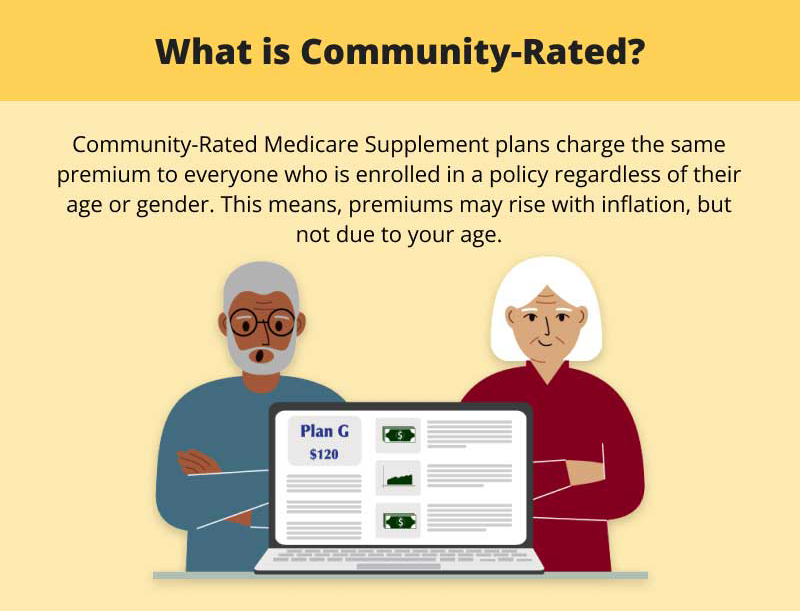 Everyone pays the same rate for a policy on a community-rated Medigap plan (also known as no-age-rated pricing). Your age does not factor into the equation that determines your premium.
For example, if you buy a community-rated policy at age 72, you will pay the same rate as someone buying coverage at age 65. Like the other two pricing methods, your premium increases because of inflation and other factors. In most cases, the 65-year-old is paying substantially more in an area with a community rating than they would pay in another location with a different rating method.
Although this rating method does not provide the best situation when first enrolling, premium prices tend to balance out as you age. Thus, not many carriers community-rate their Medigap plans.
Find Medicare Plans in 3 Easy Steps
We can help find the right Medicare plans for you today
Issue-Age-Rated Medigap Policies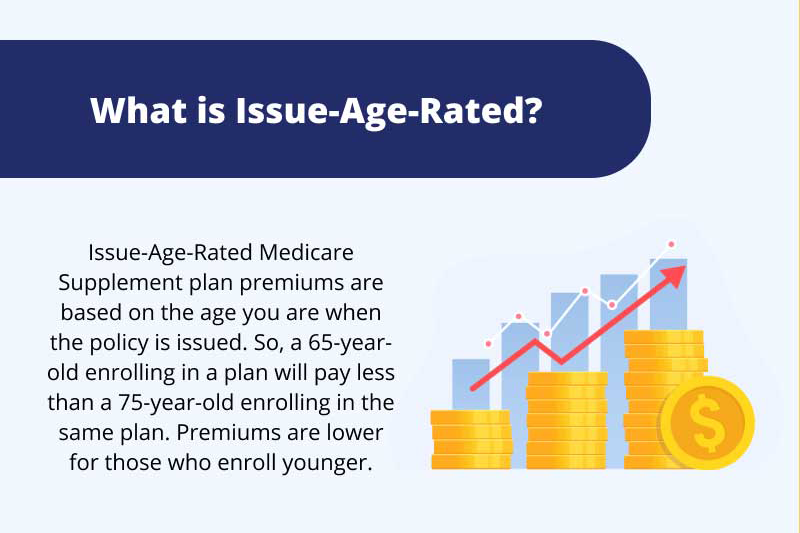 When you enroll in a policy that uses the issue-age rating method, your age does not play a role in determining your premium after the carrier initially sets this number. Instead, inflation, administrative costs, or other factors impact premium increases annually.
Insurance companies using this rating method know that age will not be a factor in rate increases. As a result, they usually charge steeper premiums in the beginning.
The premiums for issue-age policies increase at the state level. So, for example, when Cigna raises the Florida Medigap premiums for Medicare Supplement Plan N, everyone in the state with that plan sees a premium increase. In some states, insurance companies have no choice but to sell issue-age policies.
Many companies use a discount for those who sign up at age 65. As those people age, the discount slowly goes away. This results in a policy with a premium close to that of an attained-age policy during the duration of the discount.
Attained-Age Pricing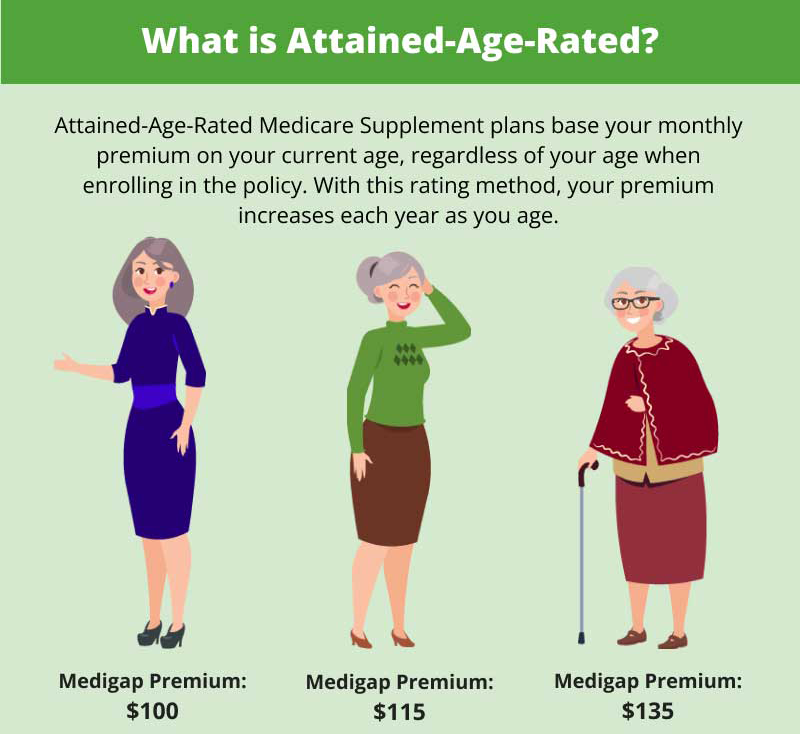 An attained-age policy can be the lowest-cost option when you are 65. However, you can expect your premium to go up as you get older. Like the other two pricing models, attained age premiums can also increase because of inflation or other factors.
Although several factors can cause your premium to increase, attained-age-rated policies are usually a better option. For someone turning 65, a premium could be $100 monthly on an attained-age policy and $140 per month for an issue-age or community-rated policy. Yet, all three policies will increase over time, eventually evening out.
Find Medicare Plans in 3 Easy Steps
We can help find the right Medicare plans for you today
What States Have Community-Rated Medigap Plans?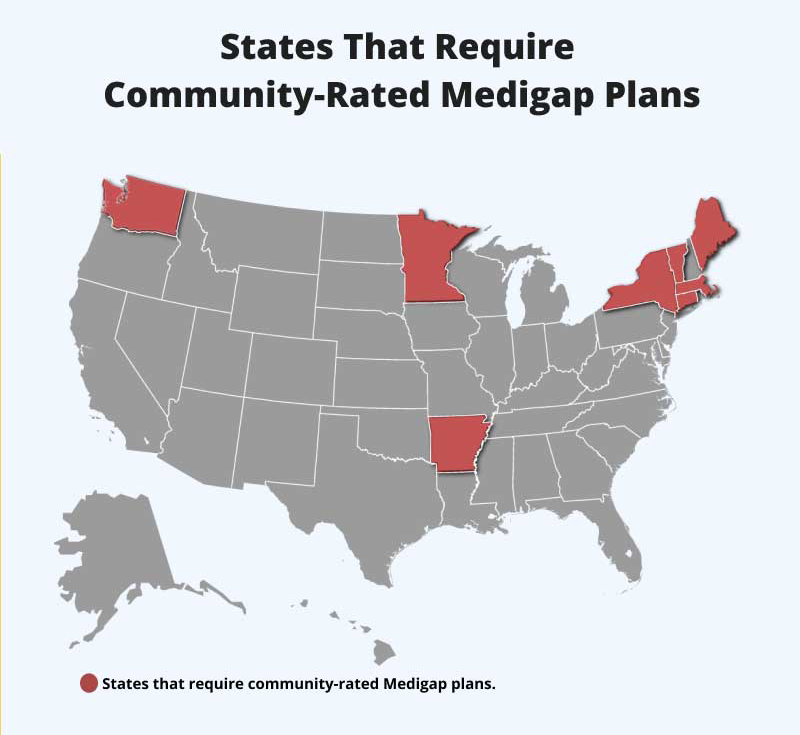 Eight states require Medigap insurance companies to community-rate their policies' monthly premiums.
The following are community-rated Medigap states:
Arkansas
Connecticut
Massachusetts
Maine
Minnesota
New York
Vermont
Washington
What States Require Issue-Age Medigap Plans?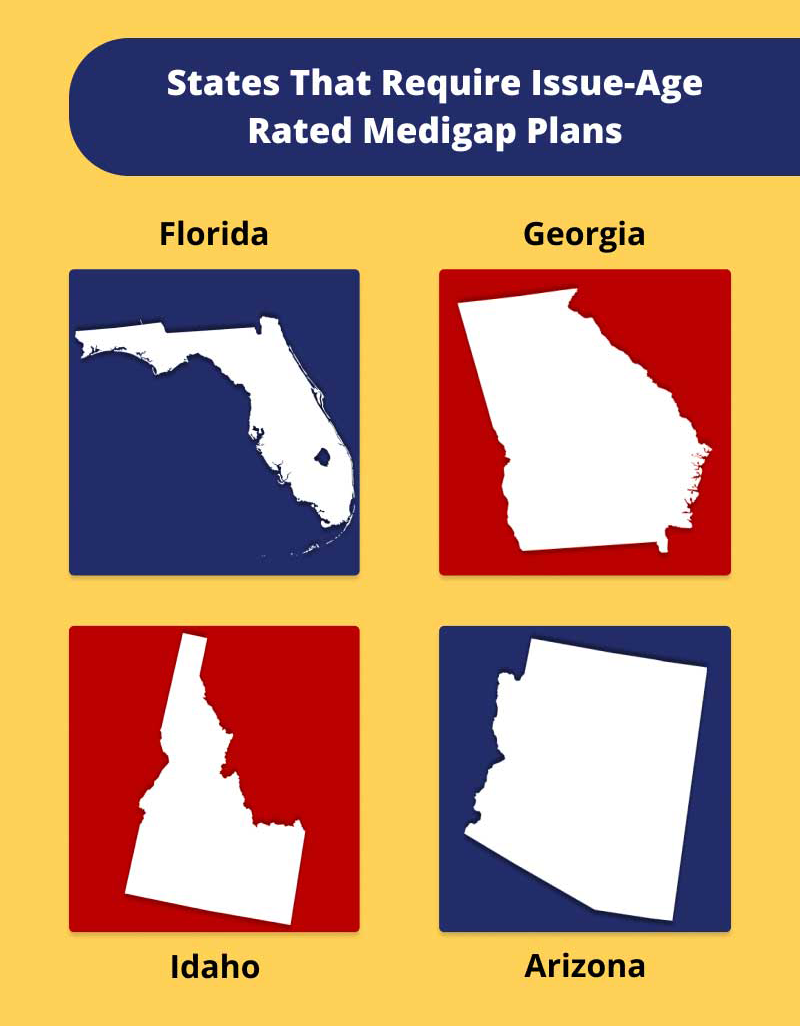 The following states require Medicare Supplement companies to rate their policies using the issue-age method:
Florida
Arizona
Idaho
Georgia
However, in these states, carriers can opt into using community ratings instead through an appeal process if they choose.
States that Offer Attained-Age Medigap Plans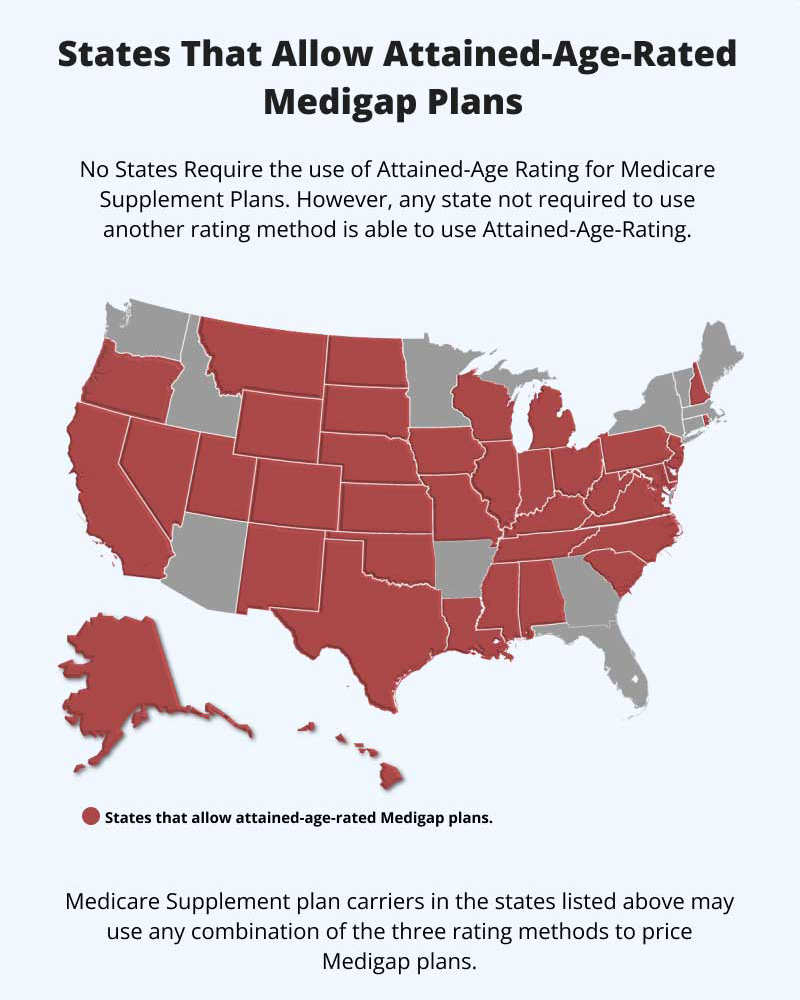 No state required that carriers offer Attaied-Age Medicare Supplement plans. However, there are several states that allow carriers to use this pricing method. These states include:
Alabama
Alaska
California
Colorado
Deleware
Hawaii
Illinois
Indiana
Iowa
Kansas
Kentucky
Louisiana
Maryland
Michigan
Mississippi
Missouri
Montana
Nebraska
Nevada
New Hampshire
New Jersey
New Mexico
North Carolina
North Dakota
Ohio
Oklahoma
Oregon
Pennsylvania
Rhode Island
South Carolina
South Dakota
Tennessee
Texas
Utah
Virginia
West Virginia
Wisconsin
Wyoming
Attained-Age vs. Issue-Age
Issue-age-rated Medigap policies base your premium on your age when you buy the policy. Thus, the older you are when you get your policy, the more you will pay.
Find Medicare Plans in 3 Easy Steps
We can help find the right Medicare plans for you today
Under the issue-age pricing model, a person who buys a policy at age 72 will pay a higher monthly premium than someone who buys the same plan at age 65 will at age 72.
On the other hand, attained-age-rated Medigap policies are standard among insurance carriers. Attained-age-rated Medigap pricing always bases your premium on your current age (the age you have attained), no matter how long you have had your policy. Thus, annual premium increases are to be expected.
With an attained-age rating, the carrier will base your premium on your age when you first buy your policy. So, older people pay more under this pricing model. For example, a person purchasing a policy at age 72 will pay more than someone buying the same policy at age 65.
When a carrier uses the attained-age rating method, they calculate your premiums using your current age. Therefore, your premium increases along with your age.
For example, suppose you enroll in a policy at $120 a month at age 65. Your monthly premium for the same policy might be $165 by the time you turn 72.
How to Find the Best Medigap Rating Method
Some states allow each carrier to choose their own rating method where other states may tell the carriers which method is allowed to be used. Because of this, you will want to work with a licensed Medicare agent who understands the laws of your state and can inform you of your available Medigap pricing methods.

To begin working with an agent licensed in your area, complete our online rate form. From there, you will receive a side-by-side plan comparison of all the top plans in your area that match your budget and healthcare needs.

Enter ZIP Code
Enter your ZIP code to pull plan options available in your area.

Compare Plans
Select which Medicare plans you would like to compare in your area.

Get Quote
Compare rates side by side with plans & carriers available in your area.