If you are reaching Medicare eligibility, you are probably wondering what Original Medicare consists of. Whether you are preparing to retire or about to celebrate your 65th birthday, you will need to make decisions about your Medicare coverage soon. Not only are there dozens of plans and coverage types available, but Medicare has unique options making it important to choose the right coverage for you. Below, we provide you with the information needed to understand what Original Medicare is and how your benefits work.
Find Medicare Plans in 3 Easy Steps
We can help find the right Medicare plans for you today
What is Original Medicare?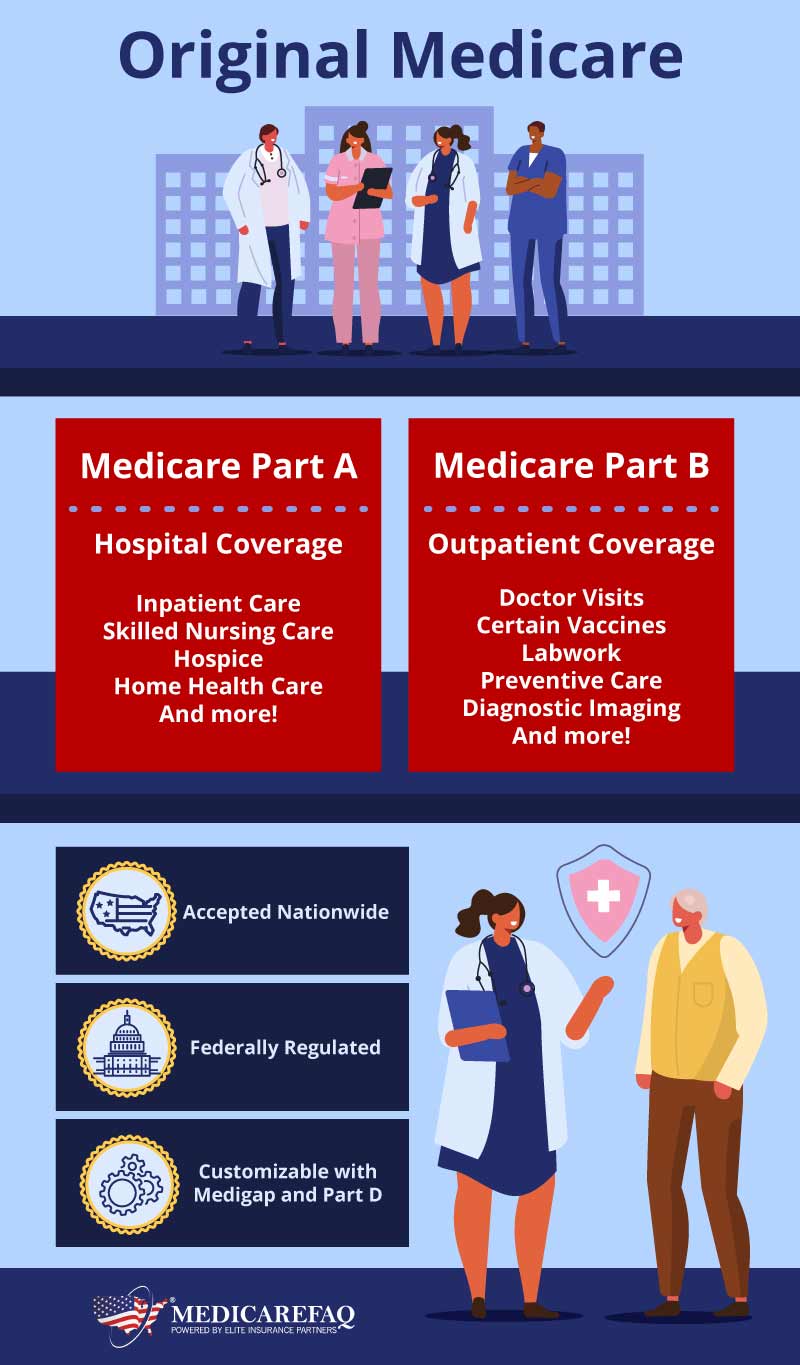 Original Medicare was signed into law by President Johnson in 1965. Original Medicare provides healthcare coverage to eligible beneficiaries for both inpatient and outpatient services at medical facilities nationwide and is a fee-for-service plan that is managed by the federal government.
Since its inception in 1965, Original Medicare has consisted of the same two parts. Medicare Part A and Medicare Part B. For more than 50 years, Original Medicare has provided coverage for Seniors and Americans with disabilities.
With Original Medicare, you can go directly to the doctor or hospital of your choice, bypassing prior authorizations or referrals. The government is responsible for paying its portion directly to your provider and you cover the left-over costs. The only qualification for care is that the doctor you choose accepts Medicare.
Original Medicare: Medicare Part A vs. Medicare Part B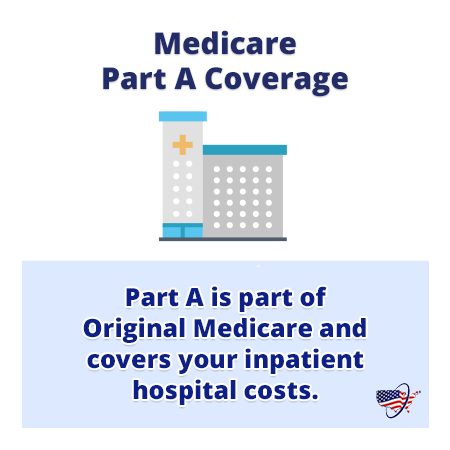 Medicare Part A provides hospital inpatient coverage. This means hospital visits, hospice care, and home health care all falls under the Original Medicare umbrella.
For many beneficiaries, Medicare Part A has a $0 monthly premium, but some pay for this coverage. The premium depends on how long you've contributed to Medicare taxes.
Original Medicare only covers Medicare Part A services after you've met the per-occurrence deductible. A new occurrence or benefit period starts when you've been out of an inpatient facility for 60 days or more.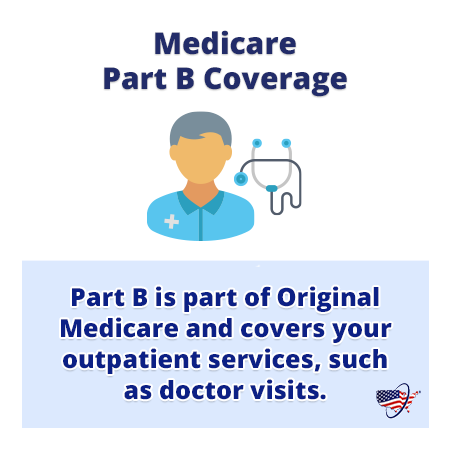 Medicare Part B is the outpatient portion of Original Medicare. Medicare Part B benefits can be utilized at the doctor's office or for approved durable medical equipment.
While Medicare Part A is premium-free for most, Medicare Part B has a monthly premium based on income.
For outpatient services, Original Medicare covers 80% after you meet the annual deductible.
What Are the Qualifications for Original Medicare?
Understanding Original Medicare Premiums
Each month, you'll likely pay a standard premium for Medicare Part B coverage. However, if your income exceeds a certain amount, you may pay a larger monthly premium. The cost of Medicare depends on your situation, income, plan choice, and applicable late enrollment fees.
How to Enroll in Original Medicare
Original Medicare enrollment is done through your local Social Security office. You can apply for Original Medicare via phone, online through the Social Security website, or in person.
Generally, you can pick one of these three periods to enroll:
Initial Enrollment Period: This occurs when the beneficiary turns 65.
Special Enrollment Period: Qualifying life events that allow you to make changes to your Medicare coverage.
General Enrollment Period: Runs from January 1 to March 31 annually. During this time, you may sign up if you didn't do so during your Initial Enrollment Period. Delaying Part B enrollment may result in a late enrollment penalty.
FAQs
How to Get Help Understanding Original Medicare
We hope the above information was helpful. We're here as a resource to help you better understand all aspects of Medicare. Original Medicare doesn't cover everything. Part A and Part B both leave 20% of costs uncovered for you to pay out-of-pocket.

However, Medicare Supplement or Medigap plan will pay for what Medicare doesn't. To find out more about Medicare Supplements, call the number above.

One of our agents will ask you a series of questions to better identify your policy match. Then, they can compare all the top Medicare insurance companies in your service area to find the right option. You'll see why many seniors trust us with their insurance needs.

We have your back long after enrollment. Our Client Care Team ensures our customers have a great experience for years to come. We can answer all your Medicare questions. If calling now isn't an option, fill out our online rate form to start the process. An agent will be in contact with you to provide free, no-obligation advice.

Enter ZIP Code
Enter your ZIP code to pull plan options available in your area.

Compare Plans
Select which Medicare plans you would like to compare in your area.

Get Quote
Compare rates side by side with plans & carriers available in your area.