Our team of skilled writers delivers up-to-date and educational Medicare content derived through in-depth research and industry knowledge.
Jagger Esch is President, CEO, and Co-Founder of Elite Insurance Partners (EIP) and MedicareFAQ.com. As our resident Medicare Expert, Jagger combines his years of industry knowledge with his passion for helping others to propel MedicareFAQ.com forward as a leading online Medicare resource and education center for seniors and individuals with disabilities.
Jagger has contributed articles to MedicareFAQ.com since its inception in 2014 and continues to share his unmatched industry knowledge across the platform.  Outside work, Jagger is an avid Tampa Bay sports fan and enjoys spending time outdoors with his family.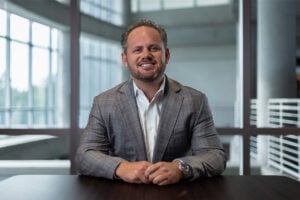 David Haass is the Chief Technology Officer and Co-Founder of Elite Insurance Partners and MedicareFAQ.com. His primary role at the company is overseeing the advancement of industry-leading technology across brands. He holds a Bachelor of Science in Business Administration and Management from the University of Florida.
David regularly contributes articles to MedicareFAQ.com and is an active member of the Forbes Finance Council, where he is also a featured author. He is a chairholder on the board of directors for Wheelchairs 4 Kids, a local Pinellas County charity. In his spare time, David enjoys being on the water and cheering on his alma mater during Gators games.
Kayla Hopkins is an accomplished writer and Medicare guru serving as the Editor of MedicareFAQ.com. Upon completing her Communications degree from Ohio University, Kayla dedicated her time to understanding the ever-evolving landscape of healthcare. With her extensive background as a Licensed Medicare Insurance Agent, she brings a wealth of knowledge and expertise to her writing.
Kayla's journey into the world of Medicare began with her in-depth Medicare101 training and insurance licensing, which equipped her with a comprehensive understanding of the intricacies and nuances of the Medicare program. Through her expertise and thorough understanding of the Medicare health insurance program, she is skilled in providing clear and concise information to help individuals better understand the complexities of Medicare.
As the Editor MedicareFAQ.com, Kayla is committed to helping individuals make informed decisions regarding their Medicare coverage.
Buddy Blouin has been an SEO writer and content creator for several years. Since graduating from Nicholls State University with a Bachelor of Science in Management and a minor in Marketing, Buddy has carved a path in the digital marketing industry.
From online training to continual learning opportunities, Buddy continues to hone his skills as Medicare guru and Content Strategist at EIP. He has a knack for translating the complexities in the healthcare world into an easy-to-understand format. The in-depth Medicare 101 training Buddy received at MedicareFAQ has elevated his knowledge to become a well-rounded expert on the federal government's program and the supplemental options.
With a background ranging from home insurance to non-destructive testing and everything in between, Buddy continues to use his experiences to bring complex topics to life in engaging, understanding ways. When he's not writing, you can find Buddy enjoying a soccer game, trying a new recipe, or crafting the perfect cocktail.
Autumn Oberkehr is a Content Strategist at Elite Insurance Partners. With a Bachelor's degree in journalism from Rutgers University, she has a strong background in SEO, fact-checking research, and health/wellness writing.
Through Medicare101 training, extensive research, and continuous education, Autumn has a knack for helping readers understand the ever-changing nuances of Medicare. She is dedicated to eliminating the confusion of finding the correct Medicare information by making it as accessible and up-front as possible.
Allison Auvil is a Content Strategist at Elite Insurance Partners. With a bachelor's degree in visual arts, Allison brings a creative perspective to her writing. She has been involved in content writing and editing for over five years.
The combination of an extensive Medicare101 training program and daily thorough research has made Allison a Medicare guru. A detail-oriented writer, Allison is focused on writing pieces that are accurate, informative, and easy to read. She begins her writing process with meticulous research and note-taking. Once her data is compiled, Allison enjoys the challenge of taking complex data and information and creating articles that are easy to understand.
Outside of writing, Allison enjoys staying active and trying new foods. Her dedication to staying healthy drives her passion for helping inform people about Medicare.
Ashlee Zareczny is the Compliance Manager for MedicareFAQ.com With a strong commitment to providing the most accurate Medicare information to our readers, Ashlee goes the extra mile to ensure each article has been well vetted to comply with various standards.
In pursuit of her passion for improving Medicare transparency, Ashlee holds a bachelor's degree in Business Management and has several years of experience working in the Medicare insurance industry. Armed with this knowledge, she is passionate about educating others and ensuring we deliver high-quality and up-to-date content.
Outside of her professional pursuits, Ashlee is a passionate adventurer who embraces the beauty of the Florida sun. When she's not hard at work, you can often find her exploring the outdoors and enjoying wildlife and nature. As a true Floridian, she is determined to share her love of the environment with her family, fostering a sense of appreciation through frequent outings.