A Medicare Supplement birthday rule allows policyholders in specific states an open enrollment period each year surrounding their date of birth. Each state's birthday rules differ. However, not every state offers this enrollment opportunity. During this time period, beneficiaries can enroll in Medicare Supplement (Medigap) coverage without the fear of being turned away due to health conditions. Below, we review the six states with a Medigap birthday rule.
Find Medicare Plans in 3 Easy Steps
We can help find the right Medicare plans for you today
What is the Medicare Birthday Rule?
The Medicare Supplement birthday rule is an annual protection that is afforded to Medicare beneficiaries in certain states. It's an open enrollment period available for a specific timeframe around your birthday where purchasing a Medigap policy without underwriting or a waiting period is possible.
There are eight total Medicare Supplement birthday rule states, and while each of these states participates, each also has its own unique parameters surrounding this opportunity. Therefore, it's important to understand not only who has the Medigap birthday rule but how it's applied within each.
For the most part, the time frames in which the birthday rule applies to you vary from state to state, but there are also restrictions based on the carriers you can enroll in that can affect your coverage. Furthermore, your state may also have age parameters that can affect when the Medicare Supplement birthday rule applies to your benefits.
What States Have the Birthday Rule?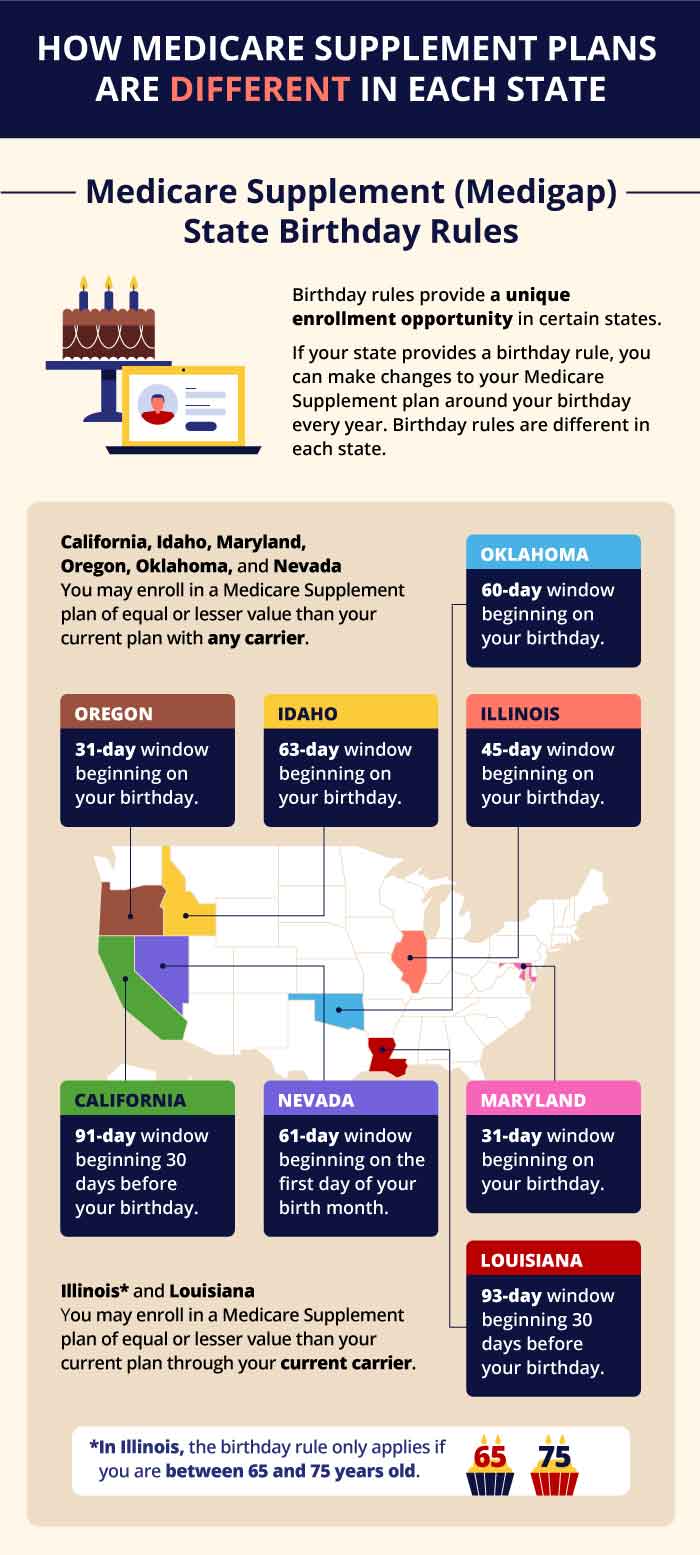 There are eight states that have a Medigap birthday rule, including California, Idaho, Illinois, Louisiana, Maryland, Nevada, Oklahoma, and Oregon. Before 2022, only two states provided Medigap beneficiaries with a birthday rule. Oregon and California were the first. Now, six additional states are implementing birthday rules for Medicare Supplement policies.
In each of the eight states, rules and regulations surrounding the Medicare Supplement birthday rule are different. Thus, some states allow policyholders to change to another plan or carrier, while others only enable changes within the same insurer.
Below, we discuss how each state utilizes its birthday rule. In addition, we will review how residents can benefit in their state.
California and Oregon Birthday Rule
As the originators of the birthday rule, California and Oregon continue to allow residential policyholders to utilize this annually.
The California birthday rule applies to all residents who already have a Medigap policy. Most importantly, the rule starts 30 days before their birthday and ends 60 days following. During this time, policyholders in The Golden State can change to any plan of equal or lesser benefit with the carrier of their choice. Beneficiaries do not need to answer underwriting health questions.
The Oregon birthday rule works similarly to California's and allows policyholders to change to any carrier or plan of equal or lesser benefit with no health underwriting. The Beaver State's birthday rule begins on your date of birth and ends 30 days following. This gives residents a 31-day period to make changes to their plans.
Other States With a Birthday Rule
In recent years, Idaho, Illinois, Louisiana, Nevada, Maryland, and Oklahoma joined California and Oregon on the list of states with a Medicare Supplement birthday rule. This means there are now eight states that allow their residents an annual birthday rule to review Medigap coverage.
Find Medicare Plans in 3 Easy Steps
We can help find the right Medicare plans for you today
How To Take Advantage of Your State's Medicare Supplement Birthday Rule
Taking advantage of your state's Medigap birthday rule is a great way to save money and receive the benefits you need for your healthcare. Only certain states offer this unique period, and navigating your state's guidelines doesn't have to be complicated.

In short, Medicare Supplement birthday rules offer a chance to change your Medicare Supplement coverage without answering Medicare Supplement underwriting questions. Thus, the rules open up plan options for those who would not otherwise pass the underwriting process due to pre-existing conditions.

If you reside in one of the eight states with a Medigap birthday rule, the first step is understanding the stipulations in your specific state. However, if you are on a Medicare Advantage plan, this is not an opportunity for you to change to Original Medicare and add a Medicare Supplement.

If you have a Medigap policy and reside in any state with a Medicare Supplement birthday rule, give us a call, or fill out our online rate comparison form to find the best premium rate for a policy near you.


Enter ZIP Code
Enter your ZIP code to pull plan options available in your area.

Compare Plans
Select which Medicare plans you would like to compare in your area.

Get Quote
Compare rates side by side with plans & carriers available in your area.