Summary: Medicare coverage comes in many different forms, and understanding each can help you enroll properly. You'll note that the Medicare coverage age is typically at age 65, but there are exceptions. Medicare coverage guidelines are in place to help enrollees stay organized while covering healthcare costs. Estimated Read Time: 13 mins
Find Medicare Plans in 3 Easy Steps
We can help find the right Medicare plans for you today
Table of Contents:
When you understand your Medicare coverage, you have more control over your healthcare benefits. Medicare is a federal health insurance coverage formed in 1965. It covers people 65 and over and those with disabilities or certain diagnoses.
However, Medicare coverage in 2023 is much different than it once was. This is because as the needs of beneficiaries have evolved over time, so too have the ways Medicare coverage can be achieved. In addition to Original Medicare, there are also Medicare Supplement plans, Medicare Advantage plans, and Medicare Part D prescription drug coverage.
The federal government distributes Original Medicare benefits (Medicare Part A and Part B), but supplemental coverage like Parts C and D are provided by private carriers. Furthermore, there are Medicare coverage guidelines to follow that will help determine how you enroll.
At first glance, it's understandable if you feel a bit confused. Medicare coverage guidelines and the many moving parts of your benefits can be a lot to take in at once. However, with so many U.S. citizens utilizing Medicare, we hope to break down the program at large. Below, we're simplifying Medicare coverage so that you can make an informed decision about your benefits.
What Medicare Covers
Medicare coverage comes in many different forms. When it comes to what Medicare covers, you'll receive benefits for inpatient and outpatient healthcare services. These services and benefits include hospital visits, doctor visits, preventive services, medical equipment, lab tests, and more.
To receive coverage for medications, you'll need to buy a separate policy, Medicare Part D. Further, many people buy a Medicare Supplement (Medigap) plan or a Medicare Advantage plan (Medicare Part C) to lower costs even further. Here is how each part of Medicare covers your healthcare needs:
What Does Original Medicare Cover?
When Original Medicare is referred to, it's a term that captures the benefits found in both Medicare Part A and Part B.
Find Medicare Plans in 3 Easy Steps
We can help find the right Medicare plans for you today
Medicare Part A covers inpatient care but not long-term care or custodial care.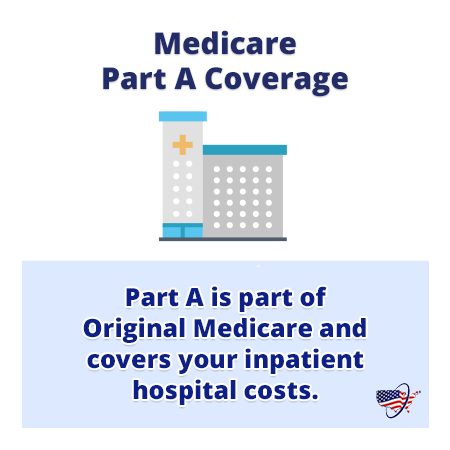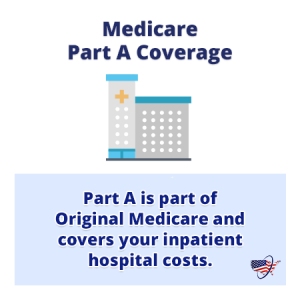 It does help cover the cost of hospice care and come-home healthcare. Basically, if you incur a healthcare expense that is deemed medically necessary while admitted into a hospital, you're covered through Medicare Part A.
A prime example would be Medicare Part A covering medication you receive while in the hospital. While your benefits won't cover drugs at a pharmacy, Part A will cover the cost of your medication while you are admitted. Additional coverage you'll receive with Medicare Part A includes operations, recovery rooms, rehab, meals, etc.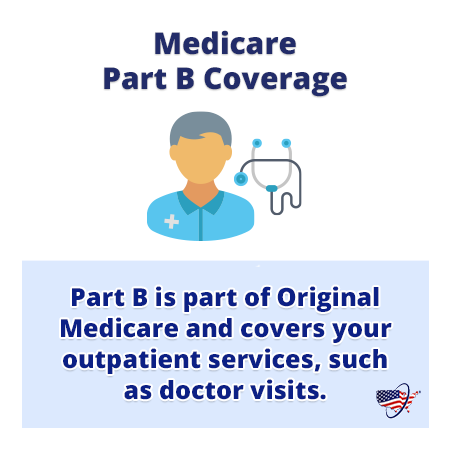 Medicare Part B is the other part of Original Medicare, but instead of focusing on the costs of staying at a hospital, your benefits will cover doctor and outpatient services. Part B includes services that Part A does not, and services for therapists are also included. Any Durable Medical Equipment you need has coverage, as does preventive and medically necessary healthcare services. Common examples include vaccinations, screenings, mental health counseling, etc.
However, Medicare Part B does come with a monthly premium that can increase depending on your income bracket. You'll also have to cover an annual deductible through Part B, which will also change each year. Additionally, paying copays and coinsurances when receiving healthcare services may also be necessary.
Just as with Medicare Part A, your Part B benefits will apply to healthcare services deemed medically necessary by your provider. Anyone eligible for Medicare Part A can also sign up for Part B, so long as they cover the premium, deductible, and fees that come along with the benefits. Some Medigap plans may cover your Part B deductible, but eligibility restrictions apply.
Medicare Advantage (Part C) Coverage
Medicare Advantage (Medicare Part C) coverage is available through private insurance companies. These plans help combine Original Medicare benefits with additional coverage to become your primary insurance policy. Speaking with a licensed insurance agent is a great way to learn more about your options.
Everyone has different healthcare needs and budgets to consider, which means Medicare Advantage may be right for some but not others. However, if you're looking for coverage that takes on the same responsibilities and coverage as Original Medicare, which may also have additional features, Medicare Advantage may be right for you.
Find Medicare Plans in 3 Easy Steps
We can help find the right Medicare plans for you today
Medicare coverage through Part C can vary from plan to plan and location to location. Again, comparing your options with a licensed agent will provide a greater scope of the options available where you live.
Medicare Part D Coverage
Medicare Part D is prescription drug coverage, as Original Medicare doesn't cover prescriptions. Remember, if you are receiving medication while in an inpatient setting, Original Medicare will cover it if medically necessary. But prescription drugs you receive from home and take at home require separate coverage.
Offered by private insurance companies, Medicare Part D comes from many different carriers and plans. Each plan is based on a formulary, which is the list of the prescription drugs covered by each plan. Before you enroll, you'll want to check the formulary to be sure that your medication is covered.
Medicare coverage for prescription drugs is available, but if you don't sign up as soon as you are eligible, you're going to have a penalty to pay. Keep in mind this penalty stays with you as long as you have Medicare Part D coverage. Thus, you pay a higher premium each year.
Medicare Supplement (Medigap) Coverage
Finally, you can't mention Medicare coverage without talking about Medigap plans. This nickname came to be as Medicare Supplement plans bridge the gap in coverage. Medicare Supplement plans help beneficiaries cover some of the leftover costs that come to be when using Original Medicare. Here's how they work:
Offered by private insurance companies, there are twelve lettered plans available. Each offers its own level of benefits, and they are each standardized. There are a few exceptions, specifically for those in Massachusetts, Minnesota, and Wisconsin, but generally speaking, the same plans are offered throughout the U.S.
Because they are standardized, it doesn't matter which carrier you enroll in. You'll receive the same level of coverage.
Although offered by carriers, Medicare coverage through supplemental policies must include anything Original Medicare would cover. You also must be enrolled in Original Medicare to receive a Medigap plan.
Find Medicare Plans in 3 Easy Steps
We can help find the right Medicare plans for you today
If you are enrolled in a Medicare Supplement plan or a Medicare Advantage plan, you can't enroll in the other. You can only have one form of coverage at a time. First-dollar plans, specifically Medicare Supplement Plans C and F, are not discontinued, but newly eligible persons can't enroll in them. These plans are available if you become eligible for Original Medicare before January 1, 2020.
What Does Medicare Not Cover?
Medicare coverage rules are in place to help organize how benefits can be applied. While you will receive meaningful benefits, not everything related to your healthcare will be covered. Some of the benefits many people think are covered that aren't include long-term care, acupuncture, and routine foot care. Dental, including dentures, doesn't have coverage through Medicare. Further, eye exams, hearing aids, hearing exams, and elective cosmetic surgery won't be covered by Medicare.
Services Medicare doesn't cover; you'll pay for yourself. The basic rule of thumb is to remember that Medicare coverage is for medically necessary healthcare services. Meaning your healthcare provider will need to prove that the care you are receiving is medically necessary for your health at the time.
There are exceptions that can apply. For example, vision benefits are excluded from Medicare, yet there are situations where certain specific cataract surgeries are covered because they are deemed medically necessary. To be sure, it's always a good idea to consult with your healthcare provider before receiving services to see whether or not your Medicare coverage is acceptable for any given procedure.
Medicare Coverage Age
Turning 65 means you're eligible for Medicare coverage. If you've been collecting Social Security Disability Insurance (SSDI) for over 24 months, you may be Medicare-eligible before 65. At the beginning of the 25th month, you're automatically enrolled in Medicare. Here is how Medicare coverage breaks down in regard to age:
Beneficiaries between the ages of 65 and 74 make up a whopping 44% of the recipients of Medicare.
26% of Medicare beneficiaries are between the ages of 75 and 84 years old.
13% of Medicare beneficiaries are 85 years old and older.
The remaining 17% of beneficiaries receiving Medicare coverage are under the age of 65 and qualify through disability or a diagnosis of amyotrophic lateral sclerosis (ALS) or End-Stage Renal Disease (ESRD).
When Does Medicare Coverage Start?
Your Medicare coverage will start at age 65 or after receiving SSDI for 24 months. Suppose you are eligible for Medicare coverage due to ALS. In that case, you are instantly eligible, but if you qualify because of ESRD, you'll need to first undergo four months of dialysis before receiving coverage.
There are many different enrollment periods to understand, beginning with the Initial Enrollment Period. This includes the three months prior, the month of your 65th birthday, and the three months following. For most, this seven-month period is the first chance to sign up for Medicare coverage.
You'll have another opportunity to sign up during the General Enrollment Period. The period takes place yearly from January 1st through March 31st. Coverage begins the month after you enroll.
The Annual Election Period Annual Enrollment Period runs from October 15 to December 7th of every year. This period is only for those currently enrolled in Medicare and allows current recipients to change their Advantage or Part D for the upcoming year.
Find Medicare Plans in 3 Easy Steps
We can help find the right Medicare plans for you today
Also, the Annual Enrollment Period allows you to return to Original Medicare and pick up a Medicare Supplement plan. January 1st is when new coverage will start.
If you find yourself stuck with Part C, you can use the Medicare Advantage Open Enrollment Period, which also runs between January 1st and March 31st, to return to Original Medicare.
If you delayed coverage or your circumstances change, you may also be eligible for a Special Enrollment Period. These are qualifying life events in which a change to your Medicare coverage can occur without facing medical underwriting, which can deny you coverage or elevate your premiums because of your health history.
Medicare Coverage Requirements
Medicare coverage requirements must be met before coverage will begin. In order to qualify for Medicare coverage, you or your spouse must meet the following requirements:
Are a U.S. citizen or permanent legal resident of the United States for a minimum of 5 years.
Be 65 years or older.
In addition to being a U.S. citizen, Medicare coverage requirements for those under 65 include:
Entitled to Social Security benefits for a total of 24 months.
Diagnosed with Lou Gehrig's disease, which would qualify you immediately. This is also known as ALS. Permanent kidney failure that requires regular dialysis treatment (or a kidney transplant).
If you're suffering from ESRD, you'll need to have at least four months of dialysis before qualifying for Medicare coverage.
However, you only need to meet one of the requirements above to receive Medicare coverage under 65.
Remember, if you have a Health Savings Account, you may no longer add to your HSA once Medicare begins. When you contribute to your HSA after your Medicare coverage begins, you might receive a tax penalty.
Medicare Coverage Rules
Medicare history is filled with many different amendments and changes. The Medicare coverage rules continue to evolve as healthcare does in the United States. However, though its history goes back further, Medicare was written into law during the sixties and is still used today to provide healthcare benefits to millions of Americans.
Find Medicare Plans in 3 Easy Steps
We can help find the right Medicare plans for you today
The U.S. Centers for Medicare & Medicaid Services (CMS) is in charge of setting not only the rules that apply to the program but the standards in place for how Medicare operates. This includes conducting national coverage determinations (NCDs), which use research to determine which healthcare services are covered by the program.
Losing Medicare Coverage
You can lose Medicare coverage if you don't make your payments. Furthermore, you can also lose Medicare coverage if you were disabled and no longer have a disability.
Should you find yourself unable to make your monthly payments, you'll get warning letters in the mail. If you don't make this payment, your Medicare coverage will be terminated.
Applying for Medicare Coverage
You can apply online here. Applications take less than 10 minutes to complete online, and there will be no further forms required.
When applying for Medicare, you may sign up for Parts A and B. But remember, Medicare Part B requires a premium. Although, if you later decide to register, you could face a Part B late-enrollment penalty if you didn't have creditable coverage.
You'll also want to apply for Part D when you're first eligible; it has a penalty for not signing up when first eligible.
Who Is Covered by Medicare?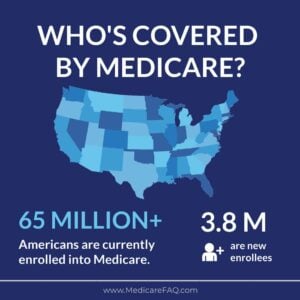 There are more than 65 million people enrolled in Medicare coverage.
A vast majority of individuals on Medicare deal with a multitude of health issues, some even including multiple chronic conditions.
Many beneficiaries live on very modest monthly incomes, and with the sky-high costs related to healthcare, Medicare can offer a breath of fresh air.
Women on Medicare Coverage
For the most part, women on Medicare tend to have more health needs and face more chronic conditions than men. A few of these conditions include hypertension, osteoporosis, and arthritis.
Women on Medicare tend to have more physical limitations with daily living than men.
Since women usually live longer than men do, women make up about three-quarters of Medicare beneficiaries in long-term care facilities, such as nursing homes.
What Medicare Benefits are Most Utilized?
Medicare Part A and Part B services are the most used benefits. This can include the fact that many also use benefits from Medicare Advantage. Here's how Medicare coverage breaks down by usage:
30% of the benefits used can be attributed to Medicare Advantage.
Inpatient services make up about 21% of the benefits used.
Medicare Part D services account for 14%.
11% of the benefits used by enrollees are for miscellaneous healthcare services.
Doctors' payments equate to 10% of the benefits used.
Outpatient services through a hospital facility equate to 7%.
Skilled nursing facilities are at 4%.
Home healthcare services comprise 3% of the Medicare coverage used by beneficiaries.
Find Medicare Plans in 3 Easy Steps
We can help find the right Medicare plans for you today
Once you enroll in Medicare Part B, you can also enroll in supplemental Medicare coverage. Working with a licensed Medicare agent will help you explore your options and find the right coverage for your needs.

Remember, Medigap plans are standardized, but how much you pay will vary from carrier to carrier. This is why it's always essential to shop and compare different coverages. For some, Medicare Advantage may be a better option, and it's also necessary to look at all the Medicare coverage options available.

That's where we can help! Partnering with several top-rated carriers, we provide you with a range of Medicare coverage options, assess your needs, and deliver personalized solutions for mitigating your healthcare costs. Give us a call or complete our online rates form to compare coverage in your area today.

Enter ZIP Code
Enter your ZIP code to pull plan options available in your area.

Compare Plans
Select which Medicare plans you would like to compare in your area.

Get Quote
Compare rates side by side with plans & carriers available in your area.
Sources:
MedicareFAQ is dedicated to providing you with authentic and trustworthy Medicare information. We have strict sourcing guidelines and work diligently to serve our readers with accurate and up-to-date content.