Original Medicare coverage consists of two parts. While Medicare Part A is inpatient hospital coverage, Medicare Part B covers outpatient coverage for various medical services and doctor appointments. This coverage is available for preventive and medically necessary care.
What Medicare Part B Covers
Medicare Part B offers comprehensive coverage for outpatient services, durable medical equipment, and doctor visits. The two main types of coverage this part of Medicare includes are medically necessary and preventive.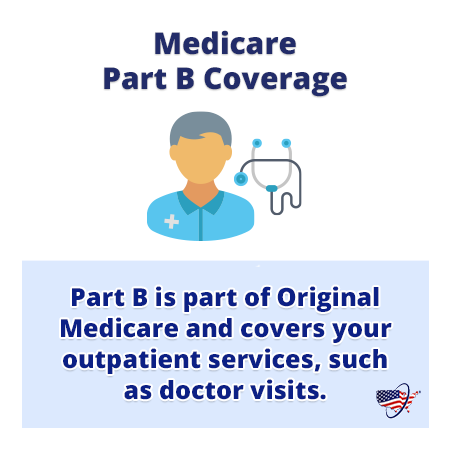 The medically necessary coverage encompasses a variety of tests, procedures, and care options. A medical service or supply must be a requirement for treating or diagnosing a medical condition for Medicare to consider them medically necessary. Each situation is different, so a medical supply or service that is medically necessary for one person may not be for another.
It is easy to keep up with your general health needs through Medicare's outpatient insurance by utilizing annual wellness visits. Medicare Part B covers the following preventive care services:
Vaccines
Annual cancer screenings
Lab work
Mental health counseling
You can receive many preventive services and more at your annual wellness visit.
Alongside preventive care services, Medicare Part B covers certain outpatient services you receive in the hospital. These include:
Surgeries
Diagnostic imaging
Chemotherapy
Dialysis
If you are administered drugs while at the hospital, Medicare Part B will also provide coverage.

Listen to this Podcast Episode Now!
What Does Medicare Part B Not Cover?
Like Medicare Part A, Part B does not provide dental, vision, hearing, or prescription drug coverage benefits. Further, it does not cover anything not considered medically necessary or preventive, nor any medical services provided by non-Medicare-participating providers. Finally, inpatient services only receive coverage under Part A of Medicare.
Medicare Part B Costs
When you enroll in this part of Medicare, you are responsible for its premium. In 2022, the standard Medicare Part B premium is $170.10 each month. However, those in a higher income bracket will pay a higher monthly premium.
For most beneficiaries, the premium is automatically deducted from their monthly Social Security benefits check. If you do not receive Social Security benefits, you will get a quarterly bill from Medicare.
Medicare offers an online payment option called Easy Pay, which you can access with a MyMedicare account. Additionally, you may pay your quarterly premium by mail instead.
Alongside the premium, this coverage includes an annual deductible and 20% coinsurance, for which you are responsible for paying out-of-pocket. In 2022, the Medicare Part B deductible is $233.
Once you meet the annual deductible, Medicare will cover 80% of your Medicare Part B expenses. Medicare Supplement plans can close this coverage gap, reduce other out-of-pocket costs, and is accepted anywhere Original Medicare is accepted.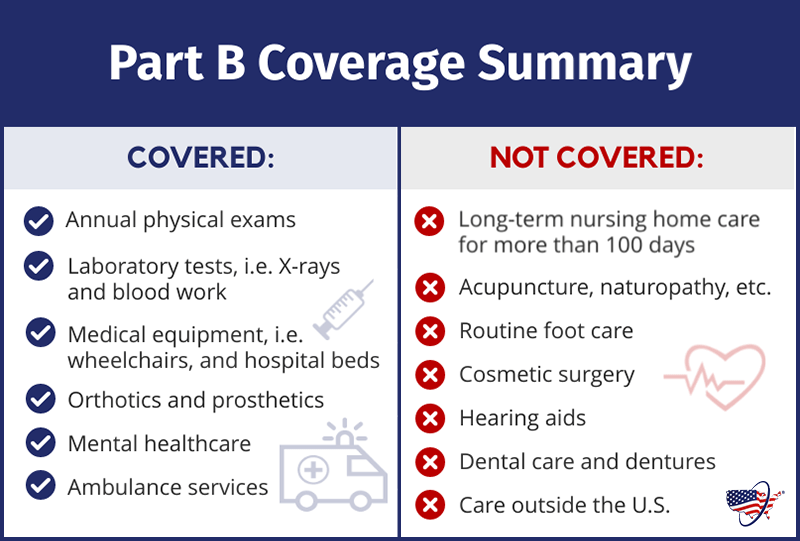 Reducing Your Medicare Part B Premium
If you are a lower-income beneficiary and are dual-eligible for both Medicare and Medicaid, you may qualify for a Medicare Savings Program. These programs pay all or most of your Medicare Part B premium. Also, some Medicare Advantage plans will reduce the cost of the monthly premium through a give-back benefit
How Do I Apply for Medicare Part B?
Beneficiaries collecting Social Security benefits when they age into Medicare at 65 will automatically enroll. If this is the case for you, you will receive your Medicare card one to three months before your 65th birthday. If you are not collecting Social Security benefits, you will need to enroll yourself. You can apply online, over the phone, or in person.
All beneficiaries will have an Initial Enrollment Period for Original Medicare. Your Initial Enrollment Period begins three months before your 65th birth month and ends three months after you turn 65. If you do not enroll during your Initial Enrollment Period and do not have creditable coverage, you could be subject to a penalty when you decide to enroll in the future.
FAQs
How to Get Help with Medicare Part B
We understand the different Medicare parts and plan letters can become confusing. However, the Medicare alphabet does not need to add unnecessary stress to your retirement. At MedicareFAQ, our Medicare experts are passionate about fully educating seniors on all things Medicare.
Call us at the number above to begin your journey to the right coverage with MedicareFAQ today. If now is not the best time for you to call, our licensed agents can reach out first on your time. To get connected, complete our our online rate form!
Enter your zip code to pull plan options available in your area.
Select which Medicare plans you would like to compare in your area.
Compare rates side by side with plans & carriers available in your area.