Medicare Part B is the medical portion of Original Medicare. This includes coverage for services provided by your doctors that are preventive and medically necessary.
What Does Medicare Part B Cover?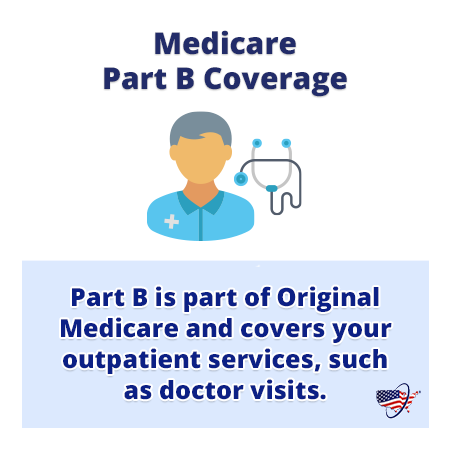 Part B provides coverage for a mixture of outpatient medical services. This includes coverage for preventive vaccines, cancer screenings, annual lab work, and much more.
It will cover preventive services in addition to specialist services. Part B even covers services for mental healthcare, durable medical equipment that your doctor finds medically necessary.
Also, Part B will cover some services you receive while in the hospital. This includes surgeries, diagnostic imaging, chemotherapy, and dialysis if you obtain drugs while at the hospital, it will also provide coverage for those.

Listen to this Podcast Episode Now!
What Does Medicare Part B Not Cover?
How Much Does Medicare Part B Cost?
The out-of-pocket costs for Part B include a premium, deductible, and coinsurance. Part B will cover 80% of your medical expenses once you've met the annual deductible. You must pay the monthly premium for Part B. Most beneficiaries will pay the standard monthly premium. Those in a higher income bracket will pay more.
In 2022, the Part B premium is $170.10 a month. If you receive Social Security, Railroad Retirement Board, or Office of Personnel Management benefit payments, your Part B premium will be deducted from your monthly check. Part B has an annual deductible of $233. This deductible can slightly increase each year.
If you don't receive Social Security, you could get a monthly bill from Medicare. They have an online payment option called Easy Pay for those with a MyMedicare account.
Does Medicare Part B cover 100 Percent?
Part B covers 80% of your medical costs and also comes with an annual deductible and monthly premium.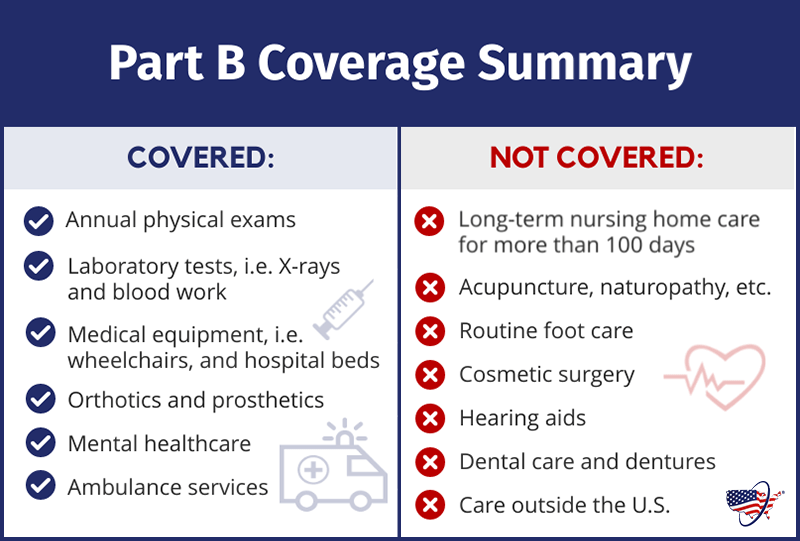 Does Medicare Part B Have a Copay?
No, Medicare Part B does not come with copays.
Who Qualifies for Free Medicare Part B?
How to Sign Up for Medicare Part B
Beneficiaries collecting Social Security benefits when they age into Medicare at 65 will automatically be enrolled. You'll receive your Medicare card the month before your birthday. If you're not collecting Social Security benefits, you'll need to enroll yourself. You can apply online, over the phone, or in-person.
All beneficiaries will have an Initial Enrollment Period for both Part A & Part B. This period begins three months before the month you turn 65th birthday and ends three months after. If you don't enroll during your Initial Enrollment Period and don't have creditable coverage, you could be subject to a penalty.
You won't pay the penalty if you meet certain conditions that allow you to sign up for Part B during a Special Enrollment Period. An example would be if you continued working past 65 and had creditable coverage through an employer group health insurance.
How to Reinstate Medicare Part B
Go to MyMedicare.gov website and log into your account. Complete the application and include all the required documents. You can track the status in your dashboard.
FAQs
How to Get Help with Medicare Part B
We can help you avoid paying medical costs that Part A and Part B won't cover. Our agents have helped people just like you find a supplement plan that fits their healthcare needs. Contact us for a free quote or fill out our online rate form now to get started!
Enter your zip code to pull plan options available in your area.
Select which Medicare plans you would like to compare in your area.
Compare rates side by side with plans & carriers available in your area.