Original Medicare is made up of two parts: Medicare Part A and Medicare Part B. Medicare Part A provides coverage for hospital inpatient care, skilled nursing facilities, hospice, and home health care.
For most Medicare beneficiaries, Medicare Part A is premium-free. However, you must meet certain criteria. If not, you may need to pay a premium.
Below, we discuss everything you need to know about Medicare Part A including eligibility, coverage, enrollment, and more.
What is Medicare Part A?
Medicare Part A is basic inpatient coverage that Medicare beneficiaries can use during hospital stays. To enroll in Medicare Part A, you must be 65 years old, receive Social Security Disability Income (SSDI) for at least 24 months, or have a diagnosis of amyotrophic lateral sclerosis (ALS) or end-stage renal disease (ESRD).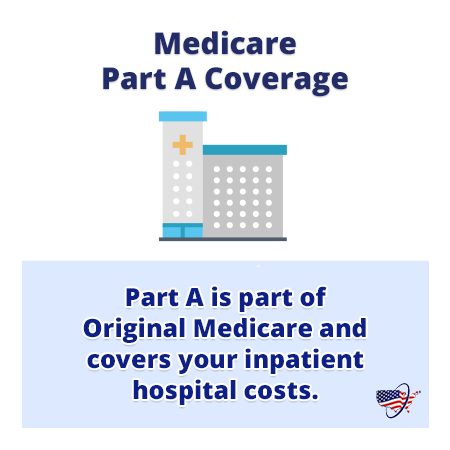 Thus, the qualification requirements for Medicare Part A are the same as those for Medicare Part B.
Most people will have premium-free Medicare Part A. However, not everyone qualifies for this perk. To be eligible for premium-free Medicare Part A, you or your spouse must work at least ten years (40 quarters) paying Medicare tax.
If you do not meet this requirement, Medicare Part A could cost up to $499 a month in 2022. Additionally, the premium is subject to increase each year.
What Does Medicare Part A Cover?
Medicare Part A covers various services provided in an inpatient setting. This can range from drugs administered while in the hospital to end-of-life hospice care. Below, we review services Medicare Part A covers.
What is covered under Medicare Part A:
Hospital meals
Semi-private room
Special care units
Drugs, supplies, and equipment
Operating room and recovery room
Rehabilitation services during your stay
Some blood transfusions
Hospice care
Skilled nursing care on a part-time basis
Medicare Part A will not cover a private room, private nursing, or any personal care items. After the Medicare Part A deductible is met, Medicare pays the first 60 days of your benefit period in full.
For days 61-90, you must pay a hospital coinsurance of $389 per day. Then, Medicare will cover up to 60 extra lifetime reserve days.
For days 91 and beyond, the coinsurance is $778 per day. After 60 days over your lifetime benefit, ALL costs are your responsibility.
To start a new benefit period, you must stay out of the hospital for at least 60 consecutive days. Additionally, beginning another benefit period means paying the Part A deductible again.
Who Qualifies for Medicare Part A?
Medicare Part A is available to citizens and documented immigrants who legally reside in the U.S. for at least five years. Most U.S citizens are eligible for Medicare Part A upon turning 65. However, many beneficiaries qualify for Medicare Part A due to disability.
If you receive disability benefits, you become eligible for premium-free Medicare Part A after two years of receiving those benefits. Also, if you or your spouse has Medicare-covered government employment, you get premium-free Part A.
Those with amyotrophic lateral sclerosis do not need to wait two years before becoming eligible for Medicare. Medicare Part A and Medicare Part B benefits begin immediately and automatically. Those with end-stage renal disease can apply upon diagnosis, but Medicare enrollment isn't automatic.
When Should I Enroll in Medicare Part A?
You should sign up for Medicare Part A benefits three months before you turn 65. Even if you're working past retirement, Medicare Part A is still premium-free if you or your spouse previously worked at least 40 quarters.
In addition, when you should enroll in Medicare Part A depends on whether your employer is large or small. When you work for a small employer, you may HAVE to get Medicare Part A and Part B as soon as you're Medicare-eligible. It is best to talk to the benefits administrator at your place of employment to figure out your options
Do I Have to Pay for Medicare Part A?
The Medicare Part A premium is based on how many quarters you worked in the United States and paid Medicare tax. If you worked and paid Medicare tax for ten or more years (40 or more quarters), you will be eligible for premium-free Part A.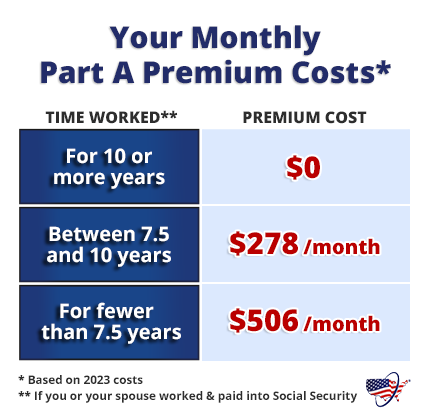 On the other hand, if you or your spouse did not work at least ten years in the United States paying Medicare tax, you will not be eligible for premium-free Part A. In this case, you could be responsible for up to $499 each month in Medicare Part A premiums.
If you did not work at least ten years paying Medicare tax, the premium you pay is based on the number of years you did work. If you worked more than 7.5 years but fewer than ten, your Medicare premium is $274 each month. Those with fewer than 7.5 years of contributing to Medicare taxes are responsible for the full Medicare Part A premium of $499 monthly.
What is the Medicare Part A Deductible?
The Medicare Part A deductible in 2022 is $1,556, according to
CMS.gov
. This is not a calendar year deductible. You are responsible for paying the deductible each time you are admitted to the hospital under a new benefit period.
To receive help covering this deductible, many beneficiaries enroll in a Medicare Supplement plan. The Medicare Part A deductible benefit period begins when you become an inpatient in the hospital.
Then, the benefit period continues until you've been out of the hospital for a minimum of 60 days. Any care in a skilled nursing facility after your hospital stay counts toward the benefit period.
Every time a new benefit period starts, you must meet the Part A deductible. Meaning, if you are out of the hospital for at least 60 days and then need to be re-admitted, you must meet the deductible again.
FAQs
How to Get Help With Medicare Part A
Are you confused about inpatient vs. outpatient? Do you find choosing a policy difficult? We understand! Working with clients like you each day, we know how confusing Medicare seems. Our agents can help simplify the information and show you the best options.

We can even walk you through the application process over the phone. An agent will ask you a few questions about doctors, prescriptions, and insurance preferences. Then, your agent will discuss the best plan options for you available in your service area. There are many plans and carriers – don't waste time calling each company individually.

Don't navigate the Medicare maze alone. Give us a call at the number above, and see why so many people trust an agent with their health care. Can't call now? Fill out our online rate comparison form and get one step closer to the best coverage for you!
Enter your zip code to pull plan options available in your area.
Select which Medicare plans you would like to compare in your area.
Compare rates side by side with plans & carriers available in your area.