Medicare Part A is your hospital coverage. It's free for most people. But, if your work history doesn't include paying Medicare taxes, you may have to pay a hefty premium for it. Below we'll discuss Part A. You'll learn about eligibility, coverage, and enrollment. Then, we give insight into common questions about Part A.
What is Medicare Part A?
Most people will have premium-free Part A. But, some people will need to pay a premium.
Buying Part A could cost up to $499 a month for those with less than creditable 30 work quarters.
Those with over 30 work quarters pay a reduced amount of $274 a month for Part A.
What Does Medicare Part A Cover?
Part A covers inpatient services, and most of the care you get during a stay in the hospital.
What is covered under Medicare Part A:
Hospital meals
Semi-private room
Special care units
Drugs, supplies, and equipment
Lab tests and X-rays
Operating room and recovery room
Rehabilitation services during your stay
Some blood transfusions
Hospice care
Skilled Nursing care on a part-time basis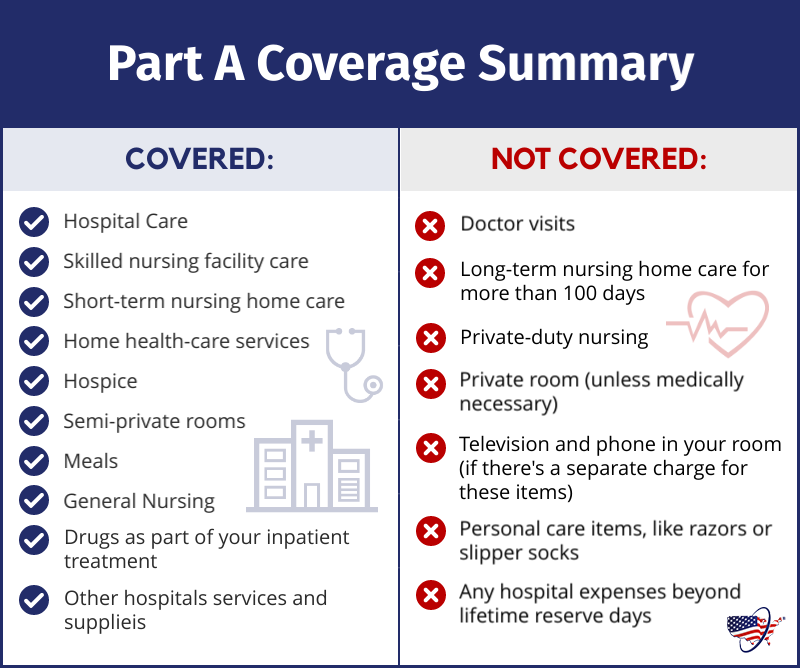 Part A won't cover a private room, private nursing, personal care items, or a television. After the deductible, Medicare pays the first 60 days of your benefit period in full.
For days 61-90, you must pay a daily $389 hospital coinsurance. Then, Medicare will cover up to 60 extra lifetime reserve days.
For days 91 and beyond, the coinsurance is $778 per day. After 60 days over your lifetime benefit, ALL costs are your responsibility.
To start a new benefit period, you must stay out of the hospital for at least 60 consecutive days. Further, beginning another benefit period means paying the Part A deductible again.
Who Qualifies for Medicare Part A?
Part A is available to citizens and documented immigrants with at least five years of residency. Most U.S citizens are eligible for Part A upon turning 65. If you can get Part A, you qualify for Part B. Many people have Medicare due to disability.
You're eligible for premium-free Part A after two years of disability benefits. Also, if you or your spouse has Medicare-covered government employment, you get premium-free Part A.
Those with Amyotrophic Lateral Sclerosis don't wait two years; benefits begin immediately and automatically. Those with End-Stage Renal Disease can apply upon diagnosis, but Medicare enrollment isn't automatic.
Do I have to Pay for Medicare Part A?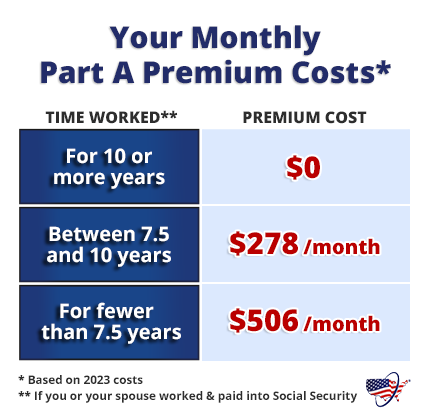 Sometimes Part A costs money. If you don't pay your Medicare taxes for ten years or 40 work quarters, you'll have a premium. Let's go over, who pays the Part A premium and how much it'll cost. Ten years is about 40 work quarters. Paying in for at least 7.5 years can count for something.
Thirty work quarters are 7.5 years; if you pay Medicare taxes for that, your premium is $274 each month.
Those with less than 7.5 years of contributing to Medicare taxes have a premium of $499 monthly.
Then, of course, those that work at least ten years get premium-free Part A benefits.
What is the Medicare Part A Deductible?
The Part A deductible is $1,556. The Part A deductible benefit period begins when you become an inpatient in the hospital.
Then, the benefit period continues until you've been hospital-free for at least 60 days. Any care in a skilled nursing facility after your hospital stay counts toward the benefit period.
Every time a new benefit period starts, you must meet the Part A deductible.
Hospital Stay Without Paying the Deductible Under Part A
Many seniors want to know if they can stay in the hospital without paying the Part A deductible. Hospitals and inpatient facilities cannot refuse to provide treatment.
Beneficiaries needing inpatient care have access, whether they're able to pay or not. Your protection comes from The Emergency Medical Treatment & Labor Act.
Hospitals can't demand that you pay the Part A deductible or make a payment before treatment. If Part A benefits run out, the hospital might apply a prepayment plan.
A similar policy is available for patients that don't have health insurance. Policies of this nature vary depending on the hospital.
Talk to the hospital's billing department about inpatient services. The billing specialist can tell you about your plan throughout your hospital stay.
You should never be uncomfortable obtaining care and treatment due to a lack of payment. Your insurance deductible is the amount you pay before your plan pays for your medical costs.
Once you meet the deductible, the plan covers the remaining expenses. It's common to see a doctor many times or get several services before reaching the plan deductible.
FAQs
How to Get Help With Medicare Part A
Are you confused about inpatient vs. outpatient? Do you find choosing a policy difficult? We understand! Working with clients like you each day, we know how confusing Medicare seems. Our agents can help simplify the information and show you the best options.

We can even walk you through the application process over the phone. An agent will ask you a few questions about doctors, prescriptions, and insurance preferences. Then, your agent will discuss the best plan options for you available in your service area. There are many plans and companies, don't waste time calling each one individually.

Don't navigate the Medicare maze alone, give us a call at the number above, and see why so many people trust an agent with their healthcare. Can't call now? Fill out our online rate comparison form and get one step closer to the best coverage for you!
Enter your zip code to pull plan options available in your area.
Select which Medicare plans you would like to compare in your area.
Compare rates side by side with plans & carriers available in your area.