Medicare and Medicaid are government healthcare programs for individuals with specific needs. Often, eligibility for the two forms of coverage overlap, and recipients can benefit from both programs.
Find Medicare Plans in 3 Easy Steps
We can help find the right Medicare plans for you today
However, just because you qualify for one program does not mean you will automatically be eligible for the other. Medicare is a federal program, while Medicaid is a state program, so eligibility qualifications can vary from state to state for Medicaid. Below, we review the differences between Medicare vs. Medicaid and how you can utilize their benefits.
What is Medicare vs. Medicaid?
Medicare and Medicaid are not the same. Many confuse the benefits of Medicare vs. Medicaid as they are both government-run health insurance programs in the United States. However, Medicare is federal, and Medicaid differs by state.
Medicare benefits are the same across all states and U.S. territories. Typically, Medicare benefits are available to those 65 and over or receiving Social Security Disability (SSDI) benefits under 65. Medicare offers standardized premiums that are consistent for those in the same income bracket.
On the other hand, each state's government operates Medicaid. Every state has different qualifications and requirements for enrollment in Medicaid. While there is no age requirement for Medicaid, there is a financial requirement. Your income and resources may not exceed state-specific thresholds to be eligible for Medicaid coverage. Medicaid coverage typically comes at no cost to the beneficiary.
To differentiate the two, with Medi-care, think of care for those 65 and over or those with disabilities. Then, Medic-aid is an aid to those with a low income.

Listen to this Podcast Episode Now!
Who Qualifies for Medicare vs. Medicaid?
Nearly every American will one day qualify for Medicare, but Medicaid is only for those with a low income. Beneficiaries can enroll in Medicaid through the state program office. If you think you are eligible for Medicaid benefits, contact your state health department to apply. To qualify for Medicaid, your income will need to be below a predetermined amount set by your state government.
If your income is above this amount, but you struggle with high medical costs, you may want to check if a Medicaid spend-down program is available in your state. Medicaid spend-down programs allow beneficiaries who exceed the income requirement to deduct their medical costs from their income to meet the state-appointed income requirement.
To qualify for Medicare, you must meet the below requirements:
Find Medicare Plans in 3 Easy Steps
We can help find the right Medicare plans for you today
Be a U.S. Citizen or documented resident for at least five years AND one of the following:
As you can see, eligibility requirements for the two health insurance programs differ. However, some people fit into the cross-section of qualifications. If you qualify for both, the two health programs work together.
Dual-Eligibility Medicare Advantage Plans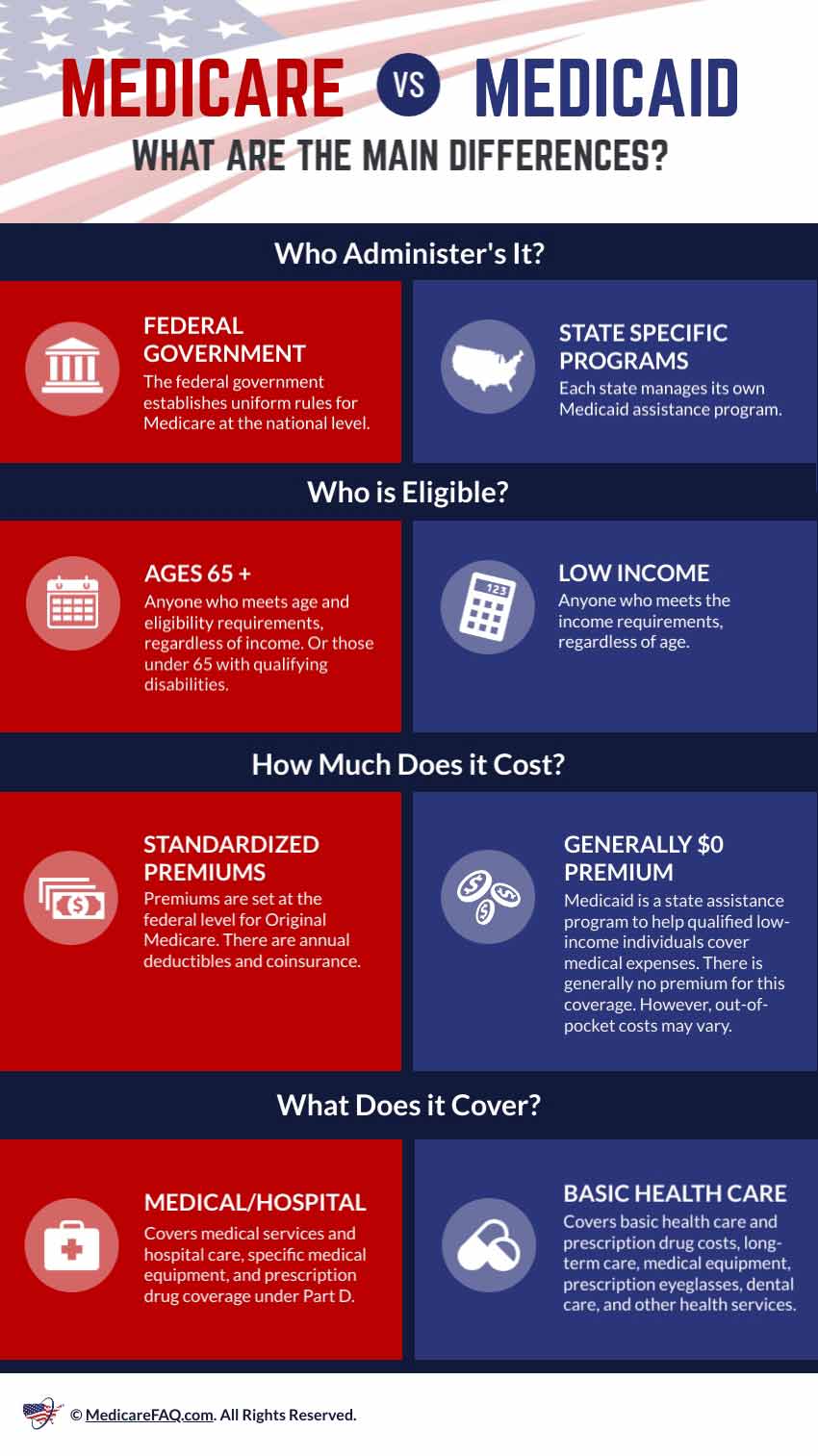 If you qualify for Medicare and Medicaid, this is known as dual-eligibility.
To Qualify for Dual-Eligibility, you must:
Meet the income requirements in your state for Medicaid
Be eligible for Medicare due to age or disability
Once you become dual-eligible, most – if not all – of your healthcare costs will be covered. Thus, you are not eligible to enroll in a Medicare Supplement plan. Medicaid covers your Medicare Part A premium (if applicable) and the standard Medicare Part B premium for all eligible enrollees.Once you enroll in Medicare Part A, Part B, and Medicaid, you become eligible for Dual Special Need Medicare Advantage Plans. These plans combine the benefits of Medicare and Medicaid to provide beneficiaries with prescription drug coverage and other necessary coverage.
In addition to Medicare and Medicaid, dual-eligible beneficiaries automatically enroll in Extra Help to cover the costs of their prescription drugs.
If you enroll in a Dual Medicare Advantage plan, you get four Special Enrollment Periods throughout the year to change your Medicare Advantage plan. Therefore, you can make a change once a quarter.
What is FBDE for Medicare and Medicaid?
Full-Benefit Dual-Eligible (FBDE) individuals are eligible for Medicare and full Medicaid benefits through their state. FBDE beneficiaries qualify for coverage of the following through Medicare Savings Programs: Medicare Part A and Part B premiums, deductibles, coinsurance, and copays. FBDE beneficiaries often pay $0 out-of-pocket for any medically necessary healthcare services.
Do You Get Guaranteed Issue Rights for Loss of Medicaid Coverage?
If you are dual-eligible for Medicare and Medicaid and find yourself in a situation where your income increases and exceeds your state Medicaid requirements, you will receive guaranteed issue rights in certain states. However, not all states grant beneficiaries these rights when they lose Medicaid eligibility.
If your state grants guaranteed issue rights in this scenario, you would be eligible to enroll in the Medicare Advantage or Medicare Supplement plan of your choice.
Find Medicare Plans in 3 Easy Steps
We can help find the right Medicare plans for you today
Medicare vs. Medicaid FAQs