Are you a Medicare beneficiary, or soon-to-be Medicare eligible? If you're also on a fixed income, you could qualify for financial assistance with the high cost of health care. A Medicare Savings Program (MSP) can help pay deductibles, coinsurance, and other expenses that Medicare usually doesn't cover.
We're here to help you understand the different types of MSPs. Below, we explain who is eligible for these programs and how to get the assistance you need to pay for your Medicare.
Types of Medicare Savings Programs
There are seven kinds of MSPs. Each type of MSP is tailored to different needs and circumstances.
Qualified Medicare Beneficiary (QMB) Programs pay most out-of-pocket costs for Medicare, protecting beneficiaries from cost-sharing. These programs offer full coverage of Part B premiums. Your Part A premium will also receive coverage if you haven't worked 40 quarters. Deductibles, copays, and coinsurance receive coverage contingent on the state in which the beneficiary resides. Those who qualify for the QMB program are also automatically eligible for the Extra Help program for prescription drugs.

QMB Plus (QMB+) refers to those who receive full Medicaid benefits, as well as all the cost-sharing coverage QMB programs offer.

Specified Low-Income Medicare Beneficiary (SLMB) Programs pay your Part B premium. Like QMBs, those who qualify as SLMB are automatically eligible for Extra Help.

SLMB Plus (SLMB+) eligibility entitles beneficiaries to payment of their Part B premiums, plus full Medicaid benefits. Protection for cost-sharing varies by state.

Qualifying Individual (QI) Programs are also known as Additional Low-Income Medicare Beneficiary (ALMB) programs. Like the SLMB programs, they offer Part B premium payment. Yet, you can qualify with a higher income. Those who qualify are also automatically eligible for Extra Help.
Qualified Disabled and Working Individual (QDWI) Programs cover monthly Part A premiums for qualified individuals under 65 with disabilities who are currently working.
Full Benefit Dual-Eligible (FBDE) refers to those eligible for both Medicare and full Medicaid benefits. Depending on the state where they live, beneficiaries can receive up to the same, full cost-sharing protection as with QMB+.
State-Specific Name Conventions for MSPs
If you live in any of the following states, please note the differences in program names:
Who Qualifies for a Medicare Savings Program?
2022 Monthly Income Limits for Medicare Savings Programs
Medicare Savings Program
Monthly Income Limits for Individual
Monthly Income Limits for Married Couple
QMB
$1,153
$1,546
SLMB
$1,379
$1,851
QI
$1,549
$2,080
QDWI
$4,339
$5,833
*Please note: the above income limits are subject to change in 2023
In addition to the income limits, you must have limited resources to qualify for an MSP.
What Are Countable Resources for Medicare Savings Programs?
To qualify for the MSPs above, the dollar value of your countable resources must be below the limit for the type of assistance you're looking to receive. See the chart below for the limit for each program.
2022 Resource Limits for Medicare Savings Programs
Medicare Savings Program
Resource Limits for Individual
Resource Limits for Married Couple
QMB
$8,400
$12,600
SLMB
$8,400
$12,600
QI
$8,400
$12,600
QDWI
$4,000
$6,000
*Please note: the above income limits are subject to change in 2023
The term countable resources means any money in bank accounts (checking or savings), stocks, and bonds. Your home, one car, a burial plot, up to $1,500 already saved for burial expenses, and personal belongings aren't included when countable resources are considered.
How to Apply for a Medicare Savings Program
Visit Medicare.gov or call your local Medicaid office to determine if you're eligible for an MSP in your state. You can also call 1-800-MEDICARE to ask about financial assistance with your Medicare premiums. They can also provide you with the phone number for the Medicaid office in your state, and you can determine whether you're dual-eligible.
If your income and/or resources exceed those listed above, but you think you could still qualify, filling out an application is recommended. The limits are subject to increase each year.
When applying for an MSP, you'll need documentation. The list of what's needed varies by state, but you'll want to make sure to furnish recent bank statements in order to substantiate your need for the program.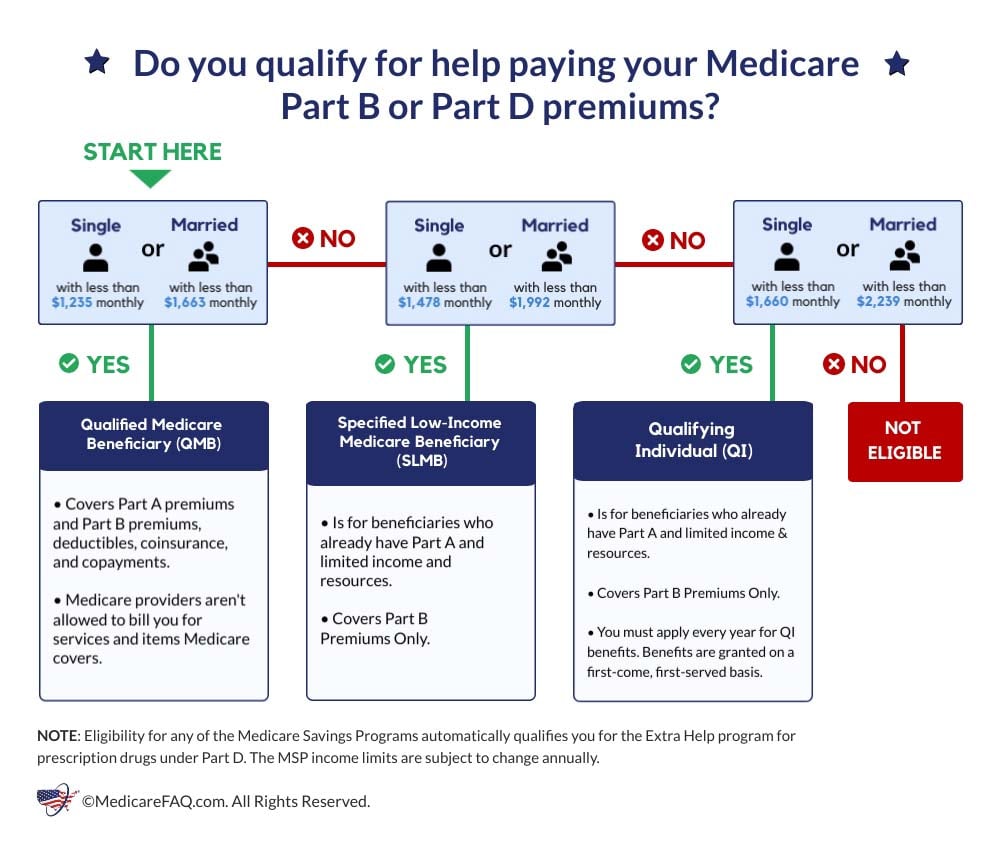 How to Get Additional Medicare Coverage with Your Medicare Savings Program
If you qualify for a Medicare Savings Program and/or Extra Help, you can save money on your out-of-pocket Medicare costs. To save even more, you can add supplemental coverage to your Medicare.

Pairing a Medicare Advantage plan with your MSP is an excellent way to protect yourself from high medical bills because of a chronic condition or unexpected illness or accident. This can also give you additional benefits for an affordable price.

Also, those that qualify for a Medicare Savings Program may not be subject to a Part D or Part B penalty. Although, this depends on your level of extra help and the state you reside in.

Call the number above today to get rate quotes for your area. You can also fill out our compare rates form, and an agent will contact you with premium rate quotes from top carriers in your area.
Enter Zipcode
Enter your zip code to pull plan options available in your area.
Compare Plans
Select which Medicare plans you would like to compare in your area.
Get Quote
Compare rates side by side with plans & carriers available in your area.