Medicare cancer coverage is a concern for beneficiaries. More than 4,500 people get a cancer diagnosis in the U.S. daily, according to the American Cancer Society. The good news is that Medicare does cover cancer treatment. If you have a Part D prescription drug plan and a comprehensive Medigap plan, most of your treatment has 100% coverage. Here are the facts on Medicare coverage for cancer treatments.
Find Medicare Plans in 3 Easy Steps
We can help find the right Medicare plans for you today
Does Medicare Cover Cancer Treatments?
Medicare does cover cancer treatments. Your cancer coverage will work differently depending on if you're in the hospital or an outpatient facility. Also, depending on your policy, you may need prior authorization for treatment.
In most cases, preventive services are available for people at risk for cancer.
Part A Cancer Coverage
Part A hospitalization coverage covers cancer Testing and treatment administered during a hospital stay. Before Part A begins to pay, however, you must meet a deductible.
If you have multiple hospital stays, you may end up paying the deductible more than once. Part A also pays the full cost of the first 20 days in a skilled nursing facility after cancer surgery, and it covers hospice care at a certified hospice facility.
A Medigap plan can reduce your costs by paying your Part A deductible. It also provides expanded benefits for hospital stays and hospice care.
Part B Cancer Coverage
Part B covers cancer screenings and treatments at a doctor's office or clinic. These preventive care benefits pay the full cost of some cancer screenings. Also, Part B pays 80% of the price of chemotherapy, radiation, and tests done on an outpatient basis or at a doctor's office.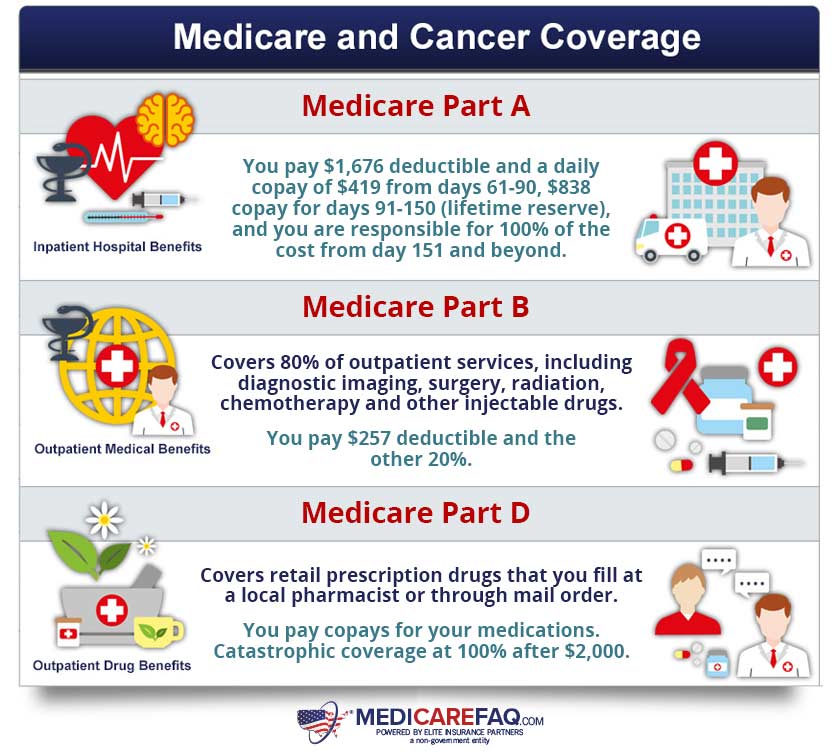 Does Medicare Advantage Cover Cancer?
Medicare Advantage plans give you Part A and B benefits through private insurance coverage. Although Advantage plans usually aren't the best choice for cancer patients. This is because most plans' benefits aren't as good as Medicare plus a Medigap policy.
Advantage plans either require you to go to specific doctors within a network, or you will pay less if you use a network doctor. With Medicare plus Medigap, you can see any healthcare provider that accepts Medicare.
Many plans require you to pay coinsurance until you meet your annual out of pocket maximum.
You can't add a Medigap plan to your Advantage coverage. If you want better cancer coverage, you will have to buy a separate cancer policy.
Does Cancer Treatment Centers of America Accept Medicare?
Most Cancer Treatment Centers of America will work with Medicare or Part C Advantage plans. Since insurance is a challenge, it's best to contact one of the Oncology Information Specialist to find out how your policy will work at the Cancer Treatment Center of America.
Does Medicare Cover Cancer Medications?
Part B covers some cancer medications, but others are not included unless you have a Part D prescription drug plan. Cancer drugs can be costly. This means that Medicare prescription drug coverage is an essential part of your cancer protection strategy.
Part B covers 80% of the cost of intravenous cancer treatment and anti-nausea drugs. It also includes oral versions of these drugs if your doctor could have given you an intravenous dose but decided to provide you with a pill instead, and the medicine is taken within 48 hours of your cancer treatment.
Find Medicare Plans in 3 Easy Steps
We can help find the right Medicare plans for you today
Part D covers cancer drugs that are not covered by Part B, including anti-nausea medications that are only available in pill form, injections that you give yourself, and medicines designed to prevent cancer from recurring.
Your Part D prescription coverage offsets the high cost of cancer drugs. Your copays or coinsurance may be far less than what you would pay if you didn't have drug coverage at all.
Does Medicare Cover Keytruda?
No, for most people, Medicare won't cover Keytruda. The medication can help slow the progression of cancer. Yet, Medicare will cover other medicines that can help with the treatment of cancer.
Does Medicare Cover Wigs for Cancer Patients?
Chemotherapy causes hair loss, so many cancer patients choose to wear a wig. Unfortunately, wigs don't have coverage through Medicare or Medigap. Some Medicare Advantage plans or cancer insurance plans may offer coverage for wigs.
Managed care companies sometimes cover the cost of a wig if the doctor agrees to prescribe it.
Does Medicare Cover Cancer Treatment After Age 76?
Contrary to rumors you may have heard, Medicare doesn't limit your cancer coverage after age 76. Parts A and B pay for the same care, no matter how old you are.
Does Medicare Cover Cancer Screenings?
Medicare covers 100% of specific cancer screenings as a preventive health service as long as your doctor accepts Medicare assignment.
Including:
A mammogram every year for women over 40
Pap smears and pelvic exams to screen for cervical and vaginal cancer, once every 24 months, or once every 12 months for women who are at increased risk
Colorectal cancer screening, including a colonoscopy every ten years for anyone over 50, and additional screenings for people at increased risk
Annual lung cancer screenings for smokers or former smokers aged 55-77 whose doctors order a screening
Prostate cancer screening once a year for men over 50
Does Medicare Cover Chemotherapy?
Yes, Medicare covers chemotherapy cancer treatment for patients in a hospital setting, outpatient setting, or doctor's office. If it's administered during a hospital stay, you may have to pay the Part A deductible. If done at a doctor's office or clinic, you'll be responsible for 20% of the cost under Part B.
Find Medicare Plans in 3 Easy Steps
We can help find the right Medicare plans for you today
You can avoid having to pay either of these by signing up for a Medigap plan. The Medicare-approved amount for chemotherapy is dependent on what type of treatment you're undergoing. Your physician will be able to look up the amount.
Does Medicare Pay for Chemotherapy in a Skilled Nursing Facility?
Yes, Medicare will pay for up to 100 days of care in a skilled nursing facility for each benefit period. Anything past 100 days becomes out-of-pocket costs for the beneficiary to pay.
Does Medicare Cover Immunotherapy for Cancer?
Immunotherapy is a cutting-edge cancer treatment that stimulates your immune system to attack cancer cells. Medicare will pay for immunotherapy in many cases, either under Part A or Part B.
Does Medicare Cover Clinical Trials?
Medicare pays the cost of some clinical research studies, either in the hospital or while you're an outpatient.
Does Medicare Cover Breast Cancer?
Medicare pays 100% of the cost of an annual breast cancer screening. Part A pays for inpatient breast cancer surgery or breast implant surgery after a mastectomy. Breast surgeries done at a doctor's office or outpatient center are covered by Part B.
Part B also covers breast prostheses after a mastectomy.
Does Medicare Cover Radiation Treatments?
Part B. covers radiation administered at a doctor's office or clinic. This is because Part B covers outpatient services.
If you receive radiation treatment during a hospital stay, it's covered under Part A. Inpatient services have coverage through Part A.
Find Medicare Plans in 3 Easy Steps
We can help find the right Medicare plans for you today
Does Medicare Cover Proton Therapy?
For the most part, Medicare will cover proton beam therapy. But, coverage will depend on the insurance company and the type of disease. If proton beam therapy is the treatment recommendation, the center where you get care will help you identify if health insurance will cover you.
Does Medicare Cover Lung Cancer Treatments?
Medicare pays the full cost of annual lung cancer screenings to your doctor if you between the ages of 50-77 and have a history of smoking.
If you have lung cancer, Medicare will cover:
surgery
chemotherapy
radiation treatments
and hospice care if you need it
Does Medicare Cover CAR T-Cell Cancer Therapy?
The Trump administration has made the CAR T-Cell cancer therapy available to Medicare beneficiaries. This means access to innovative new cancer therapy. CMS is working closely to monitor patient outcomes from the treatment.
Trump and Secretary Azar finalized the decision to cover the FDA-approved Chimeric Antigen Receptor T-Cell or "CAR T-Cell" Therapy, which is a form of treatment for cancer that uses the patient's own genetically-modified immune cells to fight cancer.
This treatment is approved for people with certain types of non-Hodgkin lymphoma and B-cell precursor acute lymphoblastic leukemia.
Medicare covers CAR T-Cell therapy when it's done in a healthcare facility enrolled in the FDA risk evaluation and mitigation strategies (REMS) for FDA-approved indications.
Medicare also covers FDA-approved CAR T-cell therapy for off-label use when CMS-approves compendia.
The manufacture of the therapy will be conducting post-market observational studies. This is to monitor potential risks when considering whether to approve new CAR T-cell products.
Find Medicare Plans in 3 Easy Steps
We can help find the right Medicare plans for you today
The FDA continues to work with CMS and the National Institute of Health's National Cancer Institute (NCI) to help advance the availability of these new therapies to patients.
NCI started supporting the Cellular Immunotherapy Data Resource by the Center for International Blood and Marrow Transplantation Research 3 years ago to allow long-term stud of patients getting CAR T-cell therapy.
Recently there has been an increase in the development of CAR T-cell therapy and other treatment options that harness persons' immunity cells for cancer treatment.
How to Find Medicare Plans for Cancer Patients
Whether you have Cancer or COPD, the best time to enroll is when you're first Medicare-eligible. If you sign up during your Medigap Open Enrollment Period, you can't get coverage denials. Even if you already have cancer or have had cancer in the past.

At MedicareFAQ, we know how devastating a cancer diagnosis can be. We want you to have the right kind of coverage. We'll help you decide what coverage you need and search all the top carriers in your area. We can help you find the best rates on a Medigap policy. Call or click to compare Medicare rates now.
Enter ZIP Code
Enter your ZIP code to pull plan options available in your area.
Compare Plans
Select which Medicare plans you would like to compare in your area.
Get Quote
Compare rates side by side with plans & carriers available in your area.