When it comes to Medicare, seniors have more than enough options. Suppose you are one of the many Medicare beneficiaries enrolling in a Medicare Advantage plan. It can be challenging to understand which plan works best for you and which carrier offers the best Medicare Advantage plans.
Find Medicare Plans in 3 Easy Steps
We can help find the right Medicare plans for you today
Private insurance companies offer Medicare Advantage plans. Costs, benefits, and perks vary between these plans.
If you are looking for a plan that combines all the benefits of Original Medicare, includes additional benefits (like vision and dental coverage), and has a low monthly premium, Medicare Advantage may be the right choice for you. However, finding the right plan can become complicated and confusing.
Fortunately, we have compiled a list of the best Medicare Advantage Plans for 2022. Below, we'll discuss the best Medicare Advantage plans and carriers. Enrolling with a suitable carrier is as important as finding the best benefits. The companies we list below are well-established in the Medicare space.
Best Medicare Advantage Plans and Carriers for 2022
To find the best Medicare Advantage plans from which to choose, it is crucial to understand your needs as an enrollee. Does best mean the lowest monthly premium, or does it mean the lowest cost-sharing?
Maybe best to you means the highest overall customer satisfaction rating or the most benefits. Below, we list the best Medicare Advantage carriers based on company ratings, coverage options, and benefits.
Additionally, it is essential to look at the carrier's nationwide ranking. Each ZIP Code has a variety of Medicare Advantage plans available. Often, no two ZIP Codes offer the same plan options.
The best Medicare Advantage plans in 2022 are:
Aetna – Best for Extra Perks
Humana – Best for low-cost plans
Cigna – Best for member satisfaction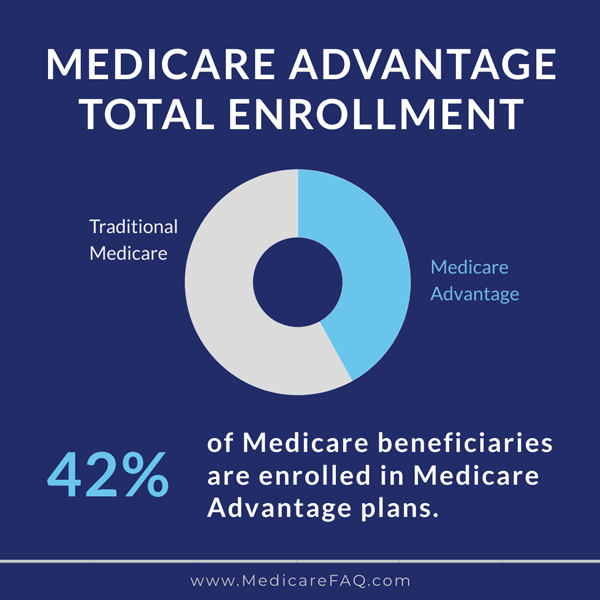 These long-standing companies offer the best Medicare Advantage plans year after year. Medicare Advantage plans pay your medical costs instead of Original Medicare (Parts A and B). When you go to the doctor, your Medicare Advantage card is your main card for Medicare
Most Medicare Advantage plans include prescription drug coverage, but check the Part D formulary before enrolling. Additionally, plans often include coverage for routine dental and eye care, fitness programs, or the Part B give-back benefit. Choosing a reliable company to handle your Medicare Advantage benefits and offer exceptional perks is vital.
Best Medicare Advantage Plans: Aetna
Aetna Medicare Advantage plans are number one on our list. Aetna is one of the largest health insurance carriers in the world. They have an AM Best A-rating.
There are multiple plan types, like Health Maintenance Organizations (HMOs) or Preferred Provider Organizations (PPOs). Many plans have low premiums, and some have zero-dollar premiums. You should choose the policy that is right for you and your needs.
Aetna has options to keep you healthy. These features include annual wellness visits, hearing coverage, vision check-ups, and Medicare Part D prescription drug coverage. If you want discounts on fitness centers, you can choose a plan with that option.
Medicare Advantage plans through Aetna have a vast network of doctors and hospitals. If you have more than one doctor you want to see, an Aetna plan might be best for you.
Aetna's network of pharmacies is also extensive, making filling your prescription nearby easier. Many of the preferred generic drugs start at just $1.
Best Medicare Advantage Plans: Humana
Humana has been providing Medicare Advantage coverage for many years. With millions of Medicare members, Humana Medicare Advantage plans have some of the lowest out-of-pocket costs.
For example, on some plans, the maximum out-of-pocket is as low as $2,200. If such a plan is available in your service area, you could cap your copayments and coinsurances for the year at $2,200.
Find Medicare Plans in 3 Easy Steps
We can help find the right Medicare plans for you today
A Humana Medicare Advantage plan might be best for you if you have high healthcare costs. Many of Humana's plans come with additional benefits to support your wellbeing. Most Medicare Advantage plans include fitness programs and access to more than 13,000 fitness centers, convenient mail-order pharmacy services, and a 24/7 nurse advice line.
Silver Sneakers gives you access to gyms and exercise classes throughout the United States, requiring no membership fees.
Also, two Medicare Advantage contracts in Florida and Tennessee have a 5-star rating on CMS. 5-star plans have a Special Enrollment Period option. So, if you do not currently have a 5-star plan, you can enroll in the high-quality policy anytime.
Best Medicare Advantage Plans: Cigna
Cigna has been around for hundreds of years. Just like Aetna, Cigna has an A Rating with AM Best. Cigna offers more than just experience; they provide expertise.
This company understands that one size does not fit all when it comes to Medicare needs and plans. That is why Cigna offers many plan options, including Special Needs Plans.
Cigna has special needs plans for people in nursing homes or skilled nursing care, or people with diabetes, cardiovascular issues, and options for people with Medicare and Medicaid.
Cigna has over 95 million members worldwide.
What You Need to Know About Medicare Advantage Plans
You can only sign up at certain times during the year unless you qualify for a Special Election Period. In most cases, you enroll in a plan for one year.
The Medicare Advantage Open Enrollment Period allows beneficiaries to switch to another plan. They can even return to Medicare and enroll in a Medicare Supplement plan if they are unhappy with their current Medicare Advantage plan.
You should check with your plan before getting a service to determine coverage and costs.
Many times, Medicare Advantage plans require prior authorization.
Following plan guidelines, like getting a referral when needed, can keep your costs lower. Check with your plan.
Providers can join and leave a plan's provider network anytime during the year. Your policy can change the providers in the network at any time. If either of these things happens, you will need to choose a new provider.
If your plan decides to stop participating in Medicare, you may join another health plan or return to Original Medicare.

Once you enroll, you will automatically lose any drug plan you had. You cannot have a Medicare Advantage plan and a separate prescription drug plan unless it is a PFFS Medicare Advantage plan.

You get prescriptions through most Medicare Advantage plans. Individuals with Original Medicare (with or without Medigap) will need a separate drug policy.

Find Medicare Plans in 3 Easy Steps

We can help find the right Medicare plans for you today
Why Are Some Medicare Advantage Plans free?
Some Medicare Advantage plans are free because Medicare pays the carrier monthly to take on your risk. Once you enroll, your Medicare Advantage plan pays primary rather than Original Medicare.
When you start using the benefits, you will begin spending money out-of-pocket – rather than on the monthly premium. Carriers make money through cost-sharing and receiving direct payments from Medicare.
So, the best Medicare Advantage plans are often not the lowest-cost plans. The best Medicare Advantage plans may have a higher monthly premium and reduced out-of-pocket costs.
Additionally, you may have to forfeit additional benefits. Some plans offer dental, vision, prescription drug, and gym benefits, whereas other policies only provide healthcare coverage.
In this case, it is essential to compare the best Medicare Advantage plans to Medicare Supplement options. This way, you can ensure you enroll in the best plan for your needs.
What Do Medicare Advantage Plans Not Cover?
Even the best Medicare Advantage plans do not cover the gaps in Original Medicare, like Medicare Supplement plans. When you enroll in a Medicare Advantage plan, you will be responsible for out-of-pocket costs in copayments, coinsurance, and deductibles.
Additionally, not all Medicare Advantage plans include dental, vision, or prescription drug coverage. These are additional benefits that are not required by any carrier.
What Are the Drawbacks of Medicare Advantage?
The drawbacks of Medicare Advantage plans include doctor network limitations, unpredictable cost-sharing, and the inability of your coverage to travel with you. These plans have prior authorization requirements, and their summary of benefits changes annually.
Find Medicare Plans in 3 Easy Steps
We can help find the right Medicare plans for you today
Even if you enroll in the best Medicare Advantage plan in your area, you may still be subject to any of these common Medicare Advantage restrictions.
How to Get Help Deciding on the Best Medicare Advantage Plan for You
If you are unsure which Medicare Advantage plan to enroll in, you can benefit from working with a licensed agent who will review all the best Medicare Advantage plans in your area. If you are not sure if Medicare Advantage is best for you, our agents will also review Medicare Supplement plans with you to help you make your decision.

To review a free plan comparison, you can call the number above or complete our free online rate form. We look forward to helping you throughout your Medicare journey!

Enter ZIP Code
Enter your ZIP code to pull plan options available in your area.
Compare Plans
Select which Medicare plans you would like to compare in your area.
Get Quote
Compare rates side by side with plans & carriers available in your area.