An all-in-one Medicare insurance plan can mean several different things. There are Medicare Advantage plans, or you can combine Medicare Parts A, B, and D with a Medicare Supplement (Medigap) plan and additional dental and vision hearing. With a flurry of possibilities, where do you begin? Below, we review Medicare all-in-one plans and help determine which option may work best for you.
Find Medicare Plans in 3 Easy Steps
We can help find the right Medicare plans for you today
Medicare All-in-One Plan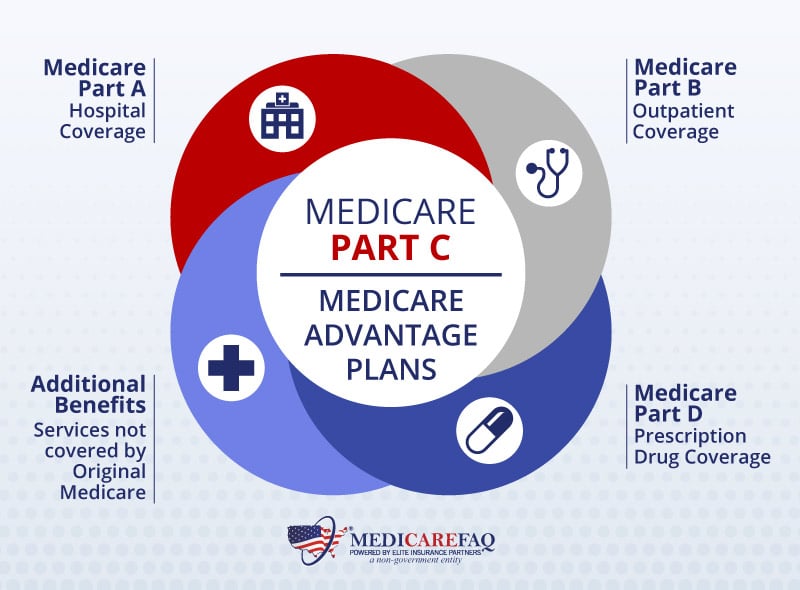 All-in-one Medicare coverage covers inpatient, outpatient, and medication expenses. Most enrollees consider dental and vision coverage necessary, so an all-in-one plan should also include those benefits. Most people assume a Medicare Advantage plan to be all-in-one coverage, but the benefits vary based on the plan you enroll in. So, your Medicare Advantage plan may or may not be all-in-one.
On the other hand, if you combine your coverage correctly and prefer to spend less out-of-pocket when you receive care, a Medicare Supplement (Medigap) plan may be the best all-in-one option for you.
Overall, all-in-one Medicare coverage is what you make of it. Your all-in-one plan may look different to someone else who has different healthcare needs than your own.
What is the All-in-One Medicare Advantage Plan?
Medicare Advantage plans are typically known as all-in-one plans. This is because they bundle coverage together to entice beneficiaries to enroll. These plans include Part A, Part B, and Part D benefits plus additional coverage. The biggest pitfall is the out-of-pocket expenses that make this type of coverage far from comprehensive.
Each Medicare Advantage plan is offered by a private health insurance company that has a contract with Medicare. Thus, Medicare pays the carrier to take on your risk. Because of this, there can be both pros and cons to Medicare Advantage all-in-one plans. The negative side is the restriction to a network of health facilities, hospitals, and physicians. Most plans require referrals or prior authorization for services with specialists.
What are All-in-One Medicare Supplement Plans?
While Medicare Supplement plans are not an all-in-one plan, you can use them to supplement your other Medicare benefits to give you real comprehensive coverage, unlike Medicare Advantage plans. When deciphering which plans are best for you, pay attention to the benefits of all options. Medigap can help cover a beneficiary's copayments, deductibles, and coinsurance. The below parts and plans combined will give you the most coverage.
Medicare Part A (hospital coverage)
Medicare Part B (medical coverage)
Part D (prescription coverage)
Medigap Plans (supplement coverage)
Dental and Vision
Typically, Medigap plans will not cover dental, vision, or long-term care. They also exclude home health care because Original Medicare doesn't cover home health care. If Medicare covers the service, the Medigap plan covers the service.
Find Medicare Plans in 3 Easy Steps
We can help find the right Medicare plans for you today
Ancillary Products to Add to Your Custom All-in-One Medicare Supplement Plan
Stand-alone dental coverage allows beneficiaries to customize coverage. For example, a higher premium policy will have lower copayments and deductibles. However, a lower premium policy will have higher out-of-pocket expenses.
So, if you know you need a lot of dental work, a higher premium policy will benefit your wallet more than a low-cost policy. Although, if routine care is your main goal, a low-cost policy would be sufficient.
Vision coverage can either be purchased as a stand-alone policy or through alternative means, such as on Groupon. Many vision facilities offer affordable rates for an eye exam and one or two pairs of glasses.
Sometimes paying out of pocket for vision care is the most cost-effective. Also, Medicare does cover cataract surgery when medically necessary; if Medicare covers, Medigap covers. Then, one pair of glasses or contacts will have coverage after cataract surgery.
Consider these things when choosing coverage:
There are many factors to consider when making a choice.
Costs
Quality of care you'll receive
Coverage when you travel
Prescription drug coverage
The limits of your health coverage
The Cost of All-in-One Medicare Plans
Medicare costs vary from person to person. Thus, the cost of Medicare Advantage and Medigap plans is difficult to determine without understanding your unique circumstance. In many states, Medicare Advantage can cost as little as $0 a month. But you still pay your Part B premium in most cases. On the other hand, all Medicare Supplement plans will have an additional premium on top of your Medicare Part B premium.
However, often times with insurance coverage, you get what you pay for. Paying a higher monthly premium often results in lower out-of-pocket costs in the long run. However, to determine which plan is best for you, you'll need to compare all of your options with a knowledgeable licensed agent.
FAQs
How to Enroll in an All-in-One Medicare Plan
Whether you want to enroll in a Medicare Advantage or build your own customer all-in-one Medicare plan, we can help. Let our team of agents find a plan that works for you! Give us a call or fill out an online rate form to see the best Medicare options available to you in your area.

Enter ZIP Code
Enter your ZIP code to pull plan options available in your area.

Compare Plans
Select which Medicare plans you would like to compare in your area.

Get Quote
Compare rates side by side with plans & carriers available in your area.