Summary: Although Medicare is a federal program, Medicare by state may have some different rules that you should be aware of to be sure you're getting the best health coverage for your needs. Estimated Read Time: 6 mins
Find Medicare Plans in 3 Easy Steps
We can help find the right Medicare plans for you today
Table of Contents:
Original Medicare (Medicare Part A and Medicare Part B) can be used in all 50 states, and most healthcare providers nationwide accept Medicare. You can also use Medicare Supplement (Medigap) plans, Medicare Advantage (Medicare Part C), and Medicare Part D prescription drug plans anywhere in the United States.
However, there are some states where Medicare is a little different, mainly regarding Medicare Supplement plans. Below, we will highlight unique Medicare rules and their applicable states.
Is Medicare State Specific?
Although Medicare is a federal program, states can implement various rules if they meet the basic Medicare regulations. Most states implement rules to ease the requirements for beneficiaries to make changes to their Medigap plans. More than half of the states in the U.S. have a state-specific Medicare rule.
Are Medicare Benefits the Same in Every State?
Since Original Medicare is a federal program, benefits must be the same in every state. This is also true when it comes to Medicare Supplement (Medigap) plans. Even though Medigap plans are offered through private insurance companies, they still must adhere to Medicare rules and regulations set by the Centers for Medicare and Medicaid (CMS).
However, while Medicare coverage by state is the same nationwide, there are some plans that may not be available in your state or zip code. Medicare Advantage (Medicare Part C) and Medicare Part D plans are subject to location so it's vital to research the plans in your area to be sure the plan you're considering is available where you live.
Is Medicare Different in Each State?
While Medicare benefits are the same throughout the United States, there are some states with state-specific rules that may affect changing your Medicare coverage or the type of coverage you can enroll in. These rules include annual birthday rules, guaranteed issue rights, excess charges, and more. With over 65 million Americans on Medicare, there's a good chance you live in a state with a state-specific rule.
Established by state governments, these regulations give you more options when it comes to Medicare Supplement policies outside of initial enrollment.
Depending on your state, you may be subject to a state Medicare rule if you are under 65 with a qualifying disability. If you have Medicare coverage before 65 due to a disability, ESRD, or ALS, you may be unable to enroll in a Medigap policy until you turn 65.
Find Medicare Plans in 3 Easy Steps
We can help find the right Medicare plans for you today
Federal law does not require carriers to sell Medigap to people under 65. Still, some states require companies to sell Medigap, even if the beneficiary has not had their 65th birthday yet.
Another example of how Medicare can vary by state is that while Medigap plans are standardized nationwide, three states offer distinct types of Medigap plans. These states are Wisconsin, Massachusetts, and Minnesota. Rather than the traditional letter plans, these states provide more variety in coverage.
If you're moving or considering dual residency, it's beneficial to understand the rights you'll have in your new state. Medicare state rules may be different, so familiarizing yourself with them can save you a headache.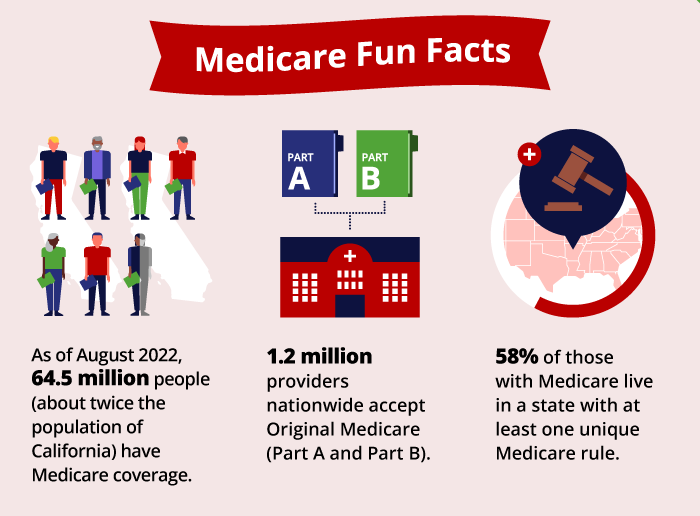 States That Do Not Allow Medicare Excess Charges
When enrolling in a Medigap plan, you will notice that some cover excess charges and others do not. For some, this can make or break their decision to enroll in a policy.
In the following states, policyholders will not need to worry about excess charges as they are not permitted.
Connecticut
Massachusetts
Minnesota
New York
Pennsylvania
Ohio
Rhode Island
Vermont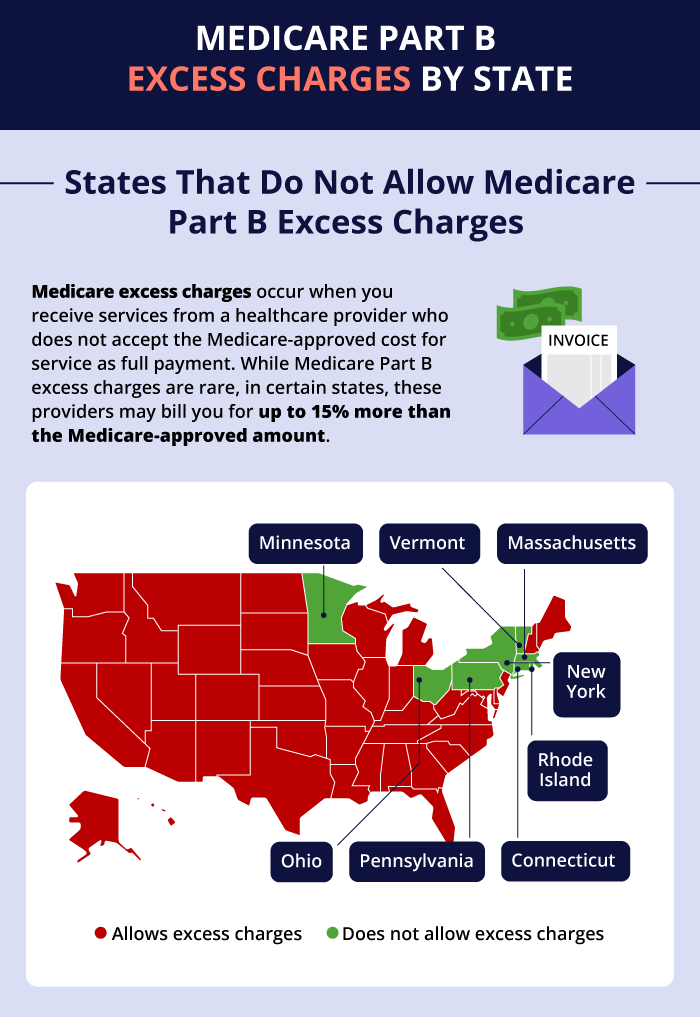 State-Specific Medicare Supplement Rules
The following states have rules allowing you to change your Medigap plan with no health underwriting questions.
Find Medicare Plans in 3 Easy Steps
We can help find the right Medicare plans for you today
Birthday Rule
California – The California birthday rule lets you change Medigap plans during a 91-day open enrollment window.
Idaho – The Idaho birthday rule is a 63-day guaranteed issue period beginning on your birthday.
Illinois – The Illinois birthday rule extends an open enrollment period to Medigap policyholders in a specific age range during a 45-day window.
Louisiana – The Louisiana birthday rule allows a 93-day open enrollment period around your birthday.
Oregon –The Oregon birthday rule offers policyholders a 31-day open enrollment period beginning on their date of birth.
Nevada – The Nevada birthday rule is a 61-day open enrollment period for Medigap beneficiaries residing in the state.
Maryland – The Maryland birthday rule is a 30-day window for changing your Medigap plan or carrier that starts on your birthday.
Oklahoma – The Oklahoma birthday rule is a 60-day window, starting on your birthday, that allows you to change your Medigap plan or carrier.
Each state's birthday rule is unique. For example, California allows you to switch to any carrier regardless of the carrier your current plan is through. On the other hand, Louisiana requires you to stay with the same carrier.
Guaranteed Issue Rights and Open Enrollment Periods
Guaranteed issue rights are protections for Medicare enrollees in certain situations. These rights prevent insurance companies from denying you enrollment in a Medigap plan if you have a pre-existing condition or meet any other potentially disqualifying criteria under normal circumstances.
To utilize guaranteed issue rights, beneficiaries must abide by MACRA when selecting their plan. At this time, only those who got Medicare Part A before January 1, 2020, can sign up for Medicare Supplement Plan F or Medicare Supplement Plan C.
Like Open Enrollment Periods, guaranteed issue rights let you enroll in a Medigap plan with no Medicare Supplement underwriting questions. Those who receive Medicare after January 1, 2020, must abide by MACRA when in an open enrollment period. Thus, individuals with Medicare since before January 1, 2020, may enroll in any Medigap plan they wish.
Annual Guaranteed Issue
Missouri – Policyholders may change from like-to-like benefits during a 62-day period beginning 30 days before the annual policy anniversary and ending 30 days after.
Washington – Policyholders may change from like-to-like or like-to-lesser benefits year-round.
Find Medicare Plans in 3 Easy Steps
We can help find the right Medicare plans for you today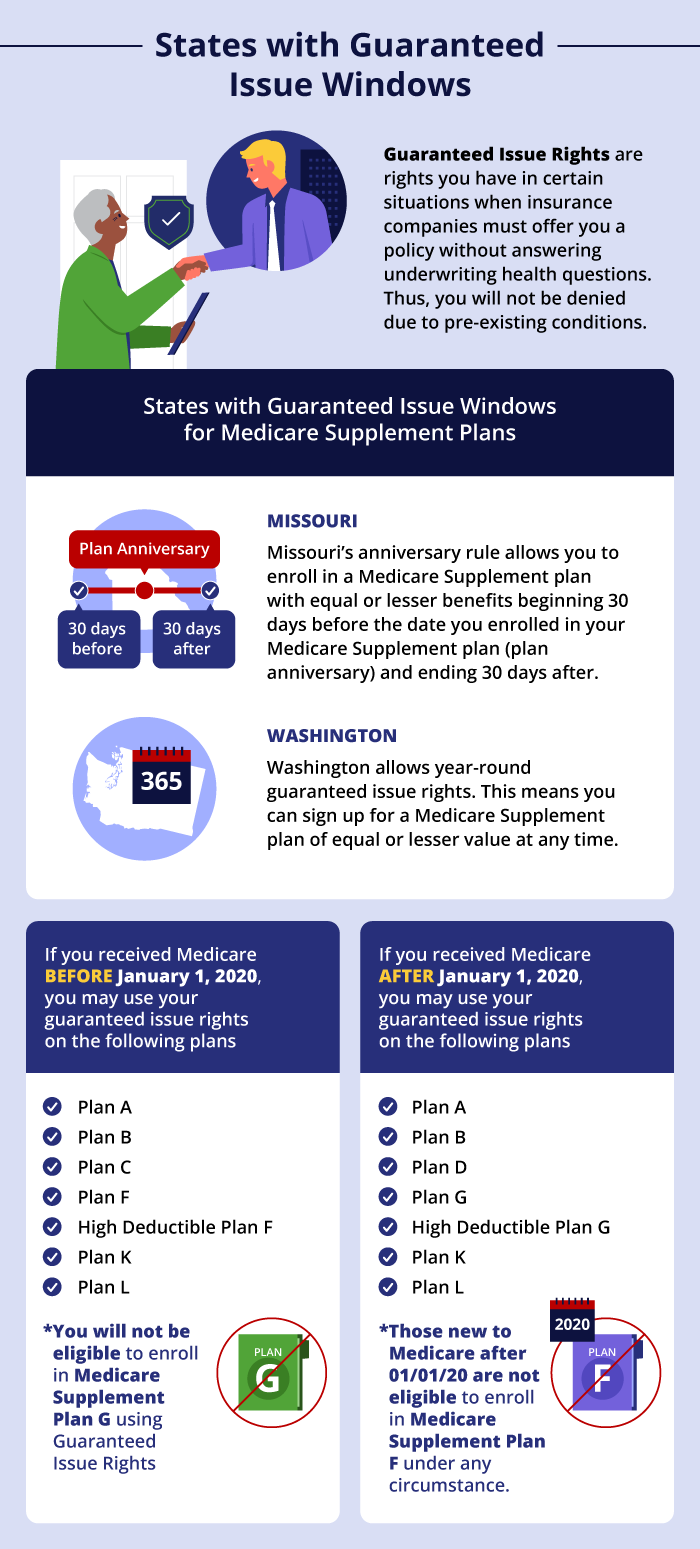 No Health Underwriting Year-Round
The following states don't require you to undergo the medical underwriting process when enrolling in a Medigap plan. Thus, you cannot be denied a Medigap policy due to a pre-existing condition.
Connecticut
Maine – Open Enrollment only in the month of June
New York
*Vermont – Mutual of Omaha and UnitedHealthcare only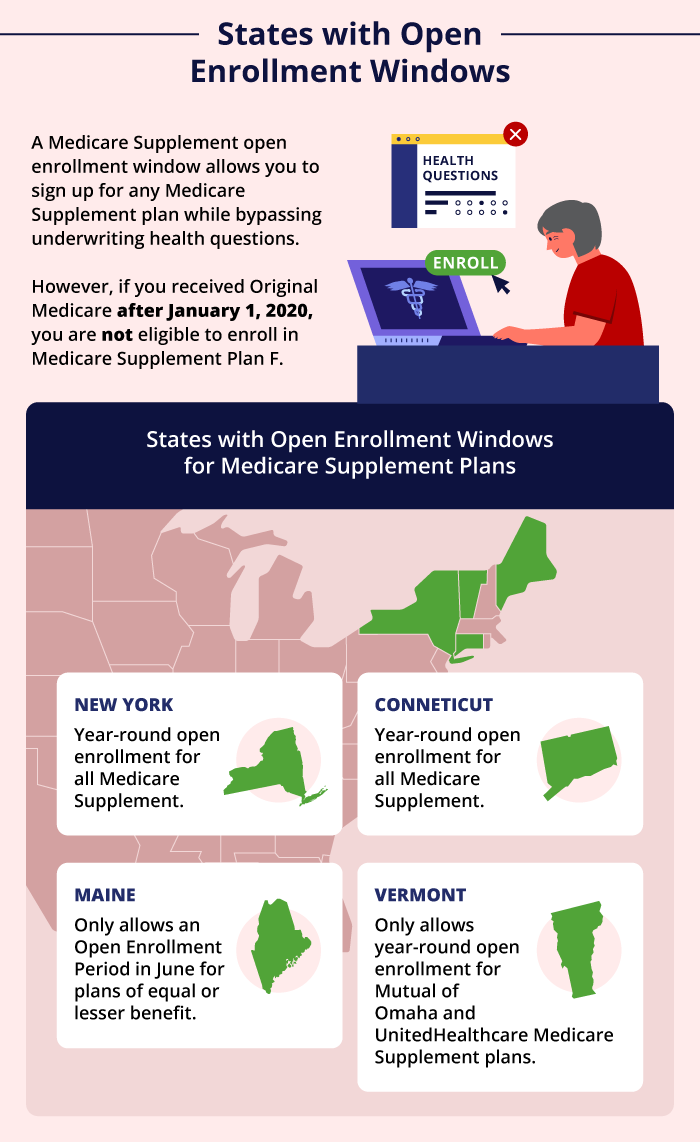 State-Specific Employer Coverage Rules
When combining employer coverage and Medicare, each state has different rules regarding who pays first and how you can utilize the coverage.
Voluntary Group Termination
Voluntary group termination means you choose to drop your group insurance plan while you are still working. Sometimes, people pay more for their group coverage than they pay for Medicare. If this is your current situation, group termination may benefit your wallet.
Find Medicare Plans in 3 Easy Steps
We can help find the right Medicare plans for you today
Generally, choosing to leave your health care coverage will not land you in a guaranteed issue situation. However, your location may provide an exception to this rule. You CAN use guaranteed issue rights to change from employer coverage to Medigap in the following states.
Alaska
Arkansas
California
Colorado
Florida
Idaho
Illinois
Indiana
Iowa
Kansas
Louisiana
Maine
Missouri
Montana
Nevada
New Jersey
New Mexico
Ohio
Oklahoma
Pennsylvania
South Dakota
Texas
Virginia
West Virginia
Wisconsin

How to Get Help with State-Specific Medicare Rules
Keeping track of these different Medicare rules can be confusing. We have licensed agents who are happy to help you make sense of any Medicare rules that apply to your state.

Remember, Medigap costs vary from state to state as well. Our agents can help you find the best Medicare coverage by state that will suit your healthcare needs. Call the number above or fill out our online form to see rates in your area.

Enter ZIP Code
Enter your ZIP code to pull plan options available in your area.

Compare Plans
Select which Medicare plans you would like to compare in your area.

Get Quote
Compare rates side by side with plans & carriers available in your area.