As a Medicare beneficiary, it's helpful to be acquainted with terms such as Medicare's "8-minute rule" to understand how Medicare gets charged for the services you receive. Due to the limited understanding of some practitioners regarding this rule, errors occasionally happen. These errors can result in delayed reimbursement or underbilling.
Find Medicare Plans in 3 Easy Steps
We can help find the right Medicare plans for you today
Physical therapists and other service-based providers bill Medicare for the services beneficiaries receive. Billing and claims procedures involve the use of CPT (Current Procedural Terminology) codes and rules. The 8-minute rule, which is followed by Medicare, is one of these rules. We'll discuss why it is important for beneficiaries to understand what the 8-minute rule is and how it works.
What is the Medicare 8-Minute Rule?
Medicare's 8-minute rule is a stipulation that applies to time-based CPT codes for outpatient services, such as physical therapy. Introduced in December 1999, the 8-minute rule became effective on April 1, 2000.
The rule allows practitioners to bill Medicare for one unit of service if its length is at least eight (but fewer than 22) minutes. A billable "unit" of service refers to the time interval for the service. Under the 8-minute rule, units of service consist of 15 minutes each.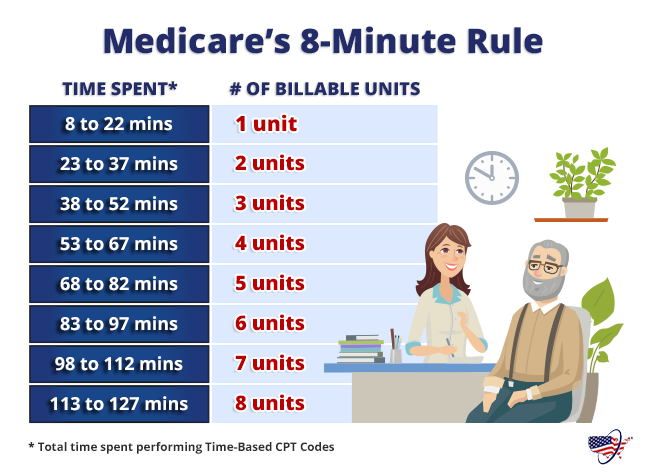 How Does Medicare's 8-Minute Rule Work?
The 8-minute rule applies only to services where the practitioner has direct contact with the patient. Therefore, the service must be in-person for the 8-minute rule to apply.
If you've received more than one service, Medicare will be billed based on total timed minutes per discipline. If an individual service takes less than eight minutes, Medicare won't be billed for it.
The services are then billed in 15-minute units. Therefore, if a service or services take(s) 20 minutes, Medicare will be billed for one unit, because the number of minutes falls between eight and 22.
If 23 to 37 minutes is spent on the service(s), Medicare can be billed for two units. If the service(s) take(s) 38 to 52 minutes, the practitioner can charge for three units, and this pattern continues (in 15-minute intervals) beyond two-hour services (see chart).
Find Medicare Plans in 3 Easy Steps
We can help find the right Medicare plans for you today
Who Follows the 8-Minute Rule?
The following outpatient providers follow the 8-minute rule when billing Medicare for their services:
Private practices
Rehabilitation facilities
Home health agencies providing therapy covered under Medicare Part B in the home of the beneficiary
Hospital outpatient departments (including emergency)
The common thread among practitioners that follow the 8-minute rule is that the services they provide are outpatient and in-person.
When the Rule Doesn't Apply?
The 8-minute rule also does not only apply to Medicare. It applies to federally funded plans, including those listed below:
Additionally, some commercial plans also follow the 8-minute rule. Since Medicare requires the 8-minute rule to be followed for these in-person, outpatient services, providers do not have the choice of using another billing method.
Examples
Lynne visits the hospital where her physical therapist's office is located. She receives 31 minutes of therapeutic exercise and 14 minutes of manual therapy. She then goes upstairs and receives an ultrasound, which takes nine minutes. The total number of minutes between services is 54, so Lynne's Medicare plan will be billed for a total of four units of service.
As shown in the above example, the ultrasound is not billed separately. Since each service takes longer than eight minutes, the minutes are added together and billed to Medicare as the total number of units.
As another example, Gregory visits his physical therapist's private practice. His physical therapist spends 16 minutes assessing his situation, 23 minutes on manual therapy, and seven minutes answering Gregory's questions. This visit totals 46 minutes, so the office will charge Medicare for three units of service.
At times, providers are unaware of the full range of services for which they should bill, such as assessments. This results in underbilling. Therefore, patients should understand what Medicare can and should be charged for, so they can be confident they are not being overbilled. It is also crucial for providers to keep this in mind so they do not underbill for services.
Find Medicare Plans in 3 Easy Steps
We can help find the right Medicare plans for you today
How to Get Help Understanding the 8-Minute Rule
We hope the above information helps in clearing up any confusion you might have about the 8-minute rule. It's advantageous for Medicare beneficiaries receiving physical therapy or another outpatient, direct-contact services to understand how Medicare is billed.

If you're in search of a Medigap plan to cover what Medicare doesn't give us a call. Our team of Medicare experts is here to help you find the best plan to fit your needs. You may also fill out an online rate form to see options available in your area.

Enter ZIP Code
Enter your ZIP code to pull plan options available in your area.

Compare Plans
Select which Medicare plans you would like to compare in your area.

Get Quote
Compare rates side by side with plans & carriers available in your area.