Summary: The Medicare What's Covered app is available on both Android and Apple devices. Free to download, you can search healthcare services and items to see whether or not they are covered by Original Medicare. There are many more resources available, and our step-by-step guide makes it simple to navigate. Estimated Read Time: 7 mins
Find Medicare Plans in 3 Easy Steps
We can help find the right Medicare plans for you today
Table of Contents:
Understanding what is and isn't covered by Original Medicare can be a lot to remember. Everyone has their own medical needs and there are several healthcare services covered by Medicare but not everything is. Now, the Centers for Medicare & Medicaid Services (CMS) is providing the Medicare What's Covered app to help eliminate this problem.
The easy-to-use, free app that allows you to look up healthcare services to discover which are covered and which are not. You can also review preventive services and find valuable Medicare resources and information right in the palm of your hand.
Rather than wasting time sitting in the waiting room at the doctor's office unsure of whether or not your benefits cover your healthcare needs, you can check beforehand so long as you can connect through cell service or WiFi. Below, we're breaking down what you can discover when using the Medicare What's Covered mobile app.
The Medicare What's Covered App Is Easy To Use
The Medicare What's Covered app allows anyone to check which services are covered, among other informative resources. For example, if you are going to need a healthcare service or item after enrolling in Medicare Parts A and B, simply search on the app and discover if and how your benefits cover you.
In the Medicare What's Covered mobile app, you'll find a basic cost list, details about eligibility, contact information, and more This includes a list of preventive services Original Medicare covers. You can't ask questions, but with the easy-to-use interface and search engine, simply type in what you're looking for or search alphabetically.
With an Internet connection and only a few presses of a button, you can find out if your health needs are covered by Medicare. Below, we'll show you step by step how to make it all happen.
How to Use the What's Covered App
Sometimes, technology has a tendency to make a simple task far more complicated than it needs to be. Fortunately, the app CMS has created is user-friendly, intuitive, and gets the job done with ease. Here are a few easy steps on how to use the What's Covered app:
Find Medicare Plans in 3 Easy Steps
We can help find the right Medicare plans for you today
Download the App in the App Store or Google Play Store
It doesn't matter if you have an Apple device or an Android, you'll find the What's Covered Medicare app is available for use. Simply search for the app and download for free either in the Google Play Store or the App Store by Apple to get started.
Keep in mind that there are several Medicare-related apps available, but the offering from CMS is the official app you'll want to download. Here's what it looks like when you search for it on the Google Play Store. Simply press "install" and your download will begin: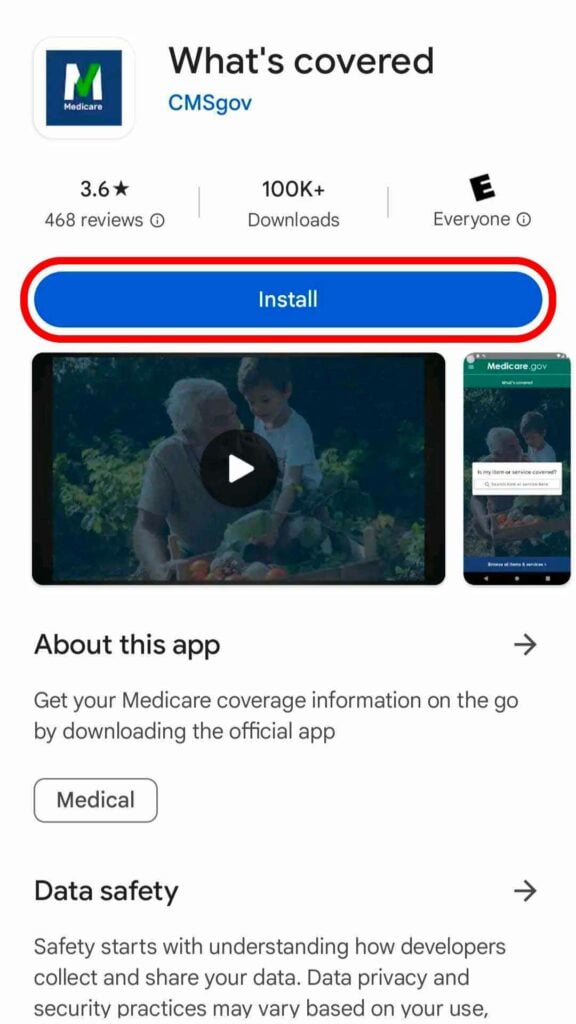 For Apple users, the process is similar. Be sure to use the official CMS app and to press "get" and it will begin installing on your device: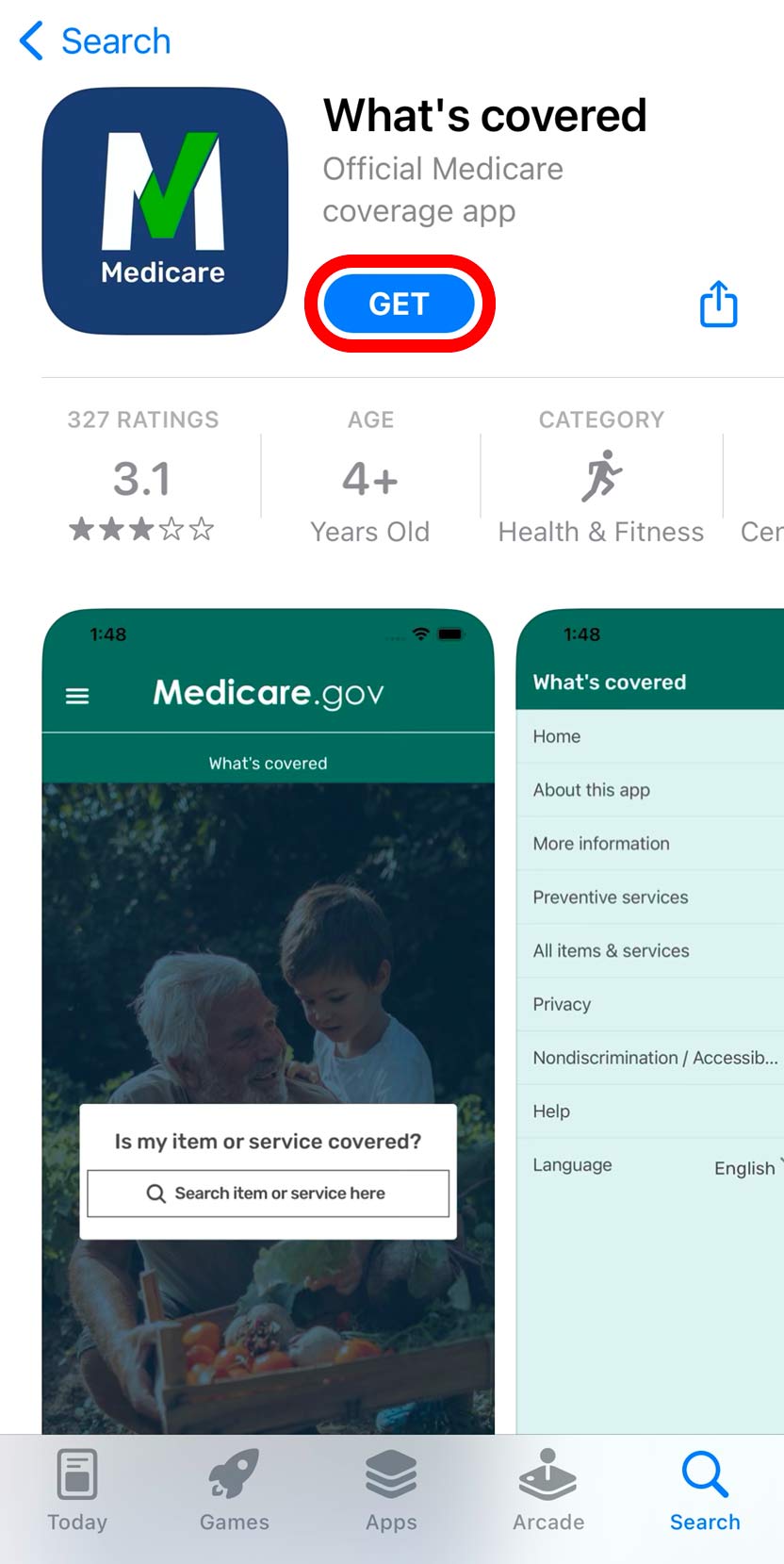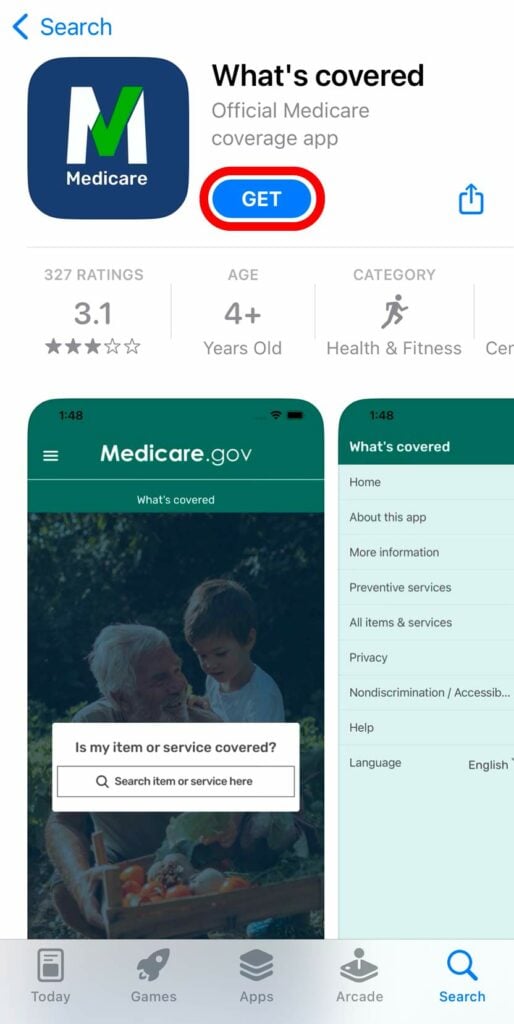 Search Medical Services To See if They're Covered
After you've downloaded the app to your device, it's time to begin using it. The first feature you'll find is on the Medicare What's Covered app home screen. There is a search bar where you can look up healthcare services or supplies to see if they are covered, or, simply browse all the items and services available. You can also press the "hamburger menu" to find a variety of options available, highlighted by the red circle below: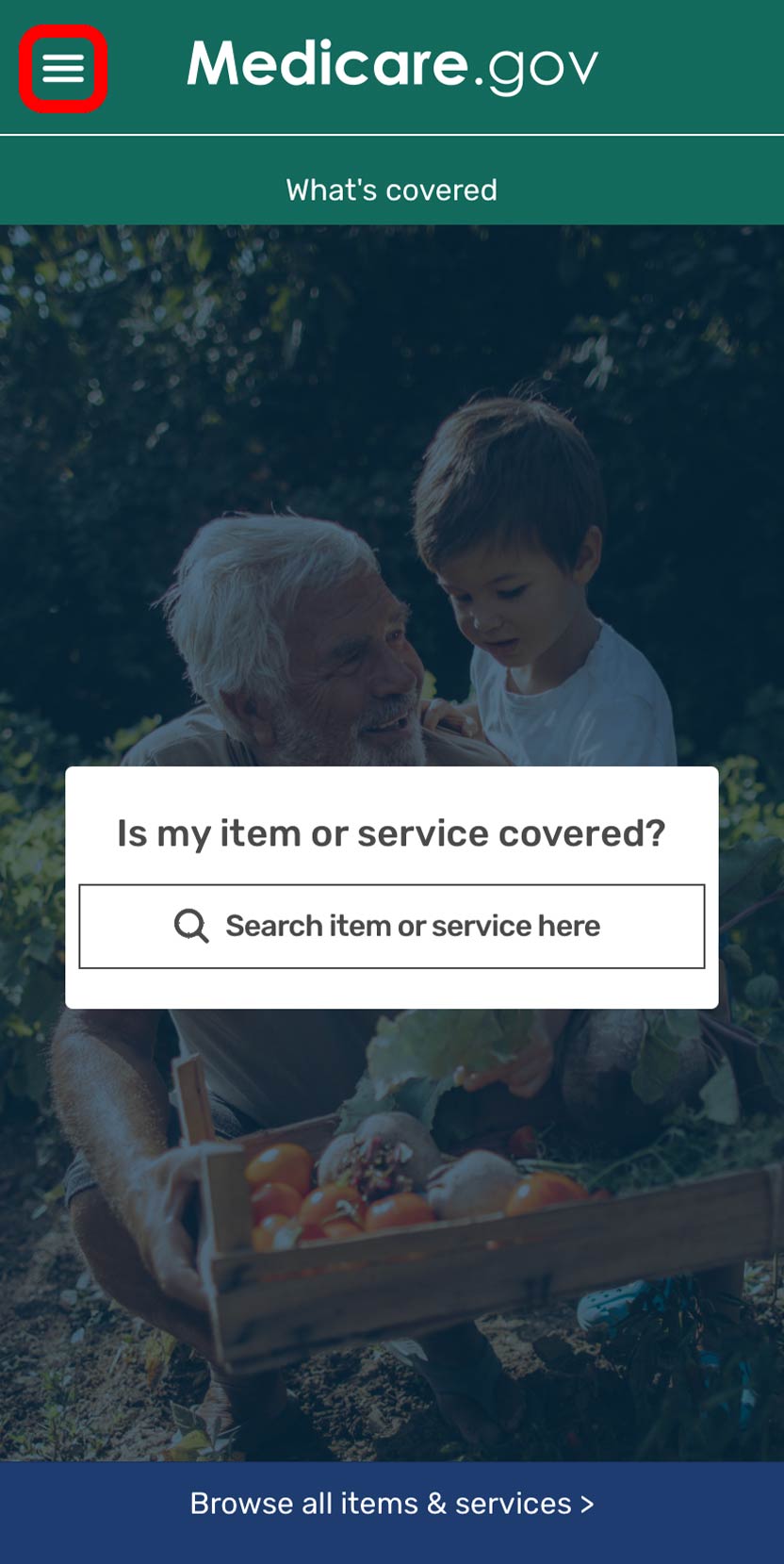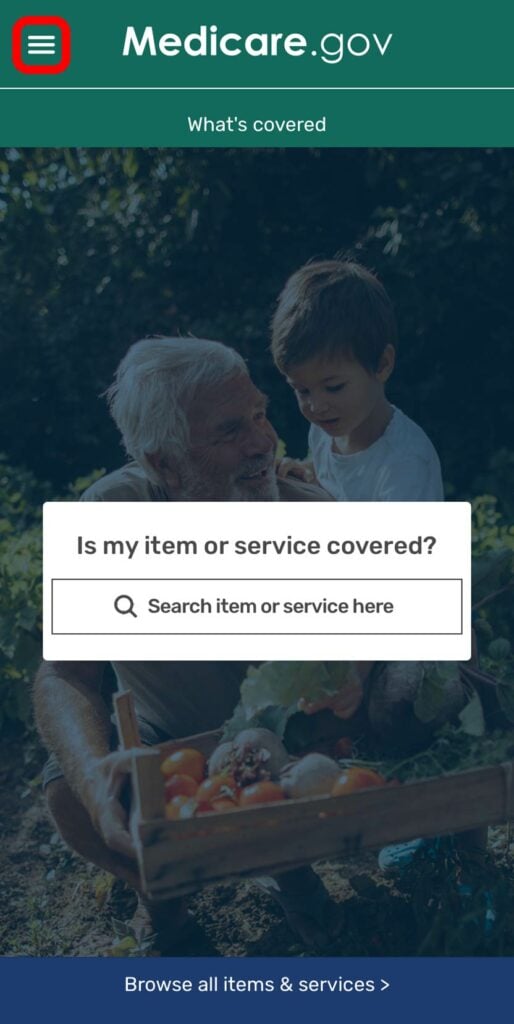 You can also find a section breaking down important Medicare information, such as how to contact Medicare, terminology, and access to the official Medicare.gov website:
Find Medicare Plans in 3 Easy Steps
We can help find the right Medicare plans for you today
You can press "preventive services" to view the services Medicare may or may not cover. There are a few pages presenting five at a time. Press the service to learn more about whether its covered, the costs involved, what the service entails, and other important facts: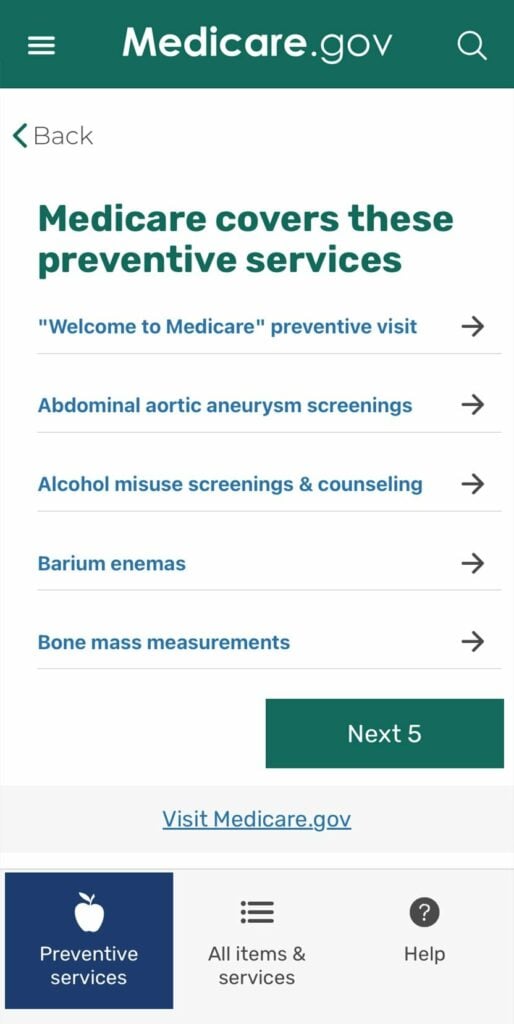 Finally, you can also explore all of the potentially covered healthcare services and items available. Not everything will be covered, but that's the beauty of the app. Simply look up the procedure or medical item you need, press it, and discover whether or not it's covered: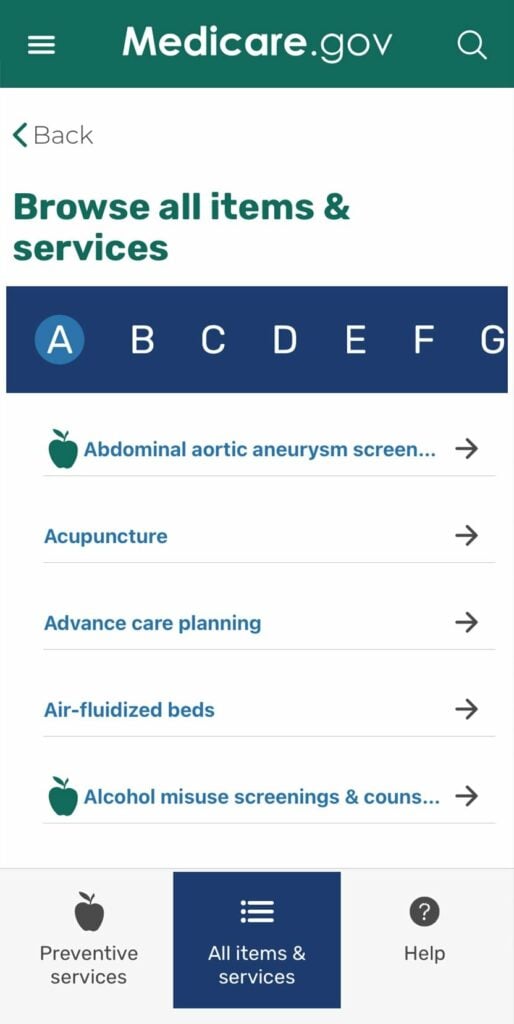 If your healthcare service or item is covered, you'll see a green checkmark indicating that Original Medicare benefits will cover you: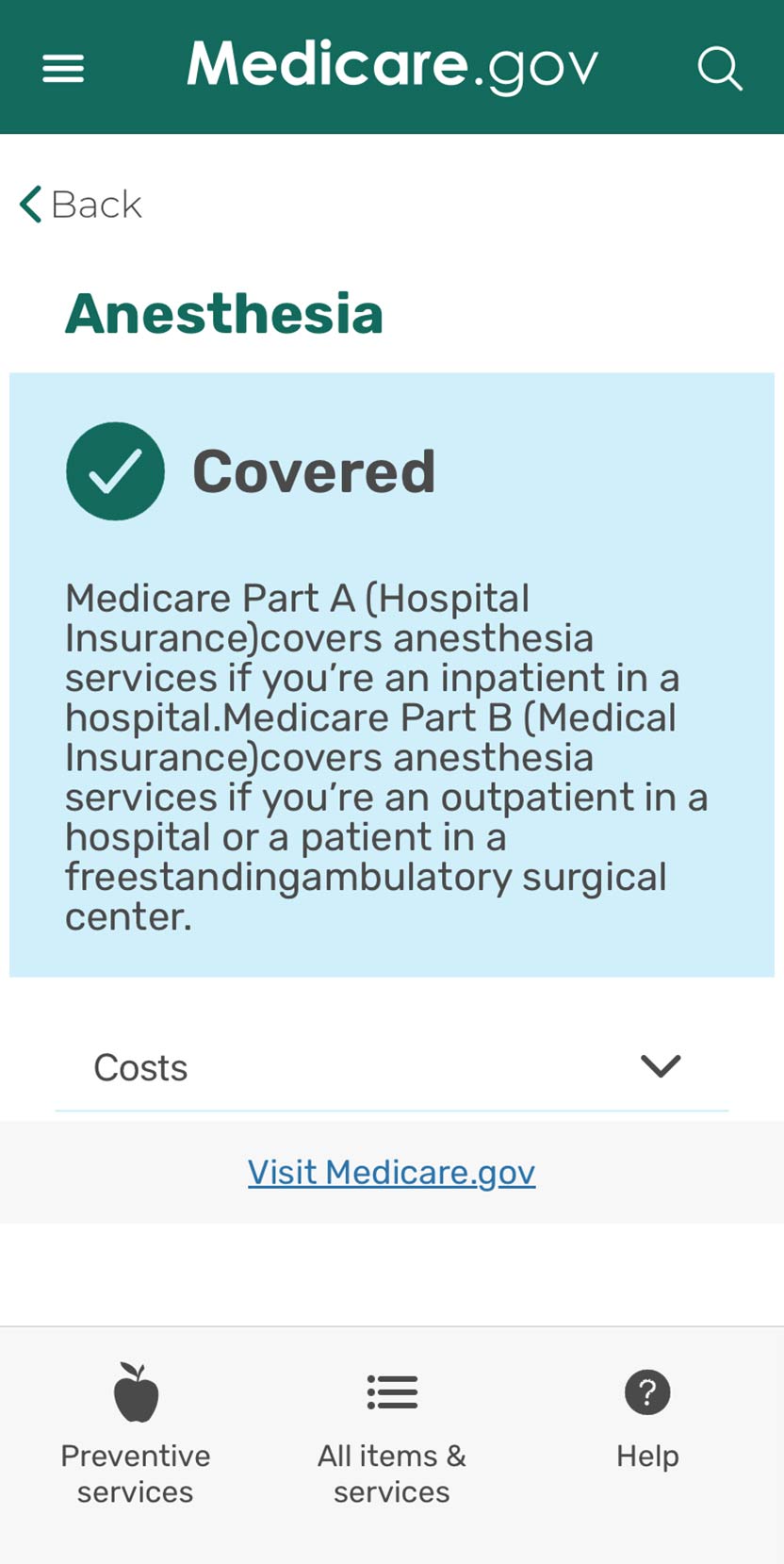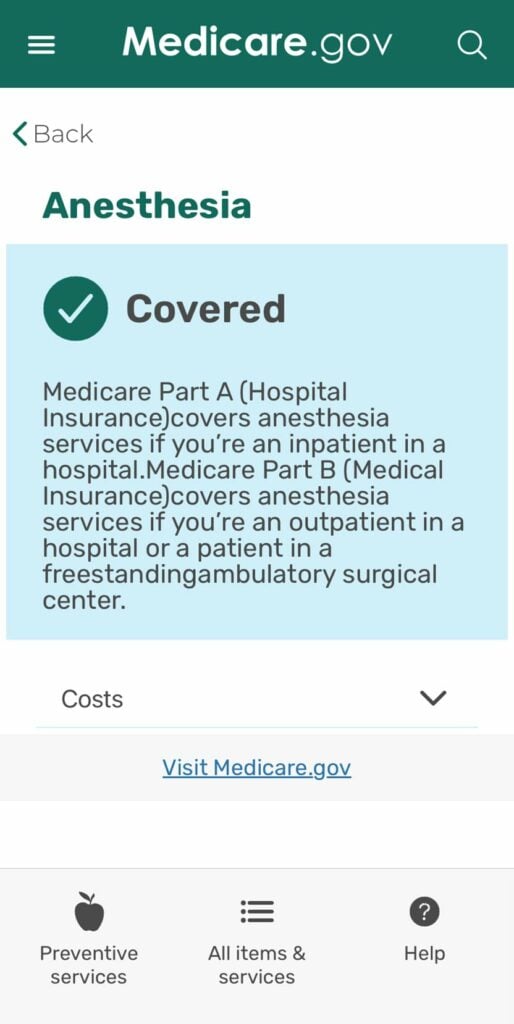 Find Medicare Plans in 3 Easy Steps
We can help find the right Medicare plans for you today
If the healthcare service or item in question is not covered by Original Medicare, you'll be notified with a red "x" indicating the service or item isn't typically covered by your benefits: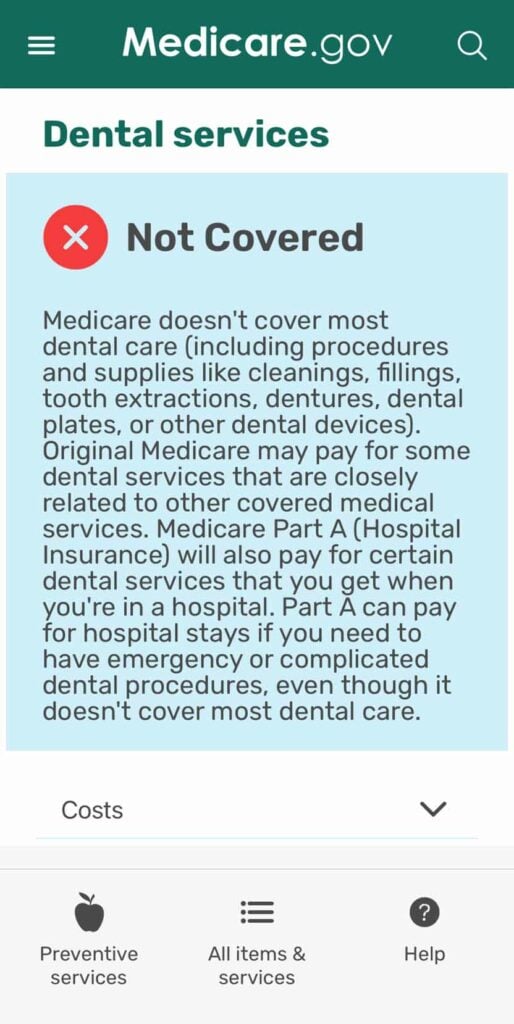 You'll also note that you can toggle between the preventive services section and the all-encompassing services and items section for easy navigation.
Explore the App for Additional Resources as Needed
Not only is the Medicare What's Covered mobile app great for searching for coverage statuses, but you can also use it as a portal for additional information. You'll find plenty of helpful contact information, accessibility and nondiscrimination notices, how to file complaints, and more You can even toggle between English and Spanish languages: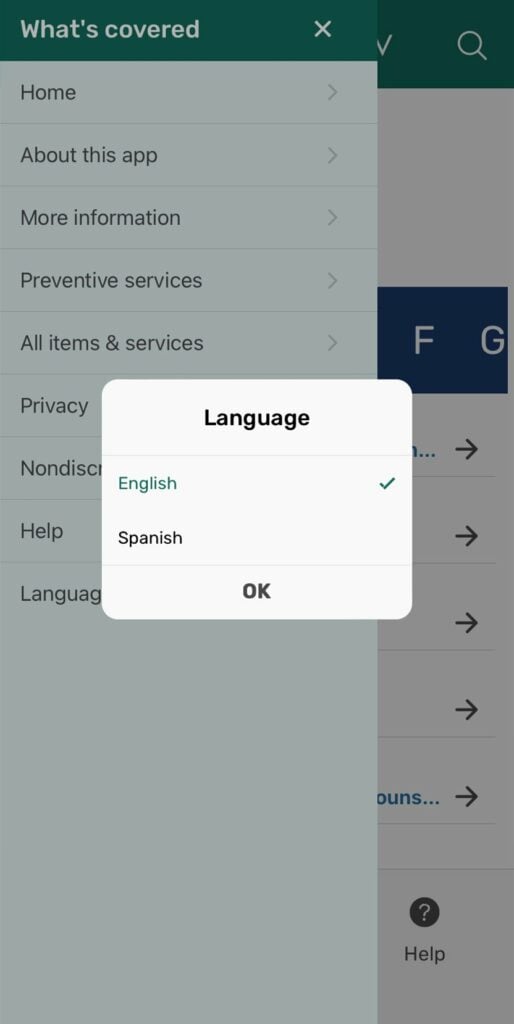 Is What's Covered App for Medicare Legit?
As an official app from CMS, users can enjoy What's Covered knowing that they are browsing a safe, reliable source of information. As it stands, the app is the only one offered by Medicare in any capacity. Therefore, if you are using another Medicare-focused app, be warned that it is not officially affiliated with CMS and may provide inaccurate information.
Privacy is also a factor whenever you are using an app or visiting websites. CMS offering this app provides greater peace of mind. There's no need to worry about the app using your personal information because it doesn't ask for any user specifics. The links inside also point to official Medicare webpages that are secure and you can trust.
Pros and Cons of the Medicare What's Covered App
There are many features on the app and updates from CMS continue to improve user experience. However, there are some drawbacks and things you'll want to be aware of before using the app and finding yourself frustrated:
Find Medicare Plans in 3 Easy Steps
We can help find the right Medicare plans for you today
| Pros: | Cons: |
| --- | --- |
| Free to download | Not all shorthand/terminology is recognized by the search engine, including CPT codes |
| Easy-to-access, consolidated information | Is more of a general overview than a resource for hyper-specific healthcare concerns |
| Additional Medicare resources available | Some screen incapability issues have been mentioned by iPhone X, XS, and XR users |
| Can help you save time and from being surprised when visiting the doctor | Specific brands for medical equipment can't be searched |
| Not only does the app show you if you're covered but it also breaks down how the costs are covered | Information on Medicare Supplement plans (Medigap), Medicare Advantage plans, and Medicare Part D prescription drug plans are not available |
What's Not Included on Medicare What's Covered Mobile App
While you'll find plenty of helpful information on the What's Covered Medicare app, It's not comprehensive. There are several things that may be beneficial for users the app is lacking:
Remember, for specific healthcare needs, you may need to speak to a person rather than look it up online. Healthcare is different for all, and specific situations can arise that the app is not prepared to handle.
The cost of healthcare can vary from location to location. Specifically, when you are looking for information for surgeries and other procedures.
Your app provides a lot of information but focuses on Original Medicare. This means if you have questions about coverage or wish to look up or switch to other types of Medicare, such as Medicare Advantage, Medigap, or Part D, you'll need to do so by other means.
Fortunately, you still have options to help guide you. Speaking with your healthcare team about specific concerns or verifying services or items is a great way to better understand your coverage.
Here at MedicareFAQ, our primary goal is to educate beneficiaries about Medicare. We work with people every day who may need to compare their coverage options, including Medicare Supplement, Medicare Advantage, and Part D coverage.
Our goal is to help educate you about your options so that you can make an informed decision about your healthcare. If you have a question the Medicare What's Covered app can't answer, or simply want to explore your options, give us a call at the number above or press the compare plans button down below to get started.

Enter ZIP Code
Enter your ZIP code to pull plan options available in your area.

Compare Plans
Select which Medicare plans you would like to compare in your area.

Get Quote
Compare rates side by side with plans & carriers available in your area.