Summary: Medicare Flex Cards are offered by a select few Medicare Advantage plans to help cover costs of medically necessary items purchased from your everyday convenience store. Estimated Read Time: 6 min
Find Medicare Plans in 3 Easy Steps
We can help find the right Medicare plans for you today
Medicare advertisements are constantly flooding our screens. However, many of these ads can be confusing or misleading. So, we are here to clear the air about one product – the flex card for seniors on Medicare. So, what is the truth about the flex card for seniors? Find out here!
Recently, Medicare has put its foot down when it comes to false advertising claims and is cracking down on companies that deliberately mislead consumers. These changes come with hopes that Medicare enrollees can have a clear idea of the plans they enroll in without any false hopes and promises.
What is a Flex Card?
Currently in circulation are advertisements for Medicare-supplied flex cards from various carriers, often coined senior flex cards. These ads usually include a multitude of misleading or false claims.
Truthfully, Medicare as a federal program is not distributing a flex card for seniors. Thus, these cards are not part of the government-run program.
Private Medicare Advantage plans distribute the cards in these ads – not Original Medicare. So, many legitimate insurance companies offer this benefit. However, they all require beneficiaries to pick up their Medicare Advantage plans.
Flex cards are debit cards that beneficiaries can use to purchase medical equipment and necessary items. Typically linked to a flexible spending account, these cards are a benefit linked to qualifying health plans throughout the nation.
These cards, issued by private insurance companies, are only available on specific plans. Also, the cards have spending limits that vary by plan and carrier. The flex card benefit is not a common feature of Medicare Advantage plans, but you can find it in a handful of plans nationwide.
One misconception about flex card benefits is that you can use this debit-style card to cover your everyday expenses like groceries, electricity, rent, and more. However, this is not entirely the truth.
Find Medicare Plans in 3 Easy Steps
We can help find the right Medicare plans for you today
With a flex card, you may be eligible to purchase specific healthy foods and produce. However, these items must be cleared through your plan administrator. You may also use the flex card to purchase over-the-counter items like medications and medical supplies.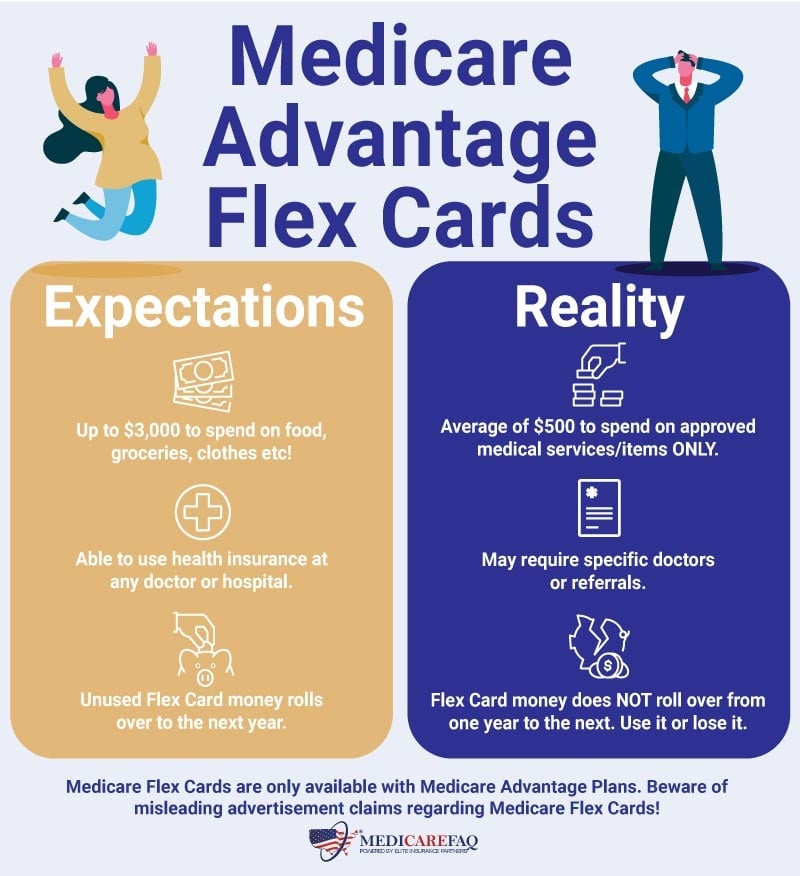 What Does a Flex Card Cover?
A Flex benefits card is used to cover qualifying medical expenses only. These include:
Copayments and deductibles
Prescription and OTC medications
Diagnostic devices
Other medically necessary expenses – check your plan details for a complete list
Flex Card for Seniors Advertisement Claims
The advertisements include claims that lead beneficiaries to believe they can receive a flex card with up to $2,880 from Medicare to spend as they choose. However, this is entirely not true.
While some carriers offer a flex card benefit, it is rare to receive such a large amount. The average flex card in 2022 is pre-loaded with $500.
Further, the ads tend to be unclear about which items are eligible for purchase with flex cards. According to one commercial, you can use the card for gas, groceries, new clothing, and shoes. While this could be true under rare circumstances, a licensed physician must deem these items medically necessary.
Is There a Medicare Grocery Allowance?
Original Medicare does not offer a grocery allowance for enrollees. Yet, you may be able to receive some assistance when enrolled in a Medicare Advantage plan such as a Special Needs Plan. However, not all Medicare Advantage plans offer these benefits, and your allowance will vary.
The Medicare Advantage grocery allowance falls under the category of Special Supplemental Benefit for the Chronically Ill, also known as SSBCI. This means the benefit is only available to Medicare Advantage enrollees with certain chronic conditions. So, your flex card may cover some of these expenses if you fall into this category.
Find Medicare Plans in 3 Easy Steps
We can help find the right Medicare plans for you today
In addition to the flex card grocery allowance, there are also meal benefits for Medicare Advantage enrollees who meet broader criteria. However, these meal benefits usually only last four weeks or less, depending on your situation.
Medicare Flex Card Eligibility
Flex cards are an additional benefit to Medicare Advantage plans. So, to qualify, you must have a participating policy.
Not all Medicare Advantage plans participate in this program. In reality, a very small percentage of plans available nationwide offer this benefit. So, you must live in an area where at least one of these plans is available and sign up during a qualifying Medicare enrollment period.
Fortunately, Medicare Advantage plans do not require beneficiaries to answer Medicare Supplement underwriting eligibility questions to enroll, so you will not face denial due to a pre-existing condition. However, to participate in a Medicare Advantage plan, you must be willing to abide by strict networks and higher out-of-pocket costs. So, you will need to make sure your new plan's network covers your physicians.
Flex cards are not available in every state or with every carrier. It is best to contact your insurer directly to inquire if your plan offers this benefit. You can also review your plan's benefits on Medicare.gov.
Are Flex Cards Available with Medicare Supplement Plans?
Medicare Supplement plans do not include flex card benefits. Medigap plans are a direct extension of Original Medicare, available through private insurance companies. Medicare Supplement plans help beneficiaries reduce out-of-pocket spending by covering the holes in Original Medicare.
Flex cards for seniors over 65 are not a necessary benefit of a Medicare Supplement plan because Medigap beneficiaries typically save on out-of-pocket costs compared to Medicare Advantage plans.
Find Medicare Plans in 3 Easy Steps
We can help find the right Medicare plans for you today
Often, Medicare Advantage plans have high maximum out-of-pocket costs. Companies offer additional benefits to make the policies more attractive to consumers by balancing these high costs. On the other hand, Medicare Supplement plans allow beneficiaries to save money while receiving the benefits they need to reduce Original Medicare costs.
Flex cards are only available with Medicare Advantage plans. Even with the flex card benefit, many Medicare Advantage plans still produce higher out-of-pocket costs than Medicare Supplement Plan G. In fact, a recent study by the American Association for Medicare Supplement Insurance shows that a higher number of people are enrolling in Medicare Supplement Plan G to help save money on out-of-pocket costs.
How to Know if a Medicare Flex Card is Right for You
Understanding the full benefits of your insurance plan is essential in receiving the most out of your coverage. Plus, spending more than necessary for healthcare is frustrating. Beneficiaries often save more money in total health spending with a Medicare Supplement plan than with a Medicare Advantage plan. Additionally, they find cost-saving benefits such as a flex card never truly live up to their promises.
Medicare Supplement plans make healthcare affordable and easy for all enrollees. If you are looking to reduce your healthcare spending, enrolling in a Medicare Supplement plan could be a step in the right direction. Our agents are ready to help you review your options and find the most cost-effective plan for your needs.