Your Medicare Part D costs include the initial deductible, initial coverage limit, out-of-pocket threshold, and the coverage gap (donut hole). Some of these costs will be specific to you and can change each year. Thus, it is essential to review your plan annually.
Find Medicare Plans in 3 Easy Steps
We can help find the right Medicare plans for you today
Below, we will review the current Medicare Part D costs. Remember, Medicare Part D costs can vary by location, so your actual costs may look slightly different.
Medicare Part D Premium 2022 Chart
Medicare Part D prescription drug coverage pairs with Original Medicare (Part A and Part B) that you get through the government. However, you will not receive Medicare Part D through the government. Private insurance companies administer Medicare Part D plans.
Thus, your Medicare Part D premium will depend upon the plan you select. You will have options within your ZIP Code from which to choose, and your monthly premium will be set by the carrier. However, the average monthly premium for a Medicare Part D plan in 2022 is $33.37.
Additionally, if you receive an annual income higher than $91,000 individually or $182,000 as a couple, you will be responsible for paying a higher Medicare Part D premium. The chart below depicts the income brackets and how much you will pay in addition to your Medicare Part D plan's premium in 2022.
Premium based on income is as follows:
Individual Annual Income
Couples Annual Income
What you pay in addition to your regular Part D premium
Equal to or below $85,000
Equal to or below $170,000
$0
$85,001 – $107,000
$170,001 – $214,000
$12.40
$107,001 – $133,500
$214,001 – $267,000
$31.90
$133,501 – $160,000
$267,001 – $320,000
$51.40
$160,001 – $499,999
$320,001 – $749,999
$70.90
$500,000 and above
$750,000 and above
$77.90
What is the Medicare Part D Deductible for 2022?
The Medicare Part D deductible is the amount you must pay out-of-pocket to receive the maximum benefit from your plan.
Not every Medicare Part D plan has a deductible, and each Medicare Part D carrier can determine the deductible for their plans. However, no plan can exceed the maximum Medicare Part D deductible of $480 in 2022.
If you are receiving Extra Help, the maximum deductible you pay decreases. If you receive partial Extra Help, your deductible will be $99. Those receiving full Extra Help will have a $0 deductible.
Costs in the Phases of Medicare Part D Coverage
There are four coverage phases for Medicare Part D. These include:
The deductible phase (not applicable on all plans)
The initial coverage phase
The coverage gap phase or donut hole
The catastrophic coverage phase
Each of these phases have different dollar amounts you must meet to move on to the next phase in your Medicare Part D plan. During each phase, your specific plan will have a pre-determined amount that you will be required to pay for each of your drugs. This amount varies by phase, plan, and carrier.
Find Medicare Plans in 3 Easy Steps
We can help find the right Medicare plans for you today
What is the Initial Coverage Limit for Medicare Part D for 2022?
After reaching your deductible, the Medicare Part D initial coverage limit is the total amount you and your plan need to spend before entering the coverage gap phase of your Medicare Part D plan. This coverage gap phase is also known as the donut hole. Once in the donut hole, you are responsible for covering 25% of the retail cost for your drugs.
In 2022, the initial coverage limit is $4,430. Once you and your plan meet this through out-of-pocket spending, you will enter the donut hole and cover a quarter of the cost of your drugs.
What is the Out-of-Pocket Threshold for Medicare Part D in 2022?
Once you are in the donut hole, you will need to reach your out-of-pocket threshold to move into the next phase of your drug plan – catastrophic coverage. In 2022, the Medicare Part D out-of-pocket threshold is $7,050.
Once you spend this amount on prescription drugs, you will only be responsible for a small copayment (up to 5%) of the total cost of your medications.
Medicare Part D Costs in the Donut Hole
The coverage gap or donut hole begins once you reach your Medicare Part D plan's initial coverage limit and ends when you spend $7,050. In the donut hole, Medicare Part D enrollees will receive a 75% discount on the total cost of the brand-name drugs they purchase while in the donut hole.
Example: if you reach the donut hole and purchase a brand-name medication with a retail cost of $100, you will pay $25 for the medication and receive a $75 credit toward meeting your total out-of-pocket spending limit.
Medicare Part D costs vary by policy, based on the list of covered drugs, also known as the plan's formulary. Policies covering prescription drugs usually put covered drugs into cost tiers, with individual cost-sharing for the medications on each tier.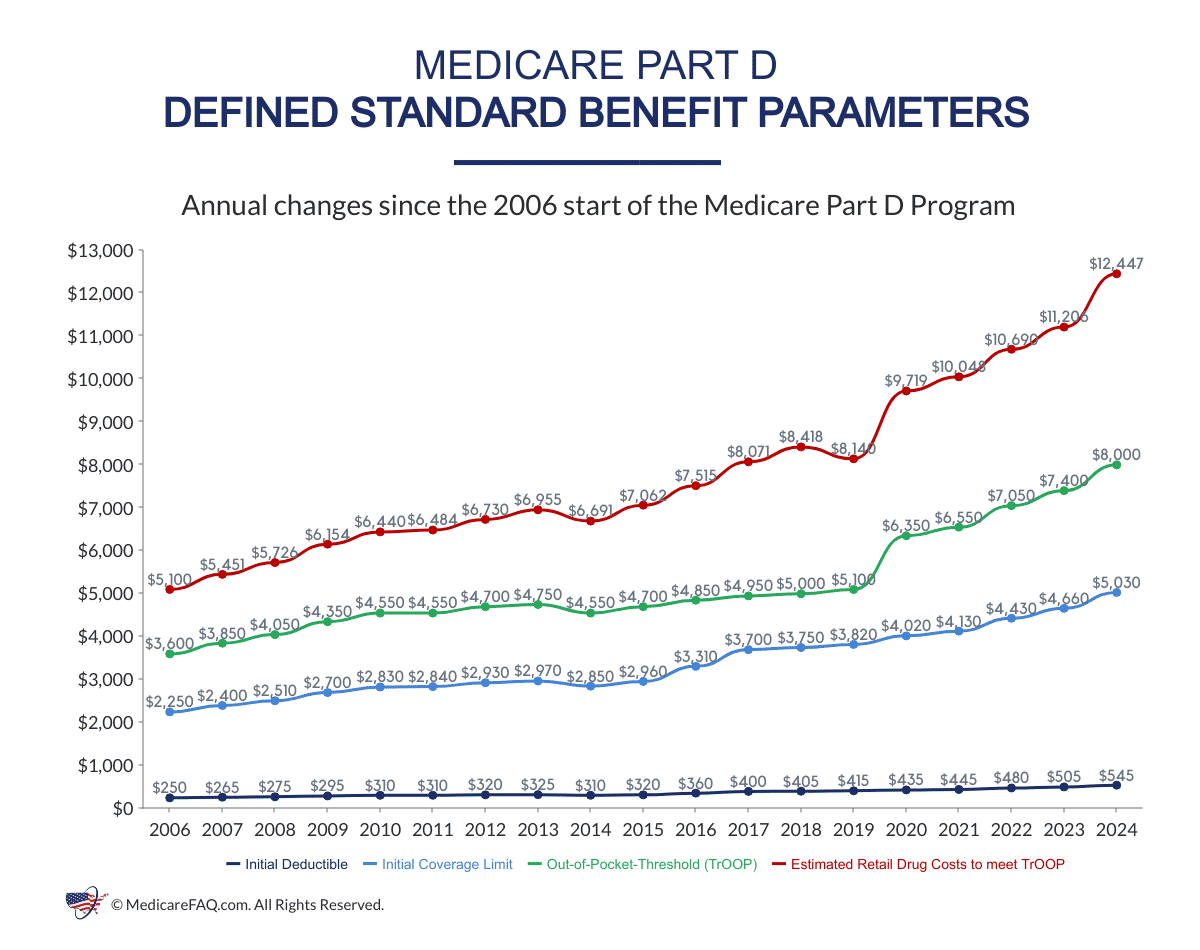 Find Medicare Plans in 3 Easy Steps
We can help find the right Medicare plans for you today
Is Medicare Part D Expensive?
What you pay for Medicare Part D will depend on the prescription medications you take throughout the year. Medicare Part D costs for medications are outlined in a formulary, which is a list of drugs your plan will cover.
Carriers organize medications into tiers on their formularies. Typically, a Medicare Part D plan will include five tiers.
Medications that fall on the higher tiers (4 and 5) attract higher coinsurance costs and copayments compared to those on the lower tiers (1 through 3). Private insurers set their premiums, so it pays to compare plans in your area to make sure that you're choosing the right plan for your prescription drug needs.
Remember, Medicare prescription drug policies and Medicare Advantage drug plans vary in terms of the medications they cover and the costs you pay. These discrepancies occur despite the prescription drugs being the same.
Medicare Part D Costs depend on:
The medications you take and how frequently you take them
Whether your pharmacy of choice is within your plan's network
If your medications are on your plan's formulary
Whether you choose a stand-alone Medicare Part D prescription drug plan or a Medicare Advantage plan with prescription drug coverage (MAPD)
If you receive Extra Help with your Medicare Part D costs
Again, one significant Medicare Part D cost that you should consider is the monthly premium. However, you will also need to pay an annual deductible and copayments/coinsurance.
What Happens if I Miss a Medicare Part D Payment?
If you are late or miss a payment for your Medicare Part D prescription drug plan, you may have options. Medicare has specific rules regarding late and missing payments. However, your carrier chooses how they will proceed.
These are Medicare's rules for late Medicare Part D premium payments:
You can still receive coverage without penalties
You get a grace period and warning
You receive a letter directing you to contact your plan for resolution
You must receive notification before a plan can drop you. Grace periods can be granted and must be at least two months but can be more depending on your plan. The grace periods begin on the first day your premium is late.
Find Medicare Plans in 3 Easy Steps
We can help find the right Medicare plans for you today
Medicare Part D Costs FAQs
How to Get Help with Medicare Part D Costs
If you are concerned about your Medicare Part D costs, our licensed Medicare agents are here to help you find the most affordable option that will give you the most benefits. They will review all your prescriptions to make sure they are not only covered but will be at the lowest cost to you.

Give us a call now at the number above or use our compare rates form to see Medicare Part D rates in your area now.
Enter ZIP Code
Enter your ZIP code to pull plan options available in your area.
Compare Plans
Select which Medicare plans you would like to compare in your area.
Get Quote
Compare rates side by side with plans & carriers available in your area.