Over 20% of the population in New Hampshire has Medicare. Many New Hampshire enrollees choose to add a Medicare Supplement plan to add additional coverage to their Medicare. Below, we'll explain how this coverage will work with your benefits.
New Hampshire Medicare Supplement Plan Eligibility
No matter which state you live in, the best time to enroll in a Medigap plan is during the Open Enrollment Period. It's during this time that you can enroll in a Medicare Supplement without worrying about underwriting.
In 2021, New Hampshire will begin allowing beneficiaries to change from Medigap to Medigap with the same company without worrying about underwriting. The new legislation will allow beneficiaries to make changes during their birthday month.
New Hampshire Medicare Supplement Costs
The cost varies by situation. Location, pre-existing health conditions, age, and other factors can play a role. Let's go over some of the quotes we ran for clients in New Hampshire.
These clients are non-smokers and inside the Open Enrollment Period. If you smoke or are older, you could pay more in premiums.
A 65-year-old woman in Manchester can plan on paying around $114 each month for her Plan N coverage. Likewise, that same woman may end up paying more than $135 a month for Plan G benefits.
So, if she's going to the doctor several times a month, Plan G could bring her more value. But, if she goes to the doctor only several times a year, Plan N could bring her more value.
Now, a 65-year-old man may end up paying more than $130 a month for Plan N or $150 for Plan G. The idea is the same, if you're going to be using the coverage frequently, you need more insurance.
If you're not in need of frequent doctor visits, saving money on the premium each month could be more appealing to your situation.
Eligibility for Medicare in New Hampshire for the Disabled under 65
The same legislation allowing beneficiaries to change plans will prohibit insurers from charging those under 65 higher Medigap premiums.
The new law will give those under 65 access to Medigap coverage at an affordable rate.
The change is good news for those on Medicare disability in New Hampshire.
New Hampshire Medicare Advantage Plans
Currently, New Hampshire has two policies in ten counties that give a 5-star rating.
You'll find that an Advantage policy can cost you anywhere between $0-$125 each month.
In comparison to Medigap, these plans do seem much less expensive.
Be sure to choose a plan that carries good ratings.
An extensive physician network is also a plus.
The benefit of having an Advantage policy instead of Medicare is the benefits of a Maximum Out Of Pocket.
The Maximum Out of Pocket is an amount beneficiary can't pay over in the calendar year.
Standard Medicare doesn't offer a Maximum Out of Pocket. This means beneficiaries could spend tens of thousands of dollars during a year of bad health.
Part D in New Hampshire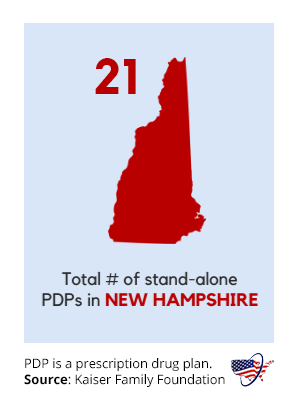 Medicare Part D covers medications, and some Advantage plans include drug coverage.
Prescription Drug Plans can be affordable; some plans cost as little as $15 a month, and they can cost up to about $120.
A person with no medications or certain generics could find savings with the $15 a month policy.
Further, beneficiaries that delay Part D enrollment will incur a Part D late enrollment penalty.
The best Part D policy for you is the one that covers your prescriptions and your pharmacy.
Mostly, you can save more when you use the mail-order pharmacy, most plans have this option.
FAQs
How to Apply for Medicare in New Hampshire
Enrolling in coverage is simple and can be done over the phone.

To get the best rates call the number above today. You can also compare rates online.

Our licensed insurance agents are available to help with any insurance questions you may have. We walk you through the application, and we're here for you through the life of your policy.
Enter your zip code to pull plan options available in your area.
Select which Medicare plans you would like to compare in your area.
Compare rates side by side with plans & carriers available in your area.