California Medicare is unique because it has a few rules that only apply to California residents. Below we'll discuss how California is different when it comes to Medicare, as well as inform you of any changes for 2021.
Listen to this Podcast Episode Now!
If you're outside any enrollment period, you can still apply for a supplement plan at any time of the year. However, you'll have to go through medical underwriting during the application process.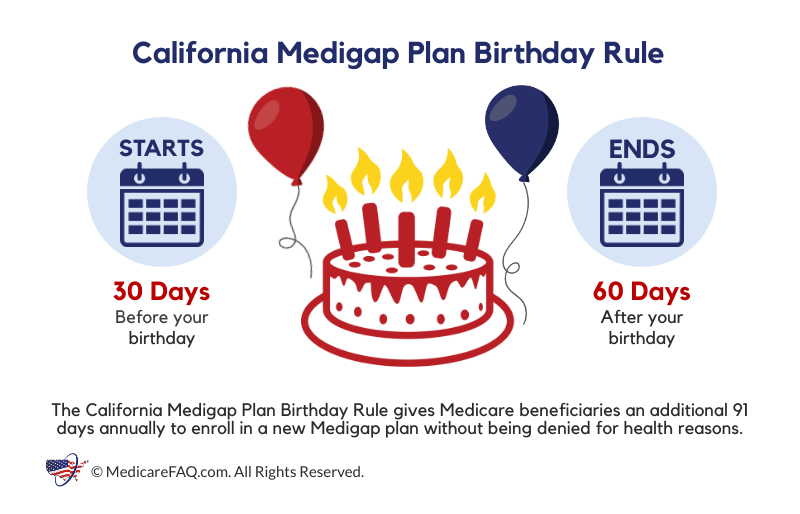 When to Enroll in Medicare in California
The first time you can enroll in Medicare is your Initial Enrollment Period. As soon as you get Part B, you'll want to enroll in a Medicare Supplement plan. This is because once you have Part B, your Medicare Supplement Open Enrollment Period beings.
If you didn't enroll in Part B during your Initial Enrollment Period, your next opportunity to enroll is during the General Enrollment Period. If you enroll during this time-frame, you may have to answer health questions.
Tobacco Rate Guidelines
If you're a smoker, it's essential to know some carriers do apply tobacco rates during Open Enrollment. For example, certain carriers do apply tobacco rates during Open Enrollment, but not all. Make sure to ask your agent which carriers do and don't use tobacco rates if you smoke to make sure you get the lowest prices.
Household & Spousal Discounts
Some carriers offer household and spousal discounts in individual states. In California, you'll find some carriers offer a 5% spousal discount, and others provide a 12% household discount.
California Guidelines for Voluntary Group Termination
The California guidelines for voluntary group terminations state as long as your employer-sponsored plan is primary to Medicare, you have Guaranteed Issue rights when enrolling in a Medicare Supplement plan.
California Guaranteed Issue Plans for Loss of Medi-Cal Coverage
Not all carriers will give you Guaranteed Issue Rights when you lose Medi-Cal coverage. If you lose Medi-Cal coverage, you'll want to look into enrolling with Mutual of Omaha, United American, or United Healthcare since they offer plans with Guaranteed Issue in this situation.
Medigap in California if You're Under 65
Not all states offer Medigap plans to those under 65. Fortunately for those living in California, there are some plans available to you.
The downfall with these plans when you're under 65 is the costs. Carriers tend to charge an obscene amount in premiums to those who are disabled. If the premiums are too expensive, an alternative might be a Medicare Advantage plan.
Medicare Advantage Plans in California
Supplements provide the most comprehensive coverage but may not be affordable for everyone. 40% of enrollees chose a Medicare Advantage plan. One of the downfalls of Advantage plans is that you must use their network of doctors and hospitals. You're also responsible for copays for many things, including doctor visits, diagnostic testing, hospital stays, etc.
The below Medicare Advantage plans are rated 4.5 out of 5 stars in California:
SCAN Classic HMO
Alignment Health Plan Platinum (HMO)
Aetna Medicare Choice Plan (PPO)
Part D in California
Original Medicare and Medicare Supplements don't cover prescription drugs.
Some Medicare Advantage plans do, but not all.
It's essential to enroll in a Part D plan once eligible for Medicare.
Ideally, at the same time, you enroll in Part B.
If you wait to sign up when your first eligible, you could face a Part D penalty.
The penalty goes by the number of months you went without creditable coverage.
FAQs