Arkansas Medicare Supplement plans are one of the many options possible for beneficiaries. Depending on budget and healthcare needs, one policy could benefit you more than another. Below, we'll discuss the basics so you can make an informed decision.
Best Medicare Supplement Plans in Arkansas
Medicare isn't "one size fits all," the best Medigap plan for your neighbor likely isn't the most suitable plan for you. Although, most people buy either Plan N, G, or F.
Depending on your needs and budget, the best plan for you could be Plan N, G, or F. Some people save the most money by opting for a High Deductible policy.
Anyone with coverage knows these plans are full of great perks. You have the freedom to see any doctor that accepts Medicare without a referral. You can also better predict what you're out of pocket expenses, if any, will be.
Arkansas Medicare Supplement Eligibility
Once you turn 65 and have Part B, you qualify for the Medigap Open Enrollment Period, which lasts for six months. During this time, you can enroll in Medigap without worrying about underwriting.
Also, this enrollment only happens once. Failing to enroll during the OEP could result in policy denial or a higher premium amount. However, you can still enroll in a supplemental Medigap policy at any time.
Medicare Advantage in Arkansas
If an "all-in-one" policy is the plan your neighbor has, it's likely an Advantage plan. 26% of beneficiaries chose a Medicare Advantage plan.
You may have heard someone say, Medicare Advantage plans are bad.
These plans aren't "bad," they aren't great either. See, these plans have limitations, restrictions, networks, and referrals.
It's common for an Advantage plan to deny a claim or make you jump through hoops for coverage. What do you expect from a $0 plan?
These are all issues Medigap eliminates. However, not everyone can afford Medigap coverage. Medicare Advantage and supplement plans each serve a purpose.
If affording Medigap is out of the question, or you don't qualify, at least consider a Medicare Advantage plan. The Maximum Out Of Pocket protection alone is worth the $0 premium.
Medicare Prescription Drug Plans in Arkansas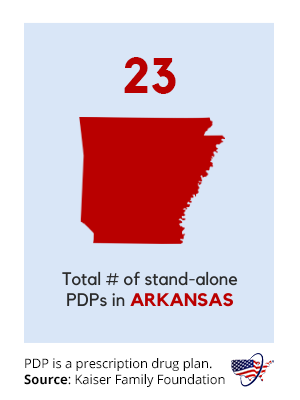 When it comes to insurance, especially Part D, don't judge a policy by its premium.
The best Part D plan for you is the option that gives you the most value.
There are 27 Part D plans currently available in Arkansas.
Depending on where you live in the state, you could have all of them to choose from.
Since Medicare Supplements don't include drug coverage, you'll want to add on a stand-alone Part D plan to give you prescription drug coverage.
FAQs
How to Apply for Medicare in Arkansas
Give us a call at the number above to get started today! Can't call now? Fill out the online rate comparison form to see the savings your missing!
Enter your zip code to pull plan options available in your area.
Select which Medicare plans you would like to compare in your area.
Compare rates side by side with plans & carriers available in your area.