When you understand your Medicare coverage, you have more control over your healthcare benefits. Medicare is a federal health insurance coverage formed in 1965.
Find Medicare Plans in 3 Easy Steps
We can help find the right Medicare plans for you today
It covers people 65 and over; but, people with disabilities may qualify before 65. With so many U.S. citizens utilizing Medicare, we wanted to take a closer look at who has Medicare and how they use it.
What Does Medicare Cover in 2023?
Medicare includes coverage for inpatient and outpatient services. Including hospital visits, doctor visits, preventive services, medical equipment, lab tests, and more.
You need to buy a separate policy for medications. Further, many people buy a Medicare Supplement (Medigap) plan or a Medicare Advantage plan (Medicare Part C) to lower costs.
Medicare Part A Coverage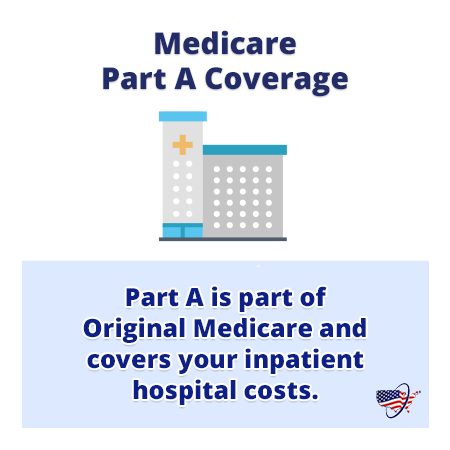 More than likely, you or your spouse paid into Medicare through payroll taxes, so Part A is free.
Medicare Part A covers inpatient care, but not long-term care or custodial care.
It does help cover the cost of hospice care and come home health care.
Medicare Part B Coverage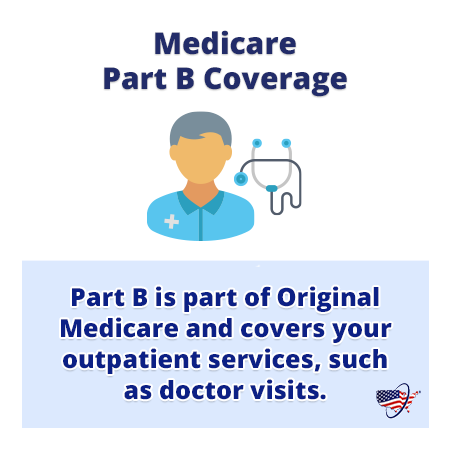 Medicare Part B will cover doctor and outpatient services. It'll include services that Part A doesn't cover. Also, services for therapists are included.
Any Durable Medical Equipment you need has coverage. Part B does come with a monthly premium.
The premium may increase depending on your income bracket.
Medicare Part D Coverage
Part D is drug coverage. Part A & B don't cover prescriptions.
What is Not Covered By Medicare
Some of the benefits many people think are covered that aren't include long-term care, acupuncture, and routine foot care. Dental, including dentures, doesn't have coverage through Medicare. Further, eye exams, hearing aids, hearing exams, and cosmetic surgery won't be covered through Medicare.
Services Medicare doesn't cover; you'll pay for yourself.
Medicare Coverage Age
Turning 65 means you're eligible for Medicare coverage. If you've been collecting Social Security Disability Insurance for over 24 months, you may be Medicare-eligible before 65.
At the beginning of the 25th month, you're automatically enrolled in Medicare.
When Does Medicare Coverage Start?
You'll have another opportunity to sign up during the General Enrollment Period. That takes place yearly from January 1st through March 31st. Coverage begins July 1st of the same year you enroll.
The Annual Election Period runs from October 15th-December 7th of every year. That is only for those currently enrolled in Medicare. This period allows current recipients to change their Advantage or Part D for the upcoming year.
Also, this period allows you to return to Medicare & pick up a Medicare Supplement plan. January 1st is when new coverage will start.
Find Medicare Plans in 3 Easy Steps
We can help find the right Medicare plans for you today
If you find yourself stuck with Part C, you can use the Medicare Advantage Open Enrollment Period, which also runs between January 1st and March 31st, to return to Medicare.
If you delayed coverage or your circumstances change, you may also be eligible for a Special Enrollment Period.
What are the Requirements for Medicare Coverage?
Specific requirements for Medicare coverage must be met before coverage will begin.
Requirements include if you or your spouse:
Are a U.S. citizen or permanent legal resident of the United States for a minimum of 5 years
Worked long enough (40 credits or about ten years) to get Social Security or Railroad Retirement benefits
Are an employee of the government
Or retiree who's not paid into Social Security but paid Medicare payroll taxes while working
Medicare coverage requirements for those under 65 include:
Entitled to Social Security benefits for a total of 24 months
Currently receiving a disability pension from the Railroad Retirement Board
Diagnosed with Lou Gehrig's disease (which would qualify you immediately)
Permanent kidney failure that requires regular dialysis treatment (or had a kidney transplant)
Or your spouse paid Social Security taxes for a specified period (depending on your age)
Having a terminal illness is one of the only reasons a person wouldn't be eligible to receive Medicare benefits.
If you have a Health Savings Account, you may no longer add to your HSA once Medicare begins.
When you contribute to your HSA after your Medicare coverage begins, you might receive a tax penalty.
Find Medicare Plans in 3 Easy Steps
We can help find the right Medicare plans for you today
Losing Coverage
You can lose coverage if you don't make your payments. You can lose coverage if you were disabled, and no longer have a disability.
Should you find yourself unable to make your monthly payments, you'll get warning letters in the mail. If you don't make this payment, your coverage will be terminated.
Applying for Coverage
You can apply online here. Applications take less than 10 minutes to complete online, and there will be no further forms required.
When applying for Medicare, you may sign up for Part A and B. Part B requires a premium. Although, if you later decide to register, you could face a Part B late-enrollment penalty if you didn't have creditable coverage.
You'll want to apply for Part D when you're first eligible; it has a penalty for not signing up when first eligible.
Who Medicare Covers
62.7 Million Beneficiaries on Medicare
There are more than 62.7 million people enrolled in Medicare.
A vast majority of individuals on Medicare deal with a multitude of health issues, some even including multiple chronic conditions.
Many beneficiaries live on very modest monthly incomes.
Many see an annual income of less than $26,200 per year.
With the sky-high costs related to healthcare, Medicare can offer a breath of fresh air.
Women on Medicare
For the most part, women on Medicare tend to have more health needs and face more chronic conditions than men. A few of these conditions include hypertension, osteoporosis, and arthritis.
Women on Medicare tend to have more physical limitations with daily living than men.
Since women usually live longer than men do, women make up about three-quarters of Medicare beneficiaries in long-term care facilities, such as nursing homes.
Find Medicare Plans in 3 Easy Steps
We can help find the right Medicare plans for you today
Medicare Coverage Under 65
Many may be surprised to discover that they can utilize Medicare coverages if they're under 65 years old. If you're under the age of 65 years old, you may be eligible to begin collecting Medicare benefits.
In fact, according to Medicare's break down of demographics who currently are on Medicare, 16% of beneficiaries are under 65.
If you receive Social Security Disability and have been getting these benefits for 24 months, you could begin Medicare.
There may be exceptions in a case by case situation where recipients aren't required to wait the entirety of the 24 months.
ESRD before Turning 65
Another possible situation a patient may find themselves in is facing End-Stage Renal Disease. If diagnosed with ESRD, you may also be eligible to receive Medicare before turning 65.
If you've had any dialysis treatments or a kidney transplant, you could qualify for Medicare.
Medicare Coverage between 65 and 74
Beneficiaries between the ages of 65 and 74 make up a whopping number of 43% of the recipients on Medicare.
Studies found black and Hispanic beneficiaries were more likely to be under 65 years old with poorer health conditions and more limited financial states.
Find Medicare Plans in 3 Easy Steps
We can help find the right Medicare plans for you today
Medicare Coverage between 75 and 84
Over 20% of Medicare beneficiaries are between the ages of 75 and 84 years old.
Medicare Coverage for those 85 and Older
Medicare beneficiaries who are 85 years old and older make up 8% of current Medicare beneficiaries.
What Medicare Benefits are Most Utilized?
Part A and Part B services make up most benefits. Inpatient services make up about 21%. Part D services make up roughly 14% of the benefits used.
Doctors' payments make up 10%. Outpatient services through a hospital facility equate to about 7%.
Skilled nursing facilities are at about 4%. Home health care services comprise 3%, and other miscellaneous services make up about 11%.
The information above comes from the Kaiser Family Foundation.
How to Sign Up for Supplemental Medicare Coverage
Once you enroll in Part B you can also enroll in supplemental Medicare coverage. Of course, you should have a general sense of Medicare in 2022 before you sign up for anything. That's where we can help! Give us a call or complete our online rates form to see rates in your area now.

Enter ZIP Code
Enter your ZIP code to pull plan options available in your area.

Compare Plans
Select which Medicare plans you would like to compare in your area.

Get Quote
Compare rates side by side with plans & carriers available in your area.