Medicare Supplement Plan N is one of the more popular plans among beneficiaries in 2021. It's the plan for those looking to have lower monthly premiums, without giving up benefits. In exchange for lower premiums, recipients pay deductibles and a few copays.
Medicare Supplement Plan N for 2021
Since the introduction of Medicare Plan N, enrollment increases year after year. Most likely because the policy offers a decent amount of coverage at a reasonable price.
Plan N is one of the cost-sharing plans available to Medicare beneficiaries. Plan N offers extra coverage to supplement your Medicare benefits, without breaking the bank. By agreeing to pay small copays, your monthly premium is reduced.
You may have heard of this plan referred to as Part N. Part N, Medigap Plan N, and Medicare Plan N, are all the same plan. The correct term is Plan N since Parts refer to Original Medicare, and Plans refer to Medigap.
Listen to this Podcast Episode Now!
What Does Medicare Plan N Cover?
Plan N will cover your inpatient deductible, which falls under Part A. It also covers your inpatient copays and coinsurance, minus a small copay of $50. Which is what helps keep your monthly premium low.
When you have Plan N, the only costs you'll have when visiting your doctor is the $20 copay, as well as the Part B deductible. This $20 copay is also what helps keep your monthly premium low.
If you live in a state that allows excess charges, you may have to pay those as well. But, most doctors accept Medicare assignment, so excess charges are rare. Plan N includes foreign travel emergency benefits. If you travel outside the United States, Plan N will have your back on emergency services overseas.
Medicare Plan N Outline of Coverage Chart
What Does Medigap Plan N Cost?
The average premium for Medicare Supplement Plan N is anywhere between $80-$200 a month. It entirely depends on your personal information. Information such as what state you live in, gender, age, when you signed up.
How Much is the Medicare Plan N Copays?
In exchange for lower monthly premiums, you acknowledge paying a small copay of $50 when visiting the emergency room and a $20 copay at the doctors' office.
But, there's a loophole with this! If you visit an Urgent Care center, there is no copay. If you can't get in with your primary care physician, instead of going to the emergency room over something minor, you can go to Urgent Care and get out of paying a copay.
It's important to know that these copays will NOT count towards the Part B deductible.
What's the Difference Between Plan N vs. Plan F?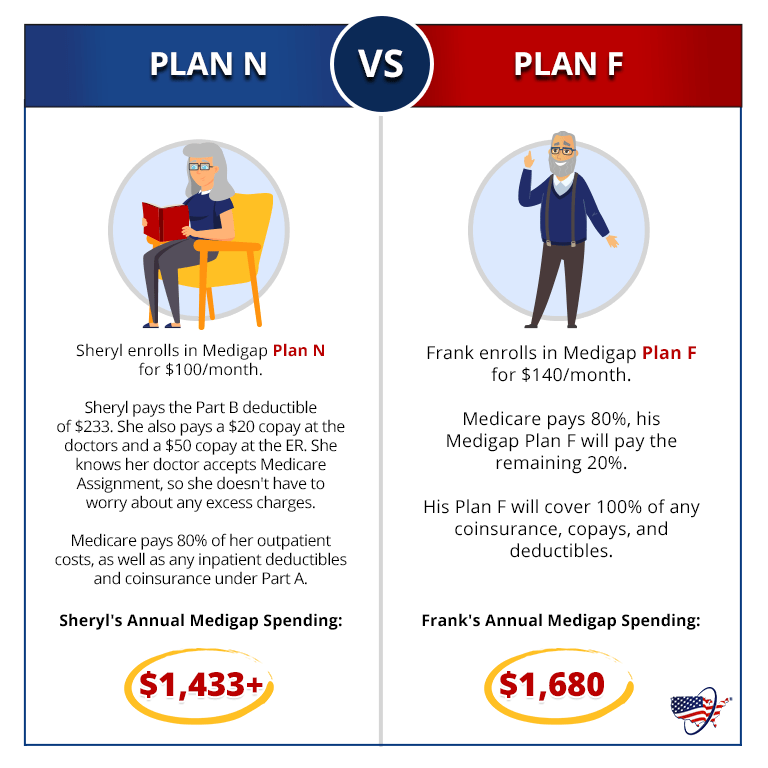 Plan F is your comprehensive coverage Medigap plan. It covers 100% of your out of pocket costs. Outside of the monthly premium, you pay nothing, ever. Plan N is two steps down from Plan F.
Who's Eligible for Plan N?
You must be enrolled in both Part A & Part B to be eligible for Medicare Supplement Plan N. Regardless if you're aging into Medicare, or on Social Security Disability, as long as your Part B is in effect, you're eligible to enroll.
When Do I Enroll in Plan N?
Unlike Medicare Parts, supplement plans don't have annual enrollment periods. You can enroll in a supplement plan at any time of the year. However, the optimal time to sign up is during your Medigap Open Enrollment Period.
What Carriers Offer Medicare Plan N?
Since Plan N is one of the most popular plans, the majority of the bigger, well-known carriers offer it. Many of the not so common carriers also offer Plan N. Ultimately it depends on your location.
Medicare Supplement Plan N Reviews
The feedback we hear from clients about Plan N are all positive. As long as they're prepared to pay small copays, they always seem happy with Plan N.
It's important to understand that when researching reviews for a specific letter plan, make sure the reviews you read are not about the carrier, but the Medigap plan. A lot of times, the negative reviews you see are about the carrier, not the plan.
FAQ'S
How to Compare Rates for Medicare Supplement Plan N
Don't tackle Medicare alone. Your healthcare is important to you and us. We treat our clients like family. We would never enroll you in a plan that we wouldn't enroll ourselves or our family in.
Our job is to keep you informed and up-to-date with the latest Medicare changes. You can depend on your agent and our Client Care Team to help you manage claims & to make sure you have the best rate at all times.
To get a quote for Plan N or any other Medigap plan, as well as Medicare Advantage, and Part D, give us a call. Need a stand-alone policy for dental, vision, or hearing? We can help with that too.
Our services are 100% free to you. If you prefer to get an online quote started now, you can use our compare rates tool here.

Enter your zip code to pull plan options available in your area.
Select which Medicare plans you would like to compare in your area.
Compare rates side by side with plans & carriers available in your area.