If you receive Medicare coverage, you are familiar with the out-of-pocket costs Original Medicare (Medicare Part A and Part B) leave behind. Medicare Supplement (Medigap) can be a great way to cover these costs, but are you eligible? Medicare Supplement eligibility is an important thing to know for seniors looking to enroll in supplemental coverage.
Find Medicare Plans in 3 Easy Steps
We can help find the right Medicare plans for you today
One of Medicare's most significant out-of-pocket expenses is the Medicare Part B 20% coinsurance. Once you meet the annual Medicare Part B deductible (if applicable), you are responsible for the coinsurance for any medical costs you accrue through the end of the year. Plus, Medicare Part A requires coinsurance and copayments when you utilize inpatient care.
These are some reasons Medigap plans are a wise financial decision for many beneficiaries and why understanding the Medicare Supplement qualifications is so important. Below, we share everything there is to know about eligibility for Medicare Supplement to help you receive the coverage you require.
Who is Eligible For a Medicare Supplement (Medigap) Plan?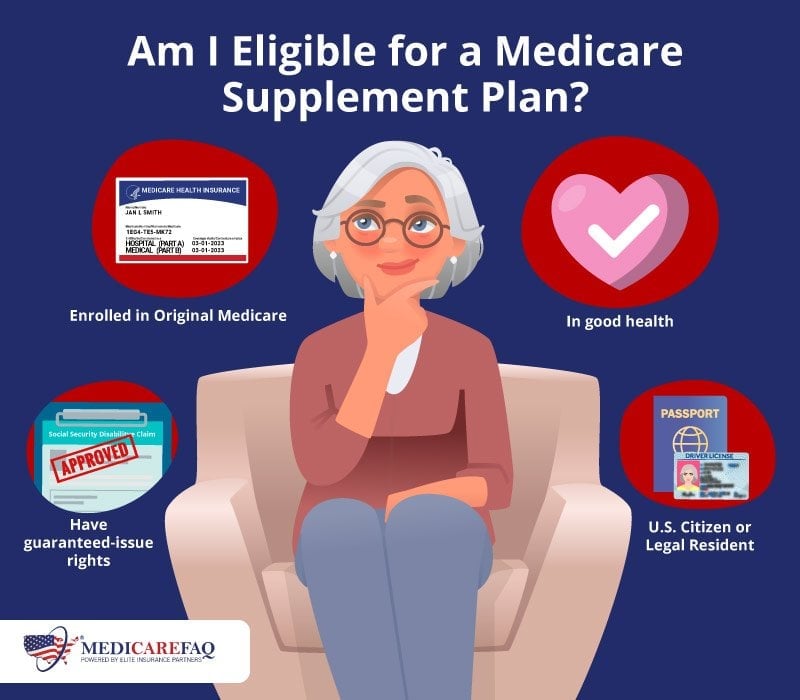 Medicare Supplement eligibility is available to anyone eligible for Original Medicare. However, there are several stipulations that can arise. This is because the federal government provides Medicare Part A and Part B, but Medigap benefits come from private insurance carriers offering coverage.
This means that while you may have the right Medicare Supplement qualifications, you can still be denied coverage for a number of reasons, including being under the age of 65 or having certain medical conditions.
For many, it's less about who is eligible for Medicare Supplement and more about understanding the guidelines and parameters surrounding an individual's situation. Let's explore the many scenarios that can help you better understand the Medicare Supplement eligibility requirements pertaining to your healthcare needs.
Who Is Eligible for Medigap at 65 and Older?
Anyone that is age 65 or older and also eligible for Original Medicare can enroll in a Medigap plan. However, there are a few important additional requirements to be eligible for a Medicare Supplement plan.
Your Medigap requirements include:
Enrolling in Medicare Part A and Medicare Part B (Original Medicare)
Being a citizen or legal resident of the United States for at least five years
Residing in a state offering the Medicare Supplement plan you want at the time of application
Undergoing medical underwriting if outside of Open Enrollment or a Special Enrollment Period (in most states)
Many seniors will automatically enroll in Medicare Part A at age 65. Some will also automatically enroll in Medicare Part B.
Find Medicare Plans in 3 Easy Steps
We can help find the right Medicare plans for you today
Once you acquire both parts of Original Medicare, you can use your Medicare Supplement Open Enrollment to sign up for the Medigap policy of your choice.
When you enroll during this window, you do not need to answer Medicare Supplement underwriting questions. Thus, any pre-existing conditions in your health history will not impact your admittance to a Medicare Supplement policy.
For most people, this is a once-in-a-lifetime opportunity, only lasting six months. It is always recommended that beneficiaries take advantage of this time period, as waiting can mean being denied coverage by private insurance carriers.
When you first enroll in Original Medicare, you have the best opportunity for Medicare Supplement eligibility. Although you may sign up for a Medicare Supplement plan at any time, the best time to enroll with guaranteed acceptance is the month your Medicare Part B goes active and the five months following. Totaling a six-month open enrollment window. The closer you are to age 65, the better your chance of obtaining top-quality coverage at the lowest price.
Medicare Supplement (Medigap) Plans Under 65
Medigap plans for those under 65 are available, but people who qualify for Medicare under age 65 due to disability do not have as many Medicare Supplement choices. Not all states offer Medigap plans to those under 65. However, a handful of states require Medicare Supplement plan carriers to offer at least one policy to this group of people.
But federal law doesn't dictate that it's necessary. The following states do not require private insurance companies to offer those under 65 Medigap plans: Alabama, Alaska, Arizona, Arkansas, Idaho, Indiana, Iowa, Nebraska, Nevada, New Mexico, North Dakota, Ohio, Rhode Island, South Carolina, Utah, Virginia, Washington, West Virginia, and Wyoming.
Often, the only Medigap option for someone under age 65 is the least comprehensive; Medicare Supplement Plan A. Still, each state is different, so it is essential to speak with an agent to understand all options available to you.
Insurance companies know those on Medicare under 65 likely receive Social Security Disability (SSDI) benefits. People with qualifying disabilities pose a higher risk for claims because they require more consistent care. So, the cost of a Medicare Supplement plan is usually higher for people under 65.
Find Medicare Plans in 3 Easy Steps
We can help find the right Medicare plans for you today
The upside to obtaining Medicare Supplement eligibility before age 65 is receiving two Medicare Supplement Open Enrollment Periods. Due to your likely limited selection of Medicare Supplement plan options, when you are under 65, you get a second opportunity to enroll in Medicare Supplement coverage for six months following your 65th birthday.
Even if you reach Medicare Supplement eligibility under 65, you should plan to purchase a Medigap plan during your second Medigap Open Enrollment Period when you age into Medicare. Doing so will provide peace of mind and protect your savings from astronomical healthcare expenses.
Medicare Supplement Enrollment Periods
After meeting the Medicare Supplement eligibility requirements, you do not become ineligible for Medigap. If you have Medicare Part A and Part B, you can apply for a Medicare Supplement plan anytime. However, that does guarantee admission to the plan. Medigap age requirements are important restraints to understand, but you'll also need to make note of your Medicare Supplement enrollment periods.
Under certain circumstances, applying for a Medicare Supplement plan and avoiding a health screening or waiting period outside your Medicare Supplement Open Enrollment Period is possible. This is known as a guaranteed issue period.
Several circumstances permit someone on Original Medicare to sign up for a Medigap plan using a guaranteed issue right. The most common scenario is when you lose employer-sponsored coverage secondary to Medicare.
Other scenarios include switching from Medicare Advantage to Medigap after turning 65 in your first year, being misled by a Medicare company, your Medicare Advantage plan being dropped in your area, or moving outside of your Advantage plan's coverage area. In these cases and more, you may reap the benefits of a Special Enrollment Period with guaranteed issue rights.
How To Find Your Medicare Supplement Eligibility
Eligibility requirements for Medicare Supplement can feel intimidating at first, but once you better understand whether or not you are eligible for Medigap, you can make more informed choices about your healthcare.

Remember, if you're eligible for Original Medicare, then you can have eligibility for Medicare Supplement. Our team of licensed Medicare agents and experts is here to help you navigate your Medicare Supplement qualifications and find the right benefits for your needs.

Whether you are new to Medicare, or a seasoned pro, we can answer all your questions concerning eligibility for Medicare Supplement plans and walk you through the application process.

At MedicareFAQ, we pride ourselves on putting education first. With the proper knowledge, you can make the best possible choices. No one knows what works best for you better than you, and we know how to use that information to find the best policy for your needs.

Discover your Medicare Supplement eligibility and compare rates side-by-side. Call one of our licensed Medicare experts at the phone number above or fill out our online rate form.


Enter ZIP Code
Enter your ZIP code to pull plan options available in your area.

Compare Plans
Select which Medicare plans you would like to compare in your area.

Get Quote
Compare rates side by side with plans & carriers available in your area.