Summary: Medicare Supplement plans in Wisconsin are a lot different than in most other states. Instead of the standardized letter plans, Wisconsin offers its residents a Basic Plan and additional riders that you can pair with it for more coverage. The best choice for you depends on your budget and healthcare needs. Estimated Read Time: 10 mins
Table of Contents:
Wisconsin Medicare Supplement plans are much different from the standard letter plans available throughout most of the nation. The program in this state includes a Basic Plan with the option of riders. State laws require Medigap insurance carriers to cover specific benefits in addition to the primary coverage. For a more in-depth explanation, read our Wisconsin Medigap guide below.
Get A Free Quote
Find the most affordable Medicare Plan in Wisconsin!
Best Medicare Supplement Plans in Wisconsin
Wisconsin is one of three states where Medicare Supplement plans are standardized differently. This state offers a Basic Plan and additional riders that you can pair with it for more coverage. The best choice for you depends on your budget and needs.
If you prefer a cost-sharing plan, 50% and 25% Cost-Sharing plans are also available. These are similar to Plans K and L. Talking to an agent can make the process go faster and help you save money. First, let's go over what the Basic Plan offers.

Listen to this Podcast Episode Now!
Wisconsin Medicare Supplement Basic Plan
Part A coinsurance

Hospital copayments are after 60 consecutive days of inpatient services

Skilled nursing facility (SNF) and hospice
Part B coinsurance
First 3 pints of blood
Another 40 home health care visits
Extra 175 days of inpatient mental health care beyond Medicare
State-Mandated Benefits for Wisconsin Medicare Supplement Plans
Wisconsin requires insurance companies to offer specific mandated benefits that protect people and provide enough coverage. These benefits include skilled nursing facility coverage, home health care, diabetes management, and kidney dialysis treatments.
Medigap in Wisconsin must include 30 days of care at a skilled nursing facility, with no prior hospital stay requirement. Yet, this stay must be medically necessary to receive coverage.
For home health care, the state mandates up to 40 visits annually beyond Medicare benefits. The doctor must verify that the need is medically essential.
Dialysis treatment must have inpatient and outpatient coverage. Also, transplants and donor-related expenses must receive coverage. Coverage must be at least $30,000 annually.
Coverage for diabetic supplies is mandatory, including self-management training and insulin infusion pumps. The insurance company must cover this, even if Medicare doesn't approve the claim.
Some other included Mandated Benefits include surgery center care, chiropractic care, colorectal cancer screenings, some clinical trials for cancer, and breast reconstruction.
Also, catastrophic prescription drugs must receive coverage in Wisconsin. For those with policies issued prior to the origin of Part D in 2006, at least 80% of the charges for outpatient prescription drugs must receive coverage if they don't have Part D. Additionally, this requires the beneficiary to meet a deductible of $6,250 in a calendar year.
Get A Free Quote
Find the most affordable Medicare Plan in Wisconsin!
Wisconsin Medicare Supplement Basic Plan Riders
The Basic Plan is excellent for covering what Medicare doesn't. Riders are available to help with the deductibles, copays, and other coverage gaps. If you're looking for additional coverage, a rider is a provision that allows you to add benefits to a basic policy.
There are seven options available for riders in Wisconsin. These are available à la carte for you to customize your own plan. Without any riders, your Basic Plan will be similar to Medicare Supplement Plan A. You can add riders to make your coverage equivalent to the best Medicare Supplement plans. For example, to obtain coverage similar to Medigap Plan G, start with the Basic Plan. Then, add the following riders: Part A deductible, Part B excess charges, additional home health care, and foreign travel emergency.
Wisconsin Medicare Supplement Plan Comparison Chart
Below is a chart that shows what the Basic Plan covers, as well as the optional riders. This chart helps you imagine the way coverage works and how riders can help you customize your coverage.
All first-dollar coverage plans are unavailable for those newly eligible for Medicare. If you're not newly eligible, you can enroll in coverage similar to Plan F anytime. Meaning, you can elect to cover the Part B deductible. Anyone newly eligible can select the other coverage options that don't cover the Part B deductible.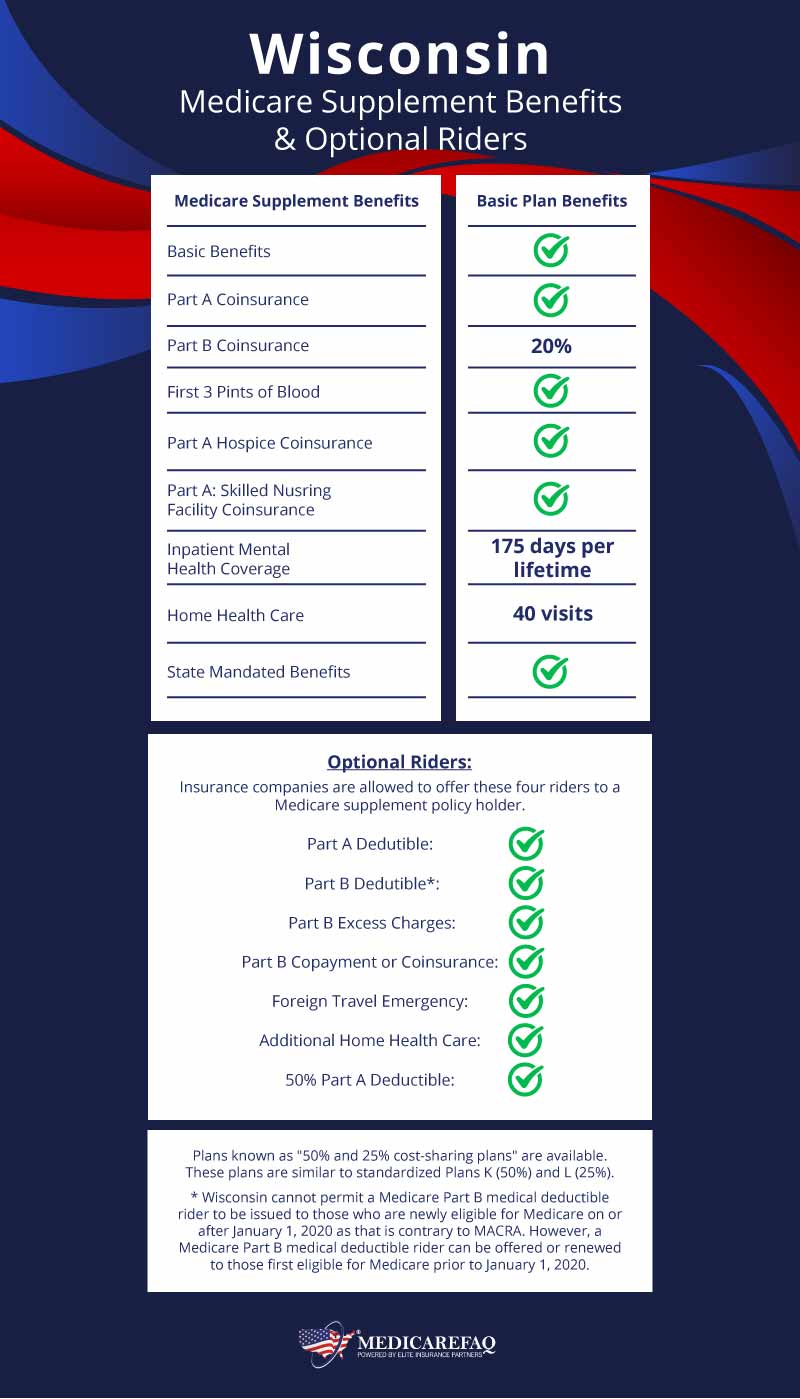 Eligibility for Medicare Supplement Plans in Wisconsin
To be eligible for a Medicare Supplement plan in Wisconsin under regular circumstances, you must be 65 or older, and you must be enrolled in both Medicare Part A and Medicare Part B.
You can buy a Medigap plan at any time during the year, as long as you have Original Medicare. However, to avoid underwriting, your Medicare Supplement Open Enrollment Period or a Special Enrollment Period that gives you guaranteed issue rights to enroll in a Medigap plan is the best time to sign up.
You should also note that if you currently have a Medicare Advantage (Medicare Part C) plan and wish to enroll in a Medigap plan, you will need to make a choice. It is not possible to have both types of coverage at the same time.
Before you apply for a Medigap policy, you must first disenroll from your Medicare Advantage plan, but you can only do this during valid election periods. These periods are a Special Enrollment Period, the Annual Enrollment Period, or the Medicare Advantage Open Enrollment Period.
How Much Do Medigap Plans in Wisconsin Cost?
Each beneficiary's monthly premium costs differ due to a variety of factors One of these factors is the level of coverage you select. The more coverage you select, the higher your monthly premium will be. Selecting the equivalent of Plan F coverage costs more than if you select the equivalent of Plan N.
The best rate might not be your current rate. This is mainly true if you've signed up outside of the Medicare Supplement Open Enrollment Period. Additionally, in Wisconsin, you may qualify for guaranteed issue if your employer plan's annual premium is 125% or more of the Basic Plan for your age and gender. If you lose Medicaid, you qualify for a guaranteed issue with select carriers.
Get A Free Quote
Find the most affordable Medicare Plan in Wisconsin!
Medicare Supplement Carriers in Wisconsin
Several carriers offer Medicare Supplement plans in Wisconsin. Though the availability of specific carriers may vary depending on your location within the state, here are some of Wisconsin's most highly-rated insurance companies that commonly provide Medigap plans:
Aetna
Blue Cross Blue Shield of Wisconsin
Cigna
Humana
UnitedHealthCare
Compare Wisconsin Medicare Supplement Carriers
Carrier
BBB Rating
S&P Rating
A.M. Best Rating
Aetna
A+
BBB
A+
Blue Cross Blue Shield
F
A-
A
Cigna
No Rating
A-
A
Humana
A+
BBB+
A-
UnitedHealthCare
A+
A+
A-
When evaluating your coverage options, it is vital to carefully assess the available choices, as costs can vary between different companies. While comparing premiums is important when selecting a Medicare Supplement plan, it should not be the only factor to consider when choosing a provider.
Independent credit agencies such as S&P or A.M. Best evaluate the financial stability of carriers, providing valuable insights into whether they have sufficient funds to cover your medical needs. Additionally, consumer agencies like the Better Business Bureau (BBB) assess the overall customer experience with these insurance companies. Considering these factors can help you make an informed decision about your coverage.
Wisconsin Medigap for the Disabled Under 65
Wisconsin requires insurance companies to offer a Medigap policy to those under 65. However, the prices are considerably higher than policies for those who are over 65. Thus, these individuals can benefit from having Medicare Advantage plans for additional coverage.
Disabled beneficiaries are sometimes eligible for a type of Advantage plan known as a Special Needs Plan (SNP) which accommodates a beneficiary's specific illness or disease. However, it's important to note that the availability of SNPs is dependent on location, as you must be in the service area of the SNP carrier.
Medicare Supplement Rating Method in Wisconsin
Most Medigap carriers in Wisconsin use the attained-age rating method to determine premiums.
Under the attained-age rating method, the premiums for Medigap plans are based on your current age. Initially, the premiums are typically lower when you enroll in the plan and gradually increase as you grow older. This increase in premiums is primarily due to the generally higher healthcare costs associated with aging.
Insurance companies in Wisconsin may also employ two other rating methods for setting Medigap premiums: community rating and issue-age rating.
With the community rating method, all individuals enrolled in the same Medigap plan within a specific geographic area pay the same premium, regardless of their age. While the premium may increase over time due to factors like inflation, things like age or gender are not determining factors.
Under the issue-age rating method, the premium is based on your age at the time of enrollment. Generally, enrolling at a younger age results in a lower premium that does not increase solely based on age. However, the premium may still increase over time due to factors like inflation.
Medigap Guaranteed Issue Protections in Wisconsin
Medigap plans are required by federal law to offer guaranteed issue protections (also called guaranteed issue rights or GI rights) that ensure individuals can enroll without facing coverage denial or higher premiums based on pre-existing conditions. These protections are designed to ensure access to Medigap coverage when needed.
One significant guaranteed issue right is the Medicare Advantage trial period. If you initially joined a Medicare Advantage (Part C) plan when you first became eligible for Medicare and decide to disenroll within the first year, you have a one-time guaranteed issue right to enroll in a Medigap plan. This allows you to obtain Medigap coverage without undergoing medical underwriting.
Another important protection is for those who lose coverage. If you lose employer-based retirement coverage or your current Medigap plan terminates or discontinues, you have a guaranteed issue right to enroll in another Medigap plan. This also applies if you move out of state and your Medigap carrier is no longer available. To qualify for this protection, you must apply for a new Medigap plan within 63 days of the termination of your existing plan.
Additionally, there are guaranteed issue rights related to Medicare Advantage plans. If your Medicare Advantage plan is terminated, you move out of its service area, or you lose coverage due to circumstances beyond your control, you have a guaranteed issue right to enroll in a Medigap plan. To be eligible, you must apply for a Medigap plan within 63 days of the termination of your Medicare Advantage plan.
Where Can I Find Wisconsin Resources for Medicare?
Those with lower incomes can utilize a Medicare Savings Program. If you're not eligible for an MSP, you might still qualify for Extra Help with your prescription drug costs. Beneficiaries eligible for an MSP are always entitled to Extra Help.
Wisconsin's State Health Insurance Program (SHIP) is through the Wisconsin Department of Health Services. The SHIP organization offers counseling services for Medicare beneficiaries. This can be particularly useful during the Annual Enrollment Period.
FAQs
Additional Medicare Coverage Options in Wisconsin
Another worthwhile option for Medicare coverage that Wisconsin residents can look into is a Medicare Advantage plan (Medicare Part C).
Medicare Advantage plans are offered by private insurance companies but they include all the coverage provided by Original Medicare Parts A and B. They often provide extra benefits such as integrated Medicare Part D prescription drug coverage. In Wisconsin, there are plenty of Medicare Advantage carriers to choose from, with available plans covering the entire state.
However, Medicare Advantage plans have their own network of healthcare providers, which is typically localized and more restricted compared to the nationwide network of Original Medicare. This can result in higher out-of-pocket costs compared to having Original Medicare along with a Medigap plan.
Furthermore, there's also Medicare Part D, for prescription drug coverage. Part D is also offered through private insurers and there are a couple of things to keep in mind before enrolling.
The first is that Medicare Part D plans operate off of a formulary. This is a list of prescription drugs covered by each individual plan. You should be sure that the Part D plan you want to enroll in has coverage for the drugs you're prescribed.
Another important point Part D is that you should enroll as soon as you're eligible or the Medicare Part D late enrollment penalty can cost you much higher premiums if you choose to enroll later on.
Lastly, there are ancillary dental, vision, and hearing plans. These plans can be especially helpful alongside Original Medicare and a Medigap plan.
How to Apply for Medicare Supplement Plans in Wisconsin
If you're looking for Medigap coverage in Wisconsin, you don't necessarily need a local agent to find the best plan in your area. Our agents can walk you through policy details and enrollment over the phone. This means you can do everything from the comfort of your own home.

It's better to apply sooner than later. Let us help you find the lowest premium and the best coverage possible. Then, long after your plan is active, our client care team can assist with your future Medigap needs! Fill out an online rate form and start the process today!

Enter ZIP Code
Enter your ZIP code to pull plan options available in your area.

Compare Plans
Select which Medicare plans you would like to compare in your area.

Get Quote
Compare rates side by side with plans & carriers available in your area.
Sources:
MedicareFAQ is dedicated to providing you with authentic and trustworthy Medicare information. We have strict sourcing guidelines and work diligently to serve our readers with accurate and up-to-date content.