In this content, we'll go over your options and the rules of Medicare Supplement plans in Utah. Further, we'll look at alternatives to Medigap and go in-depth about Medicare. Medigap options in Utah are the same options available in other states. There are 10 standard plans and High Deductible options. Below, we'll look at the benefits of having supplemental insurance in Utah.
Next, let's take a look at potential Medigap Costs in Utah.
Medicare Advantage Plans in Utah
36% of Utah enrollees chose a Medicare Advantage plan. There are a little over 25 Medicare Advantage plans across the state of Utah. But, none of these options are 5-star plans.
Although, Aetna does have several 4.5-star plans throughout the state. When it comes to Advantage plans the thing you need to be cognizant of, is the ever-changing coverage.
Every year the plan you were familiar with, will have some changes. These could be copayment increases, doctor changes, and drug coverage changes.
So, it's important to investigate coverage each year to ensure the policy you have is still valuable to your situation. Or, to see if another policy could bring you more value.
Now, there are some cases where Medicare Advantage plans make sense. Such as, those under 65 that don't qualify for Medigap. Or, those that can't afford Medigap premiums.
Also, most Medicare Advantage plans include Part D. So, you won't concern yourself with paying an extra premium.
Utah Part D Prescription Drug Plans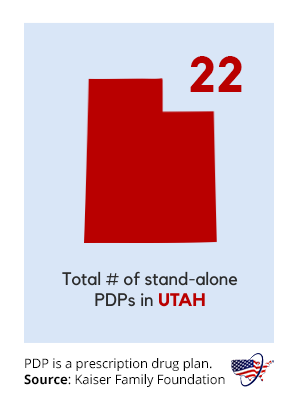 The lowest Part D premium plan in Utah is a Humana plan that costs $13.20 each month.
Now, this plan is a great option for those with no or minimal prescriptions.
But, those with a longer list of medications or with brand name medications, would likely find more value from a higher premium policy.
Utah offers 28 Part D plans. The most expensive policy available is about $120 a month.
The best plan for you will depend on your pharmacy and the medications you take.
To save the most money, you can look into a mail-order pharmacy option with your drug plan.