Medicare Supplement plans in Oregon are available through private insurance companies. These policies help bridge the gap between what Medicare covers and the cost of your medical care. We're here to explain what you need to know about supplemental Medicare in Oregon.
Oregon Medicare Supplement Plans
Like most states, Medicare Supplement plans in Oregon are standardized by the federal government. Each plan is identified by a letter, A through N. In total, there are 12 Medigap plans. The policies provide the same benefits per letter, but your premium rates vary.
Medigap Premiums in Oregon
Monthly premiums vary widely due to factors that influence rates. So, a Plan N in Beaverton will have identical coverage to a Plan N in Portland but the price may vary. Standardizing plans means equal coverage.
Some states require carriers to use a single pricing method for all plans. Oregon isn't one of those states. Yet, the majority of plans are attained-age rated. This means that your premium can increase progressively each year based on your age.
How Does the Oregon Birthday Rule Work?
Some states have specific rules, Oregon has a "birthday rule." This rule allows you to change your Medigap policy within 30 days of your birthday, with no need to go through underwriting. Unlike other states, you can change your policy every year to a lesser level plan (or the same plan with a different carrier) without being underwritten.
The birthday rule kicks in 30 days before your birthday each year. The window includes the day of your birthday and ends 30 days after your birthday. Thus, you have 61 days each year to enroll in a new plan.
You must have an active Medicare Supplement plan to participate in this option. Those with Medicare Advantage coverage will need to go through underwriting when applying for Medigap if they don't qualify for guaranteed-issue.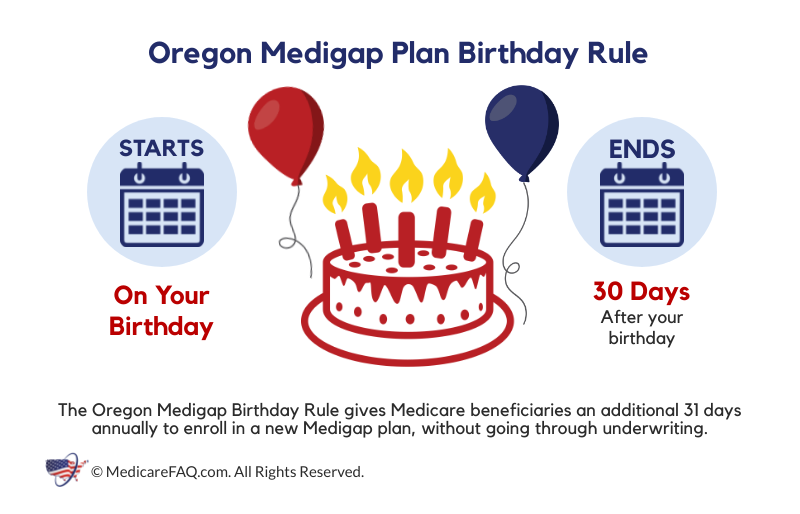 Oregon Medicare Benefits for Disabled Individuals Under 65
In Oregon, those with Medicare disability can obtain a Medigap plan. Thus, state law requires carriers to offer a minimum of one plan option to beneficiaries under 65. If you're disabled, you have a six-month window after enrolling in Part B when you're guaranteed-issue to a Medigap plan.
Medicare Advantage Plans in Oregon
You can buy Medicare Advantage plans in every county in Oregon.
Yet, your county might offer many plan options or just a few.
While Medigap plans cover the gaps in Medicare, Advantage plans act as a replacement plan because they pay your claims instead of Medicare.
Premiums for Advantage plans in Oregon range from $0.00 to $128.00 per month.
Yet, the annual maximum out-of-pocket (MOOP) tends to be higher for the plans with cheaper premiums.
These plans are mostly in the form of HMOs and PPOs, so they involve networks.
They also often come with dental, vision, and hearing benefits, as well as prescription drug coverage.
Many Advantage plans in Oregon have four-star ratings, but some have three stars.
Others are new and thus, can't receive a rating yet.
Oregon Part D Prescription Drug Plans
Oregon offers many Part D prescription drug plans. There are benefits to enrolling in one of these plans if you don't have other drug coverage.
Delaying enrollment without creditable coverage will result in a late penalty for as long as you have the policy.
Starting at $6.30 per month, premiums for prescription drug coverage are affordable. Still, keep in mind that the annual deductibles skew lower for the plans with higher premiums.
For example, the plan with a $6.30 premium has a $445.00 annual deductible, whereas the plan with the most expensive monthly premium in the state ($124.50) has an annual deductible of $0.00.
The plan's formulary is the most important thing to check before enrolling in a Part D plan. You'll want to make sure the plan covers any medications you take regularly.
Oregon offers a drug discount program called the Oregon Prescription Drug Program (OPDP).
The OPDP is a free resource in the form of a bulk-purchasing pool discount card.
It can't be used with Part D, but you can use it separately whether or not you have a prescription drug plan.
Medicare Resources in Oregon
For those with lower incomes, Medicare Savings Programs help in covering expenses. If you aren't eligible for an MSP, you could still qualify for Extra Help, which assists with payment for prescription drugs. Those eligible for MSPs are always entitled to Extra Help.
Senior Health Insurance Benefits Assistance (SHIBA) is Oregon's State Health Insurance Program (SHIP). This organization offers counseling to help enrollees and can be especially useful during the Annual Enrollment Period.
FAQs
How to Apply for Medicare in Oregon
Medigap applications are simple, and we can help you over the phone. A local agent isn't necessary for access to the best policies in your county. Our services are free, and our agents are available to answer your questions.

We represent the best Medigap companies, making it easy for us to find you the best plan. Give us a call today at the phone number above. If you're not ready to call yet, please fill out an online rate form.
Enter your zip code to pull plan options available in your area.
Select which Medicare plans you would like to compare in your area.
Compare rates side by side with plans & carriers available in your area.