Last Updated on by
Montana Medicare Benefits Explained for 2021
You are here:
Montana Medicare Benefits Explained for…
Medicare is covering over 20% of the Montana population. Medigap coverage fills the gaps of Medicare. Since Medicare doesn't cover everything, it's beneficial to have a supplement pick up the bills you'd otherwise pay.
How Medicare Supplement Plans Work in Montana
Insurance premium costs have a variety of methods to determine the cost. The individual insurance carrier itself decides what to charge each individual and factors include age, gender, and location.
So a 77-year-old gentleman living in Helena generally has a different premium than an 84 year old female living in Butte. The easiest way to obtain low-cost coverage is to work with a broker that can identify a company and policy match for your situation.
Beneficiaries turning 65 have the lowest rates available, this is the best time to enroll.
Montana Medigap Eligibility
Beneficiaries turning 65 have the advantage of lower rate options. Anyone that didn't recently turn 65 will likely need to go through underwriting to be Medigap eligible. Medicare Supplement costs reflect underwriting.
Our agents can identify eligibility options; either for GI rights or to determine the company with the most lenient guidelines for a specific pre-existing condition.
Aetna and United Healthcare have Medigap policies with GI rights available to Medicare beneficiaries losing Medicaid.
Those with employer coverage primary to Medicare can voluntarily lose coverage and qualify for GI rights.
Best Medicare Supplement Plans in Montana
Across the country, various insurance companies offer Medicare Supplement Plans. Depending on the Medigap coverage provider, the benefits stay the same; however, the premiums may vary depending on a carrier basis.
So, in the state of Montana for a 65-year-old person might find Central States Indemnity has the lowest premium. However, someone at age 68 might find Bankers Fidelity is more likely to approve their application when subject to underwriting.
The only way to find the best policy is to work with a broker; our brokers can walk you through education, eligibility, and enrollment. This can save you time and money because we have access to underwriting guidelines and rates from the top-rated insurance carriers across the nation.
The same 3 plans attract enrollees from all over the nation; each policy boasts access to any Medicare doctor in the United States, easy claims approvals (if Medicare covers, the plan covers), and little to no out of pocket expenses.
These Plans are identifiable by letter; Plan F, G, and N.
Another policy that could benefit people isn't yet available for purchase; this is Medigap High Deductible Plan G.
Montana Medicare Benefits for the Disabled, Under 65
Certain individuals can be deemed eligible for Medicare benefits under the age of 65; however, they must meet certain criteria. They must currently carry Social Security Disability benefits or certain Railroad Retirement Benefits for at least 2 years before automatic enrollment in Medicare Part A and Medicare Part B.
Additionally, those with End-Stage Renal Disease or Amyotrophic Lateral Sclerosis disease qualify for Medicare with no waiting period.
Federal law does not require the individual insurance carriers to offer Medicare Supplement Plans to those under 65; however, some state laws require options. Luckily enough, the great state of Montana is one of those states that provide supplemental insurance plans to beneficiaries with disabilities.
Although, the cost of supplements for beneficiaries on disability tends to be much higher than the costs at age 65. Some beneficiaries might find more financial relief on a Medicare Advantage policy until age 65 when eligible for GI rights.
Part D Plans Plans for Medicare in Montana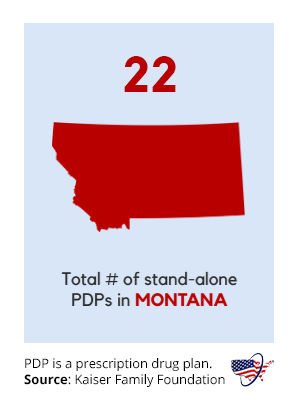 Medicare Part D covers prescription medications.
In Montana, the lowest-cost Part D monthly premium is $15 and the most expensive policy is $94.
Our brokers can help you identify the best coverage for you based on the prescriptions you have and the policies in your area.
If you go too long without Part D coverage, you'll incur a Part D penalty for the entire time you have Part D.
The best time to enroll is as soon as you become Medicare eligible.
If you're a senior with Medicare benefits and living on a fixed income, you may qualify for some assistance through a Medicare Savings program.
Montana Medicare Advantage Plans
18% of beneficiaries in Montana enrolled in a Medicare Advantage plan.
Medicare Advantage Plans replace Medicare benefits; many people find this to option to be cheaper monthly and more costly long-term.
While the monthly premium costs may be lower each month, MA Plans come with restrictions and coverage limitations.
Additionally, these insurance policies may require prior-authorizations that Medicare wouldn't require.
When an MA plan becomes the provider, they decide when and how you receive coverage.
Due to a large number of unsatisfied Medicare Advantage plan beneficiaries, Medicare brought back the Medicare Advantage Open Enrollment Period specifically for Medicare Advantage beneficiaries.
This gives Medicare Advantage beneficiaries another chance to change coverage between January and March.
How to Apply for Medicare Supplement Plans in Montana
For seniors residing in Montana, applying for a Medicare Supplement Plan is easy! You can either call our number above or fill out an online rate comparison form. It's that simple!
The sooner you call, the sooner you can apply, and the sooner we can start saving you money! Don't get caught off guard by the Part B and Part D late enrollment penalty.
As always, our services are 100% free, and our Client Service Team will provide you with Medicare support as long as the plan is through us.
You must already have a Medicare Part B effective date to enroll in Medigap. If your concern is because of pre-existing conditions, contact our brokers to discover which companies are flexible enough to work with your needs.

Enter your zip code to pull plan options available in your area.
Select which Medicare plans you would like to compare in your area.
Compare rates side by side with plans & carriers available in your area.