Montana Medicare Supplement plans work the same in this state as they do in most other states. Whether you want Medigap or Medicare Advantage, there are options available. While Medicare Supplement rules are basically the same in Montana as in other states, there are a few minor differences. But first, let's explain how Medicare in Montana works in 2021.
An alternative to that would be enrolling in Part C or a Medicare Advantage plan. While you could choose to only have Part A and Part B of Medicare, it's more beneficial to have additional coverage. Consider Medicare Advantage vs Medigap since those are your two main options for medical insurance with Medicare.
These popular plans are Plan F, Plan G, and Plan N. Another policy that could be beneficial is Medigap High Deductible Plan G. But, overall the best Medicare Supplement plan is the one that provides you with the most value at a sensible price.
For example, Aetna and United Healthcare have Medigap policies with Guaranteed Issue rights available to Medicare beneficiaries losing Medicaid. Also, those with employer coverage primary to Medicare can voluntarily lose coverage and qualify for Guarantee Issue rights.
Now, these are just ways to qualify for Medigap and avoid underwriting. You can apply for Medigap anytime but underwriting may be necessary. Depending on your health, you may be given a higher premium or denied coverage.
Each state has specific rules about Medigap eligibility for those under 65. In Montana, insurance companies aren't required to offer those under 65 a Medigap plan. Some may find financial relief on a Medicare Advantage plan until age 65, then they can sign up for Medigap without underwriting.
Also, age, gender, and zip code can play a factor in Medigap costs. You may find a cheaper policy or a more expensive plan. The easiest way to find the ideal policy for you is by consulting an insurance agent that represents multiple insurance companies. By doing this, you get a non-biased opinion. It's important to remember that cost isn't as important as value; you want to select one of the top rated insurance carriers, with a stable financial history.
Part D Plans Plans for Medicare in Montana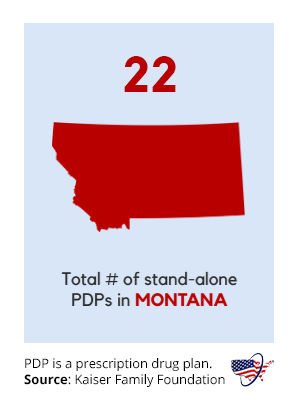 There are 29 stand-alone Medicare Part D options available in Montana. But, one of those options is going to benefit you more than the others.
The only way to determine which plan makes the most sense is to take a look at the meds you currently take and compare that to annual costs for each policy.
So, a low premium plan with a high deductible could benefit you if that plan saves you the most annually. For those that take brand name medications, a higher premium plan with no deductible may more suitable.
Each Part D plan has a formulary, not all plans cover all drugs. It's your responsibility to make sure a plan covers your medication before you enroll.
If you're ever denied coverage for a medication, you have the right to file an appeal. Delaying enrollment can result in a Part D penalty. Those that don't take any medications can choose the lowest premium policy to avoid future penalties.
Montana Medicare Advantage Plans
18% of beneficiaries in Montana enrolled in a Medicare Advantage plan. While the monthly premium costs may be lower each month, Medicare Advantage Plans come with restrictions and coverage limitations. Also, you may find the out of pocket costs seem to nickel and dime you.
Further, these Part C plans may require prior-authorizations that Medicare wouldn't require. The Advantage plan would pay your claims instead of Medicare, giving the Part C plan the authority to deny a claim Medicare may have approved.
Due to a large number of unsatisfied people, Medicare brought back the Medicare Advantage Open Enrollment Period. The reason, it gives Medicare Advantage beneficiaries another chance to change coverage between January and March. So, if the plan didn't work the way you thought, you get one more chance to find a better Advantage plan.
Now, there are Advantages and Disadvantages to Medicare Advantage plans. Some people will find the lower premium gives them a chance to save for a possible health emergency. But, others may feel more comfortable with Medigap by paying a premium each month to avoid worrying about the cost of an emergency.