Medicare Supplement plans in Minnesota are a little bit different than everywhere else in the nation. Beneficiaries can only select between two separate policies. The options available in this state are Medigap Basic Benefits and Medigap Extended Benefits plans. One policy offers more coverage than the other policy. Below, we'll explain how they work.
Minnesota Medicare Basic Benefit Plan
The primary benefit plan covers the coinsurances for Part A as well as Part B coinsurance. Part B coinsurance is becoming a copayment.
Also, this plan is including an annual 3 pints of blood as well as some hospice and home health services.
Basic benefits include Skilled Nursing Facility care, foreign travel emergency, and outpatient mental healthcare. Also, this Basic Plan is covering 100 days of SNF, Foreign ER at 80%, and Mental health at 50%.
Some benefits the state is requiring, such as immunizations and flu shots. Also, this policy is offering diabetes equipment and cancer screenings.
Some beneficiaries are purchasing additional riders to add benefits to the Minnesota Basic Benefit Policy. Beneficiaries wanting coverage on the Part A deductible without purchasing extended coverage have that option; however, adding benefits will increase the premium.
No matter which company you choose, they all have these basic coverage benefits.
Medicare Extended Benefit Plan
The Extended Plan will include everything the basic plan covers with additional coverage.
Do you want to have coverage on Part A and B deductibles? Then, selecting the Extended Plan could be in your best interest.
Talking with a licensed insurance agent will make plan selection easier. Does the Basic Plan with riders make more sense than enrolling in the Extended Plan? Call us at the number above to discover the most suitable plan.
Changes in Wisconsin First Dollar Medicare Supplement Plans
Insurance companies will be forbidden from covering the Part B deductible. Minnesota, Massachusetts, and Wisconsin offer policies different from the rest of the country.
MACRA law requires each state to make changes to meet standards set by the federal government. Congress believes that by eliminating first-dollar coverage, patients won't over-use their insurance.
Qualifying for Medigap Plans in Minnesota
Medicare Supplement Plans have requirements for eligibility. First, you must be of age 65 and second, currently enrolled in Medicare Part B.
The Medigap Open Enrollment Period starts when Part B starts and gives you seven months to obtain coverage. You have Guarantee Issue rights, using them means no medical underwriting.
The two main Supplement Plans are the Medicare Basic Benefit Plan and the Medicare Extended Benefit Plan.
Medigap Premiums in Minnesot
Community Rating is the pricing method used for Medigap in this state. This means companies are likely charging you the same as your neighbor for the same coverage.
However, smokers will pay more than non-smokers for the same coverage.
The best time to enroll is during the OEP, all beneficiaries starting Part B are eligible. Enroll early and have the same effective date for Part A, B, D, and Medigap plans.
Minnesota Medicare Supplement Plan Eligibility for Disabled Under 65
Medicare plans are available to beneficiaries under 65; in MN, Medicare Supplement insurance companies must offer at least one policy to anyone under 65.
Insurance companies are charging those under 65 the same as everyone else in the community.
State laws grant under 65 beneficiaries a 6-month Medigap OEP for anyone enrolling in Part B. Medigap plans will benefit anyone in MN; however, if Medigap is out of the budget, at least consider a Part C policy.
Minnesota Medicare Advantage Plans
Let's say Nora enrolls in Advantage coverage instead of Medigap. The premium is $0, and that's appealing to most people that don't understand insurance. If you understand insurance, you know a low premium means higher out of pocket costs.
Now, let's say Nora has Advantage coverage when the septicemia incident occurs. The ambulance will cost $265, and the inpatient visit is $400 EVERY DAY for days 1-4.
This Advantage plan is a PPO policy; so, if Nora goes to a hospital out of network, her responsibilities for cost-sharing will be higher.
Advantage plans do offer Maximum Out Of Pocket benefits to protect beneficiaries from spending too much each year. For Nora's policy, that amount is $10,000 each year. So, if she spends ten thousand dollars, the plan will cover the rest of her covered services.
Medicare Advantage plans offer more benefits than standard Medicare; however, Medigap plans are more suitable coverage.
43% of Minnesota enrollees chose a Medicare Advantage plan.
Minnesota Prescription Drug Plans for Medicare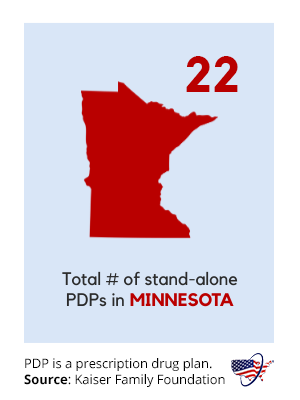 Purchasing a Part D plan is essential; without this coverage, a penalty could find you in the future.
Just like supplements, the best Part D plan for Nora might not be the best plan for you.
If Nora enrolls in the $20 Part D policy only to pay $100 on her prescription, she isn't saving money.
Nora talks to an insurance agent; her prescription will only cost $30 on the $40-month premium plan.
So, by talking to an agent, Nora saved $50 each month. The lowest premium policy isn't always the most cost-effective.
Checking the formulary and comparing all the costs is necessary.
Part D changes every year. Prepare to review your policy annually.
How to Apply for Minnesota Medicare Supplement Plans
Supplement plans provide beneficiaries with peace of mind knowing a hospital stay isn't going to clear out the bank. Enrollment is as easy as dialing a phone.
Our services are always 100% free, and our licensed agents are ready to answer any of your questions. Discover which policy is right for you by calling the number above.
Our agents can walk you through the application process over the phone; so, no need to leave the comfort of your home or search endlessly on the web for rates yourself.
Let us help you; we can save you time, effort, and money. Can't call us today? Just fill out an online rate form to get rates in your area!
Enter your zip code to pull plan options available in your area.
Select which Medicare plans you would like to compare in your area.
Compare rates side by side with plans & carriers available in your area.