Medicare Supplement plans in Minnesota are different than everywhere else in the nation. The two main options in this state are the Basic and Extended Basic plans. One policy offers more coverage than the other. Below, we'll explain how they work.
Compare Medicare Plans
Find the most affordable Medicare Plan in Minnesota!
Minnesota Medicare Supplement Basic Plan
The Basic plan covers the coinsurances for Medicare Part A and Medicare Part B, the initial three pints of blood each year, cost-sharing for Medicare Part A hospice, and cost-sharing for home health services through Medicare Parts A and B. It also covers 100 days of skilled nursing facility care through Medicare Part A, 80% of costs for foreign travel emergency, 50% of costs for outpatient mental health care, 20% of costs for physical therapy, preventive care covered by Medicare, and certain state-mandated benefits. The state-mandated benefits include equipment and supplies for diabetes, routine cancer screening, immunizations, and reconstructive surgery.
Some beneficiaries purchase additional riders to add benefits to the Basic plan. Available riders include coverage for the Part A deductible, customary fees, and preventive care not included in Medicare. For those eligible for first-dollar coverage, a rider covering the Medicare Part B deductible is also available. However, adding benefits will increase the premium.

Listen to this Podcast Episode Now!
Minnesota Medicare Supplement Extended Basic Plan
The Extended Basic plan includes everything the Basic plan covers plus more. The additional benefits of the Extended Basic plan include an extra 20 days of skilled nursing facility care, the Medicare Part A inpatient hospital deductible, and Part B deductible (if eligible). The Extended basic plan also offers 80% coverage of usual/customary fees and costs for care in a foreign country until $1,000 out-of-pocket is reached. After this amount is spent for each, the plan covers 100%.
Qualifying for Medigap Plans in Minnesota
In Minnesota, beneficiaries are eligible for Medigap when they enroll in Medicare Part B. They can enroll in the Basic or Extended Basic plan without regard to health problems. The Medigap Open Enrollment Period starts when Part B starts and gives you seven months to obtain coverage.
The best time to enroll is during your OEP. A benefit of enrolling early is having the same effective date for Parts A, B, and D, as well as your Medigap plan. State laws grant beneficiaries another six-month Medigap OEP if they return to work and disenroll from Part B so they can join the employer plan.
Minnesota Medicare Supplement Plan Comparison Chart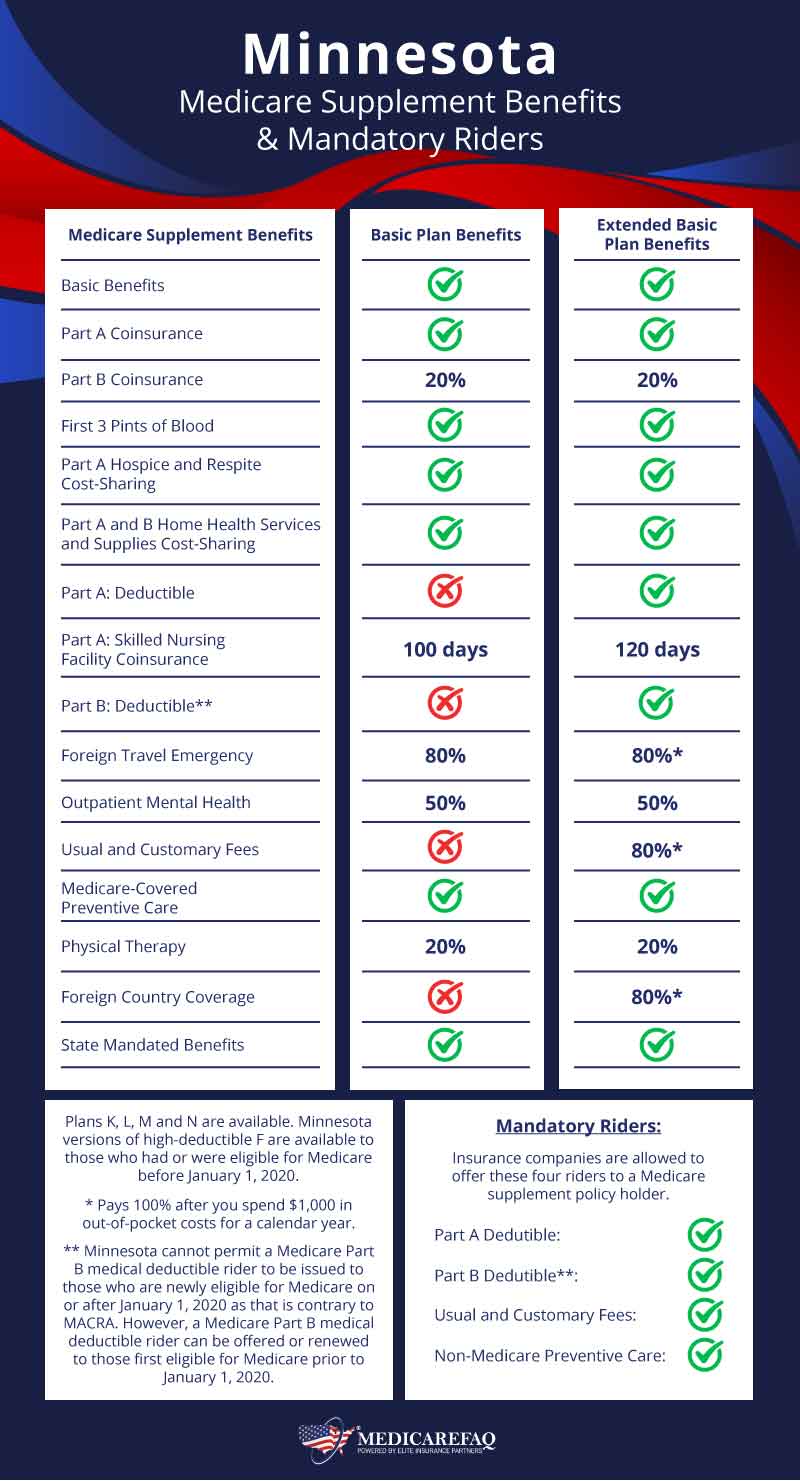 Medigap Premiums in Minnesota
Community rating is the pricing method used for Medigap plans in this state. This means companies are likely charging you the same premium as your neighbor for the same coverage. However, smokers will pay more than non-smokers for the same coverage.
Minnesota Medicare Supplement Plan Eligibility for Disabled Under 65
Medicare plans are available to beneficiaries under 65 if they have collected SSDI for at least 24 months or have been diagnosed with ESRD or ALS. In Minnesota, Medicare Supplement insurance companies must offer at least one policy to those under 65. Because of the community rating method, the premiums for people under 65 are the same as those who aged into Medicare.
Get A Free Quote
Find the most affordable Medicare Plan in Minnesota!
Minnesota Medicare Advantage Plans
Several Medicare Advantage plans (Medicare Part C) are available throughout Minnesota. Your plan options depend on the county in which you reside. Often, those who find the price tag of a Medigap plan too steep will explore Advantage plans as an alternative option.
Some Advantage plans have a monthly premium of $0 which, along with the additional benefits of these plans, can make them attractive. Said benefits include coverage for dental, vision, hearing, and prescription drugs. It's important to keep in mind, though, that lower premiums often mean higher out-of-pocket costs.
These plans are most often HMOs or PPOs, so they involve networks. Thus, if you go to a hospital outside of your network, your cost-sharing responsibilities will be higher.
Fortunately, Advantage plans offer maximum out-of-pocket benefits to protect beneficiaries from spending too much each year. For example, one Advantage plan with a $0 premium available in several Minnesota counties has a $4,900 annual maximum out-of-pocket. This means that if you spend that much within a year, the plan will take care of the rest of your covered services.
Be sure to consider your health and budget needs when selecting coverage. Weighing the pros and cons of Medicare Advantage plans will help you make the right decision.
Minnesota Part D Prescription Drug Plans
If you choose not to enroll in a Medicare Advantage plan that already covers prescription drugs, obtaining a standalone Medicare Part D prescription drug plan is a wise choice. If you wait to do this, you could incur a penalty.
With Part D premiums in Minnesota starting at $7.30 per month, it makes sense to enroll even if you don't need prescription drugs now. It's important to keep in mind, though, that the policy with the lowest premium isn't always the most cost-effective. Plans with lower premiums tend to have higher deductibles. You'll also want to check the plan's formulary and ensure that the medications you take receive coverage.
Additionally, like Advantage plans, Part D plans are subject to changes every year. Prepare to review your policy annually and keep an eye out for your Annual Notice of Change letter each September.
Minnesota Resources for Medicare
Those with lower incomes who struggle to pay their monthly premiums can apply for a Medicare Savings Program. If you don't qualify, you could still be eligible for Extra Help, which is a program that helps pay for Part D.
Minnesota's State Health Insurance Program (SHIP) is through the Minnesota State Health Insurance Assistance Program. This resource provides counseling and can be particularly useful during the Annual Enrollment Period.
Get A Free Quote
Find the most affordable Medicare Plan in Minnesota!
FAQs
Compare Medicare Plans
Find the most affordable Medicare Plan in Minnesota!
How to Apply for Medicare in Minnesota
Talking with a licensed insurance agent will make plan selection easier. Does adding riders to the Basic plan make more sense for you than enrolling in the Extended Basic plan? Call us at the number above to discover the most suitable coverage for your needs.

Our services are always free, and our agents are ready to answer any of your questions. They can walk you through the application process over the phone so there's no need to leave the comfort of your home or search endlessly on the web for rates yourself.

Let us help you; we can save you time, effort, and money. Can't call us today? Just fill out an online rate form to get rates in your area!

Enter ZIP Code
Enter your ZIP code to pull plan options available in your area.

Compare Plans
Select which Medicare plans you would like to compare in your area.

Get Quote
Compare rates side by side with plans & carriers available in your area.