Medicare Supplement plans in Massachusetts are slightly different than Medigap plans in other parts of the nation. Yet, people in all states benefit from some supplemental plan. Medicare doesn't cover in full, and beneficiaries don't want to pay tens of thousands of dollars in coinsurance. So, the best way to ensure protection is to enroll in Medigap. Massachusetts is one of three states that has unique Medigap plans. These plans include the CORE Plan, Supplement1, and the new 1A Plan.
Massachusetts Medicare Supplement Plans in 2022
Supplemental plans in Massachusetts have different names than the traditional options in other states. Also, doctors can't request Part B excess charges.
There are three plans available:
CORE Plan
Supplement1 Plan
1A Plan

Listen to this Podcast Episode Now!
CORE Plan
Coverage includes Part A hospital coinsurance and extends an additional 365 days past Medicare.
It also covers the Part B coinsurance. Each calendar year coverage includes your first 3 pints of blood as well as 60 days of inpatient care at a mental health hospital.
The CORE policy offers basic benefits, much like Plan A.
Supplement1 Plan
Supplement1 plan includes everything in the CORE Plan; but, it covers the Part A deductible and the skilled nursing facility coinsurance.
Further, the plan covers the Part B deductible. Also, this includes 120 days of inpatient care at a mental health hospital.
Supplement1 Plan has the benefit of emergency foreign travel care. The policy is first-dollar coverage.
Beneficiaries with this plan will pay little to no out of pocket costs. It's basically Plan C since excess charges are forbidden.
MACRA will no longer allow Medigap plans to cover the Part B deductible. First dollar coverage won't be available for newer beneficiaries.
1A Plan
The new 1A Plan is equivalent to the standard Plan G. It will cover everything minus the Part B deductible.
Meaning, once your deductible is met, the 1A plan will cover 100% of your medical costs after Medicare pays its portion.
Massachusetts Medicare Supplement Plan Comparison Chart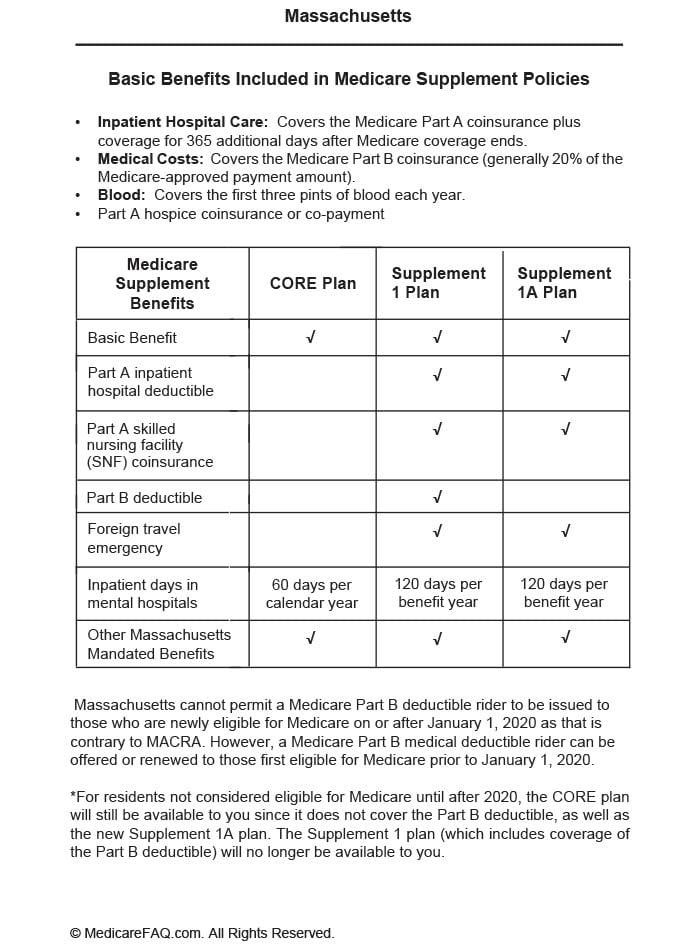 During the 6-month Open Enrollment Period is the best time to obtain Medigap. It begins the 1st day of the month in which you turn 65 and have Part B.
The benefit of enrolling during this time is that the insurance carriers cannot deny you. Those with pre-existing medical conditions should sign up as soon as possible.
Failing to do so can result in higher premiums or even denial of coverage due to medical issues.
Massachusetts Medigap Annual Open Enrollment Period
The good news is, if you missed your 6-month OEP, residents in Massachusetts have a yearly opportunity to enroll in Medigap with guaranteed issue. This is a special rule that is only available in Massachusetts. The open enrollment window runs from February 1st to March 31st every year.
Medigap Premiums in Massachusetts
State laws require companies to community rate policies; all members pay the same amount, and premiums don't reflect age.
The cost for Supplement1 Plan could be around $200 or more depending on the company you choose. Also, if you buy an additional rider, like dental, you'll pay more.
If a "rider" isn't an option, you can always buy a stand-alone dental plan.
Medicare Eligibility in Massachusetts for the Disabled under 65
Federal law doesn't require carriers to offer Medigap; but, Massachusetts law requires insurers to offer at least one Medigap option to those under 65.
Generally, the plan available is the basic benefits option. For those under 65, you may find an Advantage plan more sensible; at least until you turn 65.
If you currently reside in Massachusetts and are disabled under 65, call today, and one of our agents can help.
What is the Best Medicare Supplement in Massachusetts?
The
best Medigap plan
is the one that will approve your application at a low-cost with a reputable company. If you're new to Medicare, finding a plan is simple, you qualify for them all. Although there are other opportunities to avoid underwriting, eligibility to change plans depends on your situation.
Medicare Advantage Plans in Massachusetts
27% of Massachusetts beneficiaries chose a Medicare Advantage plan.
Advantage plans take over the coverage of Part A and B.
While Advantage plans have lower premiums. they come with restrictions. Restrictions including coverage limitations, cancellation restrictions, and network guidelines.
Beneficiaries with this coverage can change the policy only during the Annual Enrollment Period.
During the year, you'll pay copayments and deductibles, similar to Medicare.
The policy has a list of doctors to follow, and referrals are usually a requirement when you want to see a specialist.
Before you decide to choose a Part C plan, consider comparing Medicare Advantage vs Medigap.
While Advantage plans can be beneficial for those that don't qualify for Medigap or those that are eligible for Medicaid, Many will find Medigap coverage is much more comprehensive.
What is the Best Medicare Advantage Plan in Massachusetts?
Advantage plans vary in coverage across counties. Plus, the best Advantage plan for your neighbor might not be the most suitable for you.
Since Advantage plans have doctor networks, the "best plan" is the policy that makes the most sense for your situation. Further, you'll want to ensure your medications have coverage through the plan.
Does Medicare Advantage work with Medigap in Massachusetts?
Part C plans will handle claims in place of Medicare. Since Medicare no longer handles the claims, the Medigap plan won't cover services.
Enrollment in both Advantage and Medigap is forbidden in all states. It's in your best interest to choose which option is most beneficial for your situation.
Massachusetts Prescription Drug Plans
Part D covers prescriptions, and those that wait to enroll could incur a Part D late enrollment penalty.
The penalty starts after the seven months Initial Enrollment Period expires.
The length of time you go without coverage will determine the increase in monthly premiums.
Those that wait a long time will have a higher premium than those that don't wait.
Part D can cost as low as $15 a month; but, a low premium isn't always the most savings.
For beneficiaries that don't take medication or have specific generics, the $15 policy could be fine.
Although, beneficiaries with specialty drugs, brand name medications, or certain generics could save money with a higher premium policy.
There are 21 Part D options available in Massachusetts.
The best plan for you will depend on which medications you take.
FAQs
How to Apply for Medicare in Massachusetts
Applying for a Medigap policy is simple and can be done over the phone. When you consult our team of agents with industry knowledge you become educated on your options.

We don't sell you a plan, we guide you through your plan options so you can make the final choice. Having a supplement plan can save you tens of thousands of dollars during the year.

Call us today at the number above or fill out an online rate form to see the rates in your area now!
Enter your zip code to pull plan options available in your area.
Select which Medicare plans you would like to compare in your area.
Compare rates side by side with plans & carriers available in your area.