Finding Medicare coverage is easier than ever and can be done in the comfort of your home with the help of a Medicare insurance agent. A Medicare insurance agent can contact you directly over the phone. During your call, you will discuss the different Medicare plans available in your area, the companies that provide plans, and which plan will fit your needs best in the long run. So, if you find yourself asking; How can I enroll in Medicare near me, we are here to help.
Find Medicare Plans in 3 Easy Steps
We can help find the right Medicare plans for you today
Below, we review the many benefits of having an insurance agent licensed in your state.
How Can I Find a Medicare Insurance Agent Near Me?
Medicare insurance agents can provide information about the Medicare options available near you. Most new beneficiaries do not realize that working with an agent is free, so it can save you money, time, and frustration and cost you nothing.
The easiest way to connect with a licensed agent in your state is by completing our online questionnaire, and we will connect you with a personal Medicare agent.
Is it Necessary to Use a Medicare Insurance Agent?
Many seniors enrolled in Medicare find that they save money and enroll in a better plan when using the help of a licensed agent.
A licensed insurance agent can enroll you in a plan in person, online, or over the phone. However, most Medicare agents have transitioned to over-the-phone communication with their clients. This is because agents can be licensed in several states. So, to reach a wide range of clients, many agents will primarily use the by-phone method to educate and enroll their clients.
A good Medicare agent understands different carrier guidelines, rate increases, and limitations that Medicare beneficiaries may not be aware of. This information is acquired through years of first-hand experience and feedback from current clients, which can then be shared with potential clients and those new to Medicare.
Most insurance carrier information is only available for agents to view. Thus, the general public does not see all the details. To get the most up-to-date information about plans, your best option is to contact a licensed agent.
Most insurance companies do not release their information to the public because this information can be overwhelming, hard to understand, and may cause clients to have a false perception of the carrier and their plans.  Plus, every service area has different rules or guidelines regarding plans, making consistency difficult.
Find Medicare Plans in 3 Easy Steps
We can help find the right Medicare plans for you today
By using a licensed agent, you will get accurate information, have all your questions, and, most importantly, not have to pay an additional fee for their services. You will never have to pay an additional fee to enroll in Medicare through an agent.
When trying to understand Medicare, you may be exposed to confusing jargon, similar-sounding plan names, deadlines, and hidden costs. If you have never dealt with that before, you may face a steep learning curve when enrolling yourself into a plan. That is where a licensed agent can help provide the information you need and save you time.
How Are Medicare Agents Paid?
Using a licensed agent should always be of no charge to you. You want to avoid working with an agent who requires payment or adds an additional fee to your monthly premium. Licensed agents receive payments directly from the carrier once they submit an application.
Because of this, Medicare agents are unbiased about which carrier you enroll through. They will receive the same payment regardless of the cost of the plan. Thus, a good Medicare agent is encouraged to help you find the right plan for you, not for their pockets.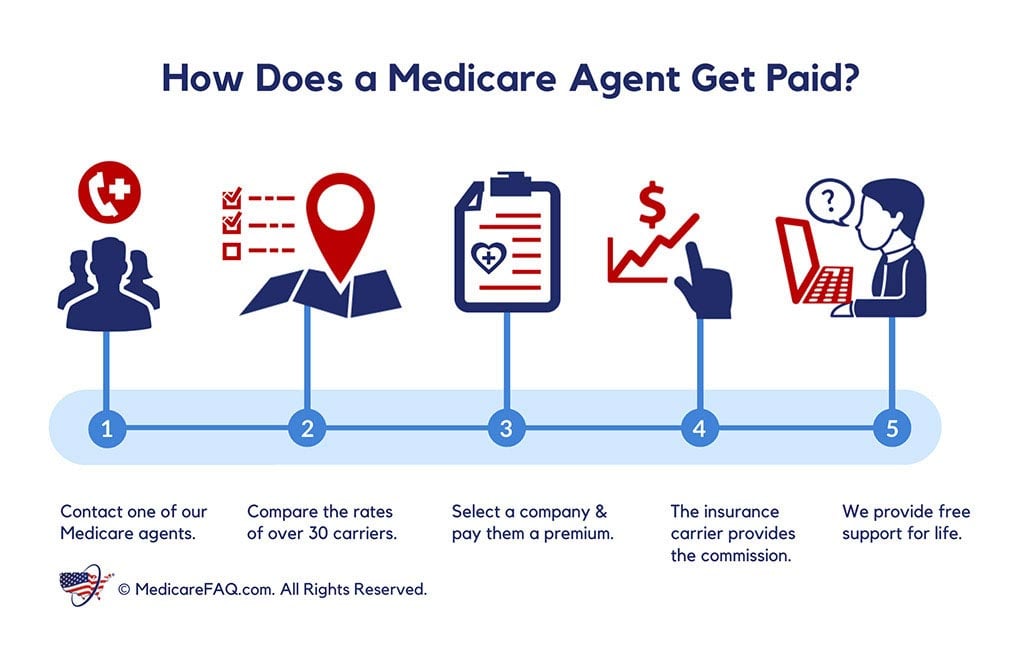 How Can a Medicare Agent Near You Help?
A licensed insurance agent can help you make sense of your options concerning your needs, both financially and health-related. When you work together, you can use this information and their expertise to pick the best Medicare Supplement coverage combination.
In contrast, most people turn to the internet to collect information. Many start at Medicare.gov, and while this is an excellent source of the basics, you may become overwhelmed with the amount of available information. With a Medicare agent, you will be able to talk to a live person available to answer any questions and clear any confusion.
A licensed agent can quickly and efficiently search dozens of plans from different insurers, saving you time and money in the process. Many enrollees do not realize that other companies charge different premiums for a policy with the exact same benefits.
Find Medicare Plans in 3 Easy Steps
We can help find the right Medicare plans for you today
Plus, a licensed insurance agent can help you decide which coverage is best for you based on your needs and budget. This way, you will not overspend for a plan with more benefits than you need or enroll in a plan that does not have the necessary coverage you require. A licensed agent near you will be able to give you advice based on their extensive experience enrolling beneficiaries in Medicare plans. When you contact a reputable Medicare agent, their services should come without any obligation to enroll.
Do I Need an Agent for Medicare Near Me?
To sell a Medicare insurance plan, a Medicare agent must have a valid Insurance license in the state they are selling in. Regardless of where they live or work, a Medicare agent can help you find coverage nationwide as long as they hold a license in your state. Because Medicare is so complex, having a Medicare agent well-versed in all Medicare rules and regulations is essential. Thus, there is no reason why you need to work with an agent geographically near you.
An out-of-state Medicare agent will provide the same service if they have a license in your state. So, there's no reason you need to travel anywhere to see an agent; they would not need to come to your house to help you with your coverage. Enrolling over the phone or online is easier, faster, and more convenient for all involved.
With today's technology, you don't need to spend time navigating a nearby office to meet with a local agent. Today, agents are licensed in multiple states to make it more convenient for beneficiaries.
Why You Should Choose MedicareFAQ
At MedicareFAQ, our licensed agents provide easy-to-understand and simple education about how Medicare works. We pride ourselves in delivering Medicare information in a digestible way, breaking down the confusing parts, and answering your questions. Our team of nationally-licensed agents offers excellent care and overall client satisfaction.
If a Medicare policy is right for you, our team will suggest it, regardless of which company offers it. Plus, when you use our services, you'll always have support from our agents and our Client Care Team year round.
When you contact us, our agents will provide you with industry-leading education to help you make an informed decision on which Medicare plans are suitable for you.
Find Medicare Plans in 3 Easy Steps
We can help find the right Medicare plans for you today
How to Find a Licensed Insurance Agent for Medicare
We work with over 30+ major insurance carriers to bring our clients the best possible care. Whether you wish to enroll in a plan through Aetna, Mutual of Omaha, SilverScript, or any of our other world-class carriers, we have your back!

The most important thing is you enroll in a policy you can afford that covers you in all the right places. Call us today to speak with one of our licensed insurance agents. Or, you can complete our online rate form to see your rates now!


Enter ZIP Code
Enter your ZIP code to pull plan options available in your area.

Compare Plans
Select which Medicare plans you would like to compare in your area.

Get Quote
Compare rates side by side with plans & carriers available in your area.