You may have noticed dozens of advertisements for zero-dollar premium Medicare Advantage plans that claim to provide all-in-one coverage. These Medicare Advantage plans may include prescription drug coverage, care for vision, dental, hearing aids, and maybe even a free membership to the gym. Yet, you may have also heard people complain about or criticize these plans. So, what are the disadvantages of Medicare Advantage? Why are Medicare Advantage plans bad?
Find Medicare Plans in 3 Easy Steps
We can help find the right Medicare plans for you today
To be clear, Medicare Advantage plans are not bad in every situation. However, they are certainly not a good fit for everyone. We are here to clarify why these seemingly too-good-to-be-true plans have a less-than-stellar reputation.
Disadvantages of Medicare Advantage Plans
There are several reasons why beneficiaries may feel Medicare Advantage plans are bad. Some policyholders can provide a list of disadvantages, while others might be satisfied with their Medicare Advantage coverage. Based on who you ask, the answer to this question varies.
Overall, many Medicare Advantage policyholders do not like the plans because they thought they were free. Even without a monthly premium, most beneficiaries spend more out-of-pocket on a Medicare Advantage plan than they would on a Medicare Supplement plan.
Common Medicare Advantage plan disadvantages include:
Coverage does not travel with you
Small networks of doctorsHigh out-of-pocket maximum
Plan benefits change annually
The constant need for referrals and approvals
If you enjoy traveling, prefer going to any doctor or hospital you wish, want to keep out-of-pocket costs low, do not want your benefits to change, and do not want the hassle of getting a referral, a Medicare Advantage plan is probably not for you.
Often, the most significant complaint of all is the small network of doctors and hospitals Medicare Advantage plan beneficiaries can visit. Since not all doctors accept Medicare Advantage plans, it can be challenging to find the right doctor who takes your plan, leading to a delay in care.

Listen to this Podcast Episode Now!
Are Some Medicare Advantage Plans Free?
The biggest misconception about Medicare Advantage plans is that they are free. However, this is far from the truth. When you enroll in a Medicare Advantage plan, you are still responsible for paying the Medicare Part B premium and cost-sharing. Unfortunately, there is no such thing as a free Medicare plan.
The main reason why Medicare Advantage carriers can offer low to zero-dollar monthly premium plans is that Medicare pays the private companies providing the plans to take on your health risk. But not all Medicare Advantage plans have a low premium cost. Medicare Advantage carriers make their plans look attractive to entice beneficiaries to enroll. Then, Medicare pays the carrier a fixed amount per month to provide coverage to each enrolled beneficiary.
Find Medicare Plans in 3 Easy Steps
We can help find the right Medicare plans for you today
A Medicare Advantage plan will be your primary coverage. Another reason Medicare Advantage plans have low or zero-dollar premiums is cost-sharing. Unlike when you pair Original Medicare with a Medicare Supplement plan, Medicare Advantage plans come with copayments. You can expect to pay a copay for every doctor visit, test, and service you receive.
Holes in Medicare Advantage Plan Benefits
Medicare Advantage plans often offer extra benefits that you won't find on a Medicare Supplement plan. These benefits include dental, vision, and hearing care, prescription drug coverage, and more. However, these additional benefits can cause issues when paying for the services.
Often, beneficiaries face disappointment when they pay more than they budgeted for when utilizing the additional benefits. Even though their Medicare Advantage plan offers coverage, they are almost always met with high out-of-pocket copays and a low maximum benefit amount. Once you exceed a certain amount of coverage, you are responsible for 100% of your costs.
However, Medicare Advantage plans might work in certain situations. If you are on a limited budget and cannot afford the monthly premiums for a Medicare Supplement plan, then a Medicare Advantage plan with sufficient coverage for your health needs is a good deal.
Why Do Doctors Not Like Medicare Advantage Plans?
If you ask your doctor how they feel about Medicare Advantage plans, the answer may surprise you. The average physician is not a fan of Medicare Advantage because these plans put the patients' financial risk in the hands of the doctor.
The Medicare Advantage plan carrier will pay the doctor a set amount of money upfront based on the patient's diagnosis. So, the only way the physician will make a profit is if they stay under budget. If they don't say under budget, they end up losing money. Meaning, you may not receive the full extent of care.
Thus, many doctors will likely tell you they do not like Medicare Advantage plans because private insurance companies make it difficult for them to get paid for their services.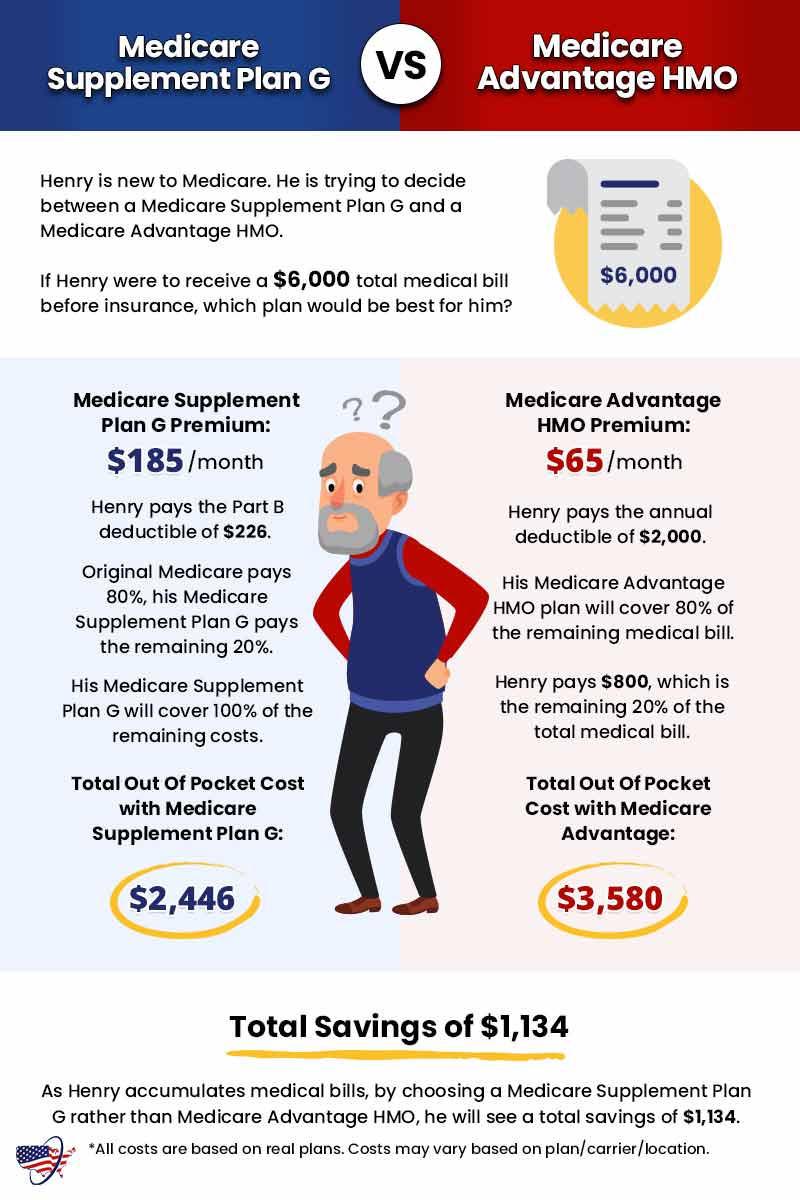 Find Medicare Plans in 3 Easy Steps
We can help find the right Medicare plans for you today
Are Medicare Advantage Plans a Good Financial Investment?
Medicare Advantage plans are certainly worth the zero-dollar premium. However, it is your choice to decide if the coverage is right for you and your budget. The value of a Medicare Advantage plan depends on your location, health care needs, budget, and preferences.
So, for some, a Medicare Advantage plan might be a good financial investment. If you do not regularly attend doctors' appointments and are in great health, you could end up getting more out of the plan than you put in. However, if a health concern eventually arises, this is when the investment could flop.
Simply, Medicare Advantage plans are good until they are no longer good for you.
Can I Enroll in a Medicare Supplement Plan Later if I Enroll in a Medicare Advantage Plan Now?
If you enroll in a Medicare Advantage plan now, you may be able to cancel your Medicare Advantage plan and enroll in a Medicare Supplement (Medigap) plan in the future. To do so, you will have to wait until the Annual Enrollment Period or the Medicare Advantage Open Enrollment Period to make changes.
It is important to know that most beneficiaries will only get a Medicare Supplement Open Enrollment Period once in their lifetime. This is your only opportunity to enroll in a Medigap plan without answering health questions.
If you miss this one-time opportunity to enroll, you will have to answer health questions should you wish to enroll in a Medicare Supplement plan in the future. This means the carrier could deny your application due to pre-existing conditions. Thus, the importance of understanding which coverage is best for you and enrolling in that coverage the first time.
FAQs About Whether Medicare Advantage Plans Are Bad
How To Get Help With Decisions About Medicare Advantage
If you consider enrolling in a Medicare Advantage plan but are hesitant, we are here to help you make the right decision. The key to obtaining the best coverage for you is researching and becoming educated on your plan options. Whether you feel a Medicare Advantage plan is right for you or you wish to explore Medicare Supplement plans, our unbiased licensed agents are here to help. We ensure our clients are happy and receive a Medicare plan that fits their budget and healthcare needs.

Our licensed agents thoroughly work with you to compare the top-rated plans in your area. To speak to an agent about your options, call the number above. If you can't call, complete our online rate form to begin your plan comparison today!



Enter ZIP Code
Enter your ZIP code to pull plan options available in your area.

Compare Plans
Select which Medicare plans you would like to compare in your area.

Get Quote
Compare rates side by side with plans & carriers available in your area.