Medicare Supplement (Medigap) plans are the most popular secondary insurance for Medicare. Original Medicare (Medicare Part A and Part B) covers your healthcare bills first, making it primary coverage. But Original Medicare doesn't pay for 100% of your costs, and Medicare secondary insurance is available through Medigap plans. A Medicare Supplement plan is beneficial to have in place to protect you from unexpected medical expenses.
Find Medicare Plans in 3 Easy Steps
We can help find the right Medicare plans for you today
If you're looking for the best secondary insurance for Medicare, we can help. The right policy for you depends on your present and future healthcare needs. Learn more about what each Medigap plan includes, how your coverages work, and where to find the best benefits for you.
What Is Secondary Insurance to Medicare?
Medicare secondary insurance is coverage found through Medicare Supplement plans. These benefits act as secondary insurance for those receiving Medicare Part A and Medicare Part B. Because Original Medicare only covers a portion of your costs, Medigap policies are available to fill in the gaps. Secondary insurance for Medicare helps reduce your out-of-pocket costs.
Most states offer ten different options to compare Medicare Supplement Plans. Each with varying levels of benefits, plus two high-deductible versions. Each plan is subject to federal regulations, ensuring that the benefits are the same regardless of the carrier. This regulation is known as standardization. But not every carrier offers all Medigap plans, and researching your options for secondary insurance with Medicare is essential.
The secondary Medicare insurance plans that provide more coverage tend to be more costly. When choosing a Medigap plan, consider the amount of coverage you need and your monthly premium.
How Does Medicare Work as a Secondary Insurance?
When you have two insurance policies covering the same risks, one of them becomes your primary coverage, and the other is secondary.
For example, if you have Medicare Supplement Plan G coverage, Original Medicare will be your primary health insurance. Subsequently, your Medigap Plan G will be secondary. If you go to the doctor, Medigap Plan G will cover the remainder of the cost for which you would otherwise be responsible.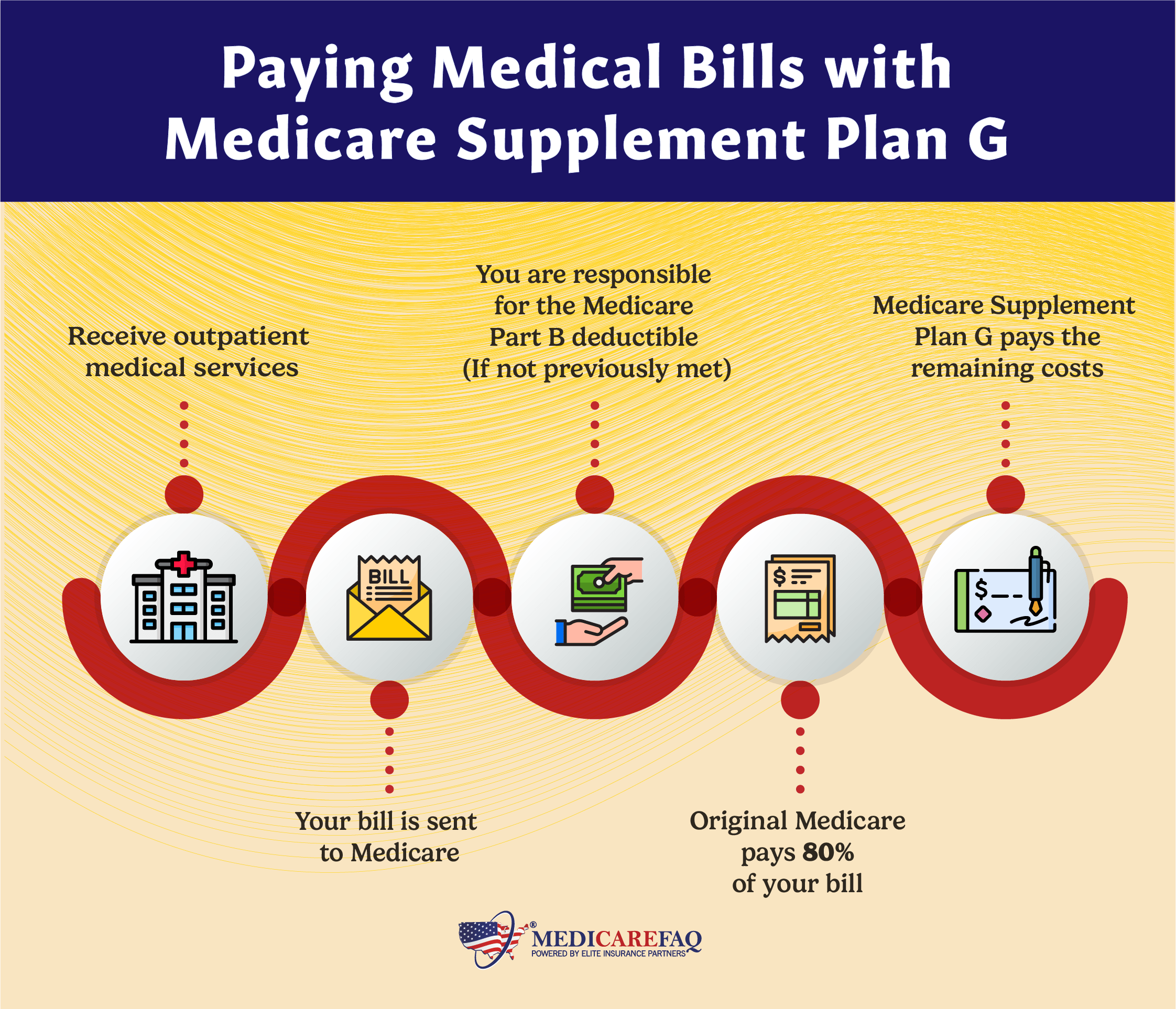 This is what makes Medicare secondary insurance an essential consideration for beneficiaries. Without carrying Medigap coverage, you may face out-of-pocket costs that Original Medicare won't provide benefits for.
Find Medicare Plans in 3 Easy Steps
We can help find the right Medicare plans for you today
What is the Difference Between Medicare Supplement and Secondary Insurance?
Medicare Supplement plans offer benefits that help supplement your Original Medicare coverage, whereas secondary insurance can be a variety of insurance options that extend your primary form of coverage. Secondary insurance can also go by alternative names, including supplemental or voluntary insurance.
Although Medigap is a type of secondary insurance, there are several other types available, including dental and vision, gap insurance, disability insurance, and more.
Secondary coverage isn't simply limited to healthcare, but for Medicare purposes, it is. You can count on secondary insurance for Medicare to help you cover medical expenses and protect your personal finances.
But because everyone has different needs, the coverage you choose can vary. Fortunately, there are several different types of Medigap plans available. Assessing your healthcare and budget needs while working with a licensed Medicare agent can help you determine the best secondary coverage option for you.
Is Medicare Primary or Secondary to Employer Insurance?
If a Medicare recipient enrolls in a large employer group health plan, Medicare becomes secondary to the employer plan. It is also possible to delay Medicare Part B if you reach age 65 and have creditable coverage through your employer. Your individual circumstances will determine which option is best for you.
However, it's important to note that those without creditable coverage who delay enrollment into Medicare Part B could incur a Part B late enrollment penalty. This penalty never goes away. Thus, you'll want to ensure you avoid it at all costs.
Medicare Primary vs. Secondary Plans
Original Medicare is primary to a Medicare Supplement plan because it pays first. Medigap is secondary because it covers the remaining costs. However, if Medicare does not cover the service you receive, your secondary insurance will also not pay. Medigap plans only pay for services Original Medicare covers.
Yet, Medigap is not the only type of insurance that can be secondary to Medicare. For example, those with TRICARE For Life may use these benefits as their secondary coverage. A series of rules known as the coordination of benefits decides the payment order in each case. Sometimes, although rarely, there can be up to three insurance payers.
Find Medicare Plans in 3 Easy Steps
We can help find the right Medicare plans for you today
Medicare Supplemental vs. Secondary Insurance
Medicare Supplement plans provide extra benefits for services covered by Original Medicare. Thus, your Medigap plan will always be secondary insurance with Medicare. There is no instance in which a Medigap policy is primary.
Medicare Part D, a prescription drug coverage, is also supplemental insurance, and dental, vision, and hearing policies are also available to help supplement your existing Medicare coverage.
Supplemental coverage allows you to add more benefits for services not covered by Original Medicare. You can think of supplemental insurance as extra benefits, whereas secondary insurance is a continuation of your current benefits.
How Much is Secondary Insurance for Medicare?
The cost of Medicare secondary insurance depends on the Medigap plan you choose. Of the 12 total available Medicare Supplement plans, each plan offers different benefits and, in turn, monthly premiums. These premiums can range anywhere from $40 a month to $500 a month or more.
Unlike Original Medicare benefits which come from a federal government program, your Medigap benefits come from private carriers, and your costs can vary. Monthly premium costs are heavily based on your age, health, gender, and ZIP Code. The combination of these factors will determine how much you pay each month for secondary coverage with Medicare.
Best Secondary Insurance to Medicare
The best secondary insurance to Medicare depends on your health and budget. Medicare recipients have options, and these coverage options can help them receive benefits that meet their needs for both their healthcare and budget.
If you want a plan to cover all the costs Original Medicare leaves behind, Medigap Plan F or Plan G might be your best option, though newly qualified beneficiaries can no longer enroll in Plan F. But if you are looking for more basic coverage that allows you to have a safety net in case of an emergency, Medigap Plan N might be the right option for you.
Regardless of the Medigap plan you choose, it is essential to compare carriers to ensure you receive the best monthly premium possible. Since benefits are standardized, company rating and rate increase history are two of the most important determining factors when deciding on a Medigap carrier.
Find Medicare Plans in 3 Easy Steps
We can help find the right Medicare plans for you today
Enlisting the help of a licensed Medicare agent can help you make the right decision when comparing secondary Medicare insurance plans and carriers.
Do I Need a Secondary Insurance With Medicare?
Whether or not you need Medicare secondary insurance or not depends on many personal factors surrounding your finances and your health. If the rising costs of healthcare are or may be a burden to you in the future, then a Medigap plan may be right for you.
Over 13 million Medicare beneficiaries (21%) enroll in Medigap benefits to help maintain their healthcare costs. Here are some of the great reasons secondary insurance for Medicare may be right for you:
The Cost of Healthcare
Rather than paying out of pocket for your healthcare expenses not covered by Original Medicare, you will enjoy benefits that cover these costs for you.
You Travel Often
Medicare Supplement plans don't have networks meaning that you'll be covered far and wide. So long as the healthcare provider accepts Medicare assignment, which is the overwhelming case for most, your benefits will help you cover medical expenses.
You Like Your Healthcare Provider
Find Medicare Plans in 3 Easy Steps
We can help find the right Medicare plans for you today
Even if you don't travel, not being limited by a network is great news for patients. Rather than settling for care elsewhere or worrying about finding a new facility or doctor, you can receive the healthcare you deserve with the providers you trust.
How To Get Secondary Insurance With Medicare
Medicare Supplement plans can provide extra coverage as secondary insurance for Medicare beneficiaries. If Medicare is your primary health insurance, a Medigap policy can safeguard against high costs.

Comparing your options for secondary insurance with Medicare is as simple as making a phone call. Our team of licensed agents is available at (877) 686-1236 to help you compare coverage and rates and pinpoint coverage that works for your healthcare and budget.

Alternatively, if you don't have time to call, that's okay! Simply fill out our online rate form to receive a free side-by-side plan comparison with the top companies in your area.

A licensed agent will prepare a premium rate comparison for you and present the best coverage options for your needs, including any Medicare secondary insurance policies that apply. We have helped countless individuals obtain the best secondary insurance for their healthcare needs, and we would be happy to do the same for you.

Enter ZIP Code
Enter your ZIP code to pull plan options available in your area.

Compare Plans
Select which Medicare plans you would like to compare in your area.

Get Quote
Compare rates side by side with plans & carriers available in your area.