Medicare Supplement Part G is one of the most common plans chosen between Medicare beneficiaries. The correct term is Plan G, but many new to Medicare refer to the Plans as Parts. Plan G offers all of the same benefits as Plan F.
The only difference is Plan G doesn't cover your Part B deductible. Thus, making this plan more affordable to some Medicare beneficiaries.
Medicare Supplement Plan G – Part G
By purchasing Medicare Supplement Plan G, beneficiaries can get insurance for services that are not currently covered for. Additionally, private insurance companies sell these policies that fill these gaps.
Parts A & B pay for many health care services and supplies, but not all. Since not all expenses are covered, there are gaps in your medical insurance coverage.
These Medigap/Supplemental policies help pay for out of pockets costs not covered by Medicare Part A and Optional Part B.
Some policies pay part of your emergency medical expenses when you are outside of the United States.
There are 10 Medicare Supplement insurance options labeled A through N. Thus, Medicare Plan G is one of the ten plan options.
Definitions of Terms Used
Original Medicare – Includes Part A (hospital insurance) and/or Part B (medical insurance). Generally, you or a supplemental insurance plan pays the coinsurance and deductibles.
Coinsurance – An amount you may be required to pay as your share of the cost for services.
Co-payment – An amount you may be required to pay as your share of the cost for medical services or supplies. Such as a doctor visits, hospital outpatient visits or prescription drugs. Additionally, a co-payment is usually a set amount (not a percentage).
Long-term care – Services that include medical and non-medical care provided to people who are unable to perform basic activities. Services may be rendered in the home, community, assisted living or nursing homes.
Here is what is NOT covered by Parts A and B:
Medicare Part G Coverage & Benefits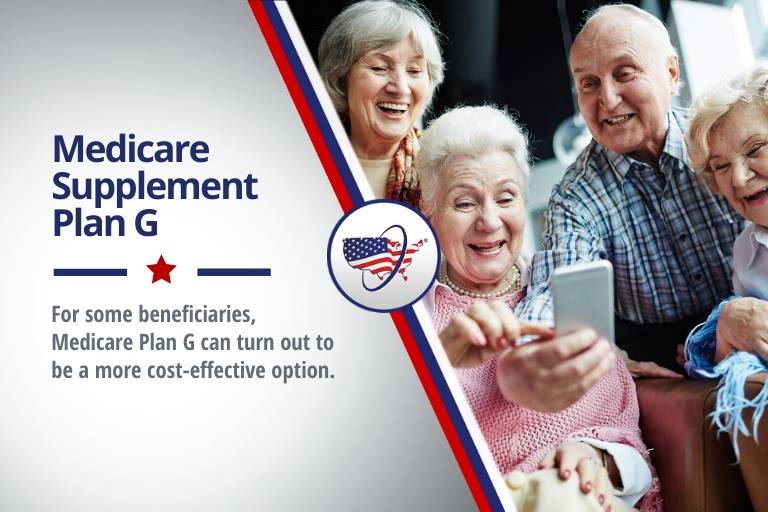 Thankfully, Medicare Supplement insurance has been standardized. This means that all policies offer the same basic coverage.
However, Massachusetts, Minnesota and Wisconsin policies are standardized in a different way. Contact one of our senior Medicare agents to learn the details.
If you add supplemental Medicare Plan G to your Original Medicare Parts A and B that you already have, your coverage will look like this:
All Medicare Part A hospital costs and coinsurance amounts up to an additional one year after Medicare benefits are gone
100% of the coinsurance or co-payment amount for Medicare Part B
The cost of the first three pints of blood
100% of the cost of hospice care coinsurance or co-payment for Part A
Any coinsurance costs for care at a skilled nursing facility
100% of the deductible amount for Part A
100% of the excess charges, but not the deductible, for Part B
80% of the plan's limit for emergency medical services while traveling in a foreign country
As you can see, Medicare Supplement Part G will give you quite a bit of additional coverage. In addition, costs after you have used up your hospital benefits are also included.
You can compare Plan G vs F vs N here.
Will Medicare Supplement Work with my Advantage Plan
The answer is, no. If you have Medicare Advantage (Part C), you cannot sign up for a Medicare Supplement policy. Thus, you cannot use a Medigap policy to pay for co-payments, deductible or premiums associated with a Medicare Advantage plan.
However, Medicare beneficiaries can dis-enroll from an Advantage plan if they feel a Medigap policy has greater benefits and meets their needs.
If you have a Medigap policy and you prefer the Advantage Plan, you'll have to drop the Medigap policy. If you are unhappy with the coverage you presently have and are thinking of changing plans, consult an adviser first.
Those who have coverage through a job or credit union should talk to a benefits administrator before making changes to their coverage.
You should be aware that once you drop a Medigap Plan, you may not be able to get it back later.
Enroll for Medicare Plan G Coverage Online
As mentioned, there are ten plans to choose from. Since everyone's situation is different, there are some variations in the different plans. This allows you to choose the one that is right for you.
Our services are 100% free and there's never an obligation to sign up. Call today and get your questions answered and find out if you can benefit from one of these supplemental insurance plans.
If you would like to get started now and compare rates with the top carriers in your state, please complete our online rates for here!

Check Out Our Reviews