Information about Medicare Part D prescription drug plan coverage changes in 2022 is now available. It's important for beneficiaries to be informed about how this will impact them.
Prescription drug expenses can be a drain on your monthly income. Drugs that are essential to keeping you healthy and functioning can be costly.
Part D is designed to help alleviate some of the financial challenges beneficiaries face when paying for medication.
What Does Part D Cost in 2022?
The average premium for Part D plans saw a decrease in the last year. Lowering drug premiums continues to be a priority for CMS. Part D changes for 2022 address these issues.
Monthly average Part D costs are $33 in 2022. But, for copayments, you'll need to check the plan's formulary.
Medicare Part D Coverage Changes for 2022
CMS works hard to make positive changes to the Part D program. They have implemented prohibiting gag clauses, so now pharmacists can tell patients about ways to lower costs for obtaining their medications. Also, CMS requires an Explanation of Benefits to be sent to beneficiaries monthly; this information would include drug prices.
Additionally, CMS has reduced the maximum amount that low-income beneficiaries pay for innovative medications or biosimilars. Medicare has increased competition among plans by requiring Part D policies to have meaningful differences from each other; this makes more plan options for beneficiaries.
The Annual Enrollment Period for 2022 will begin on October 15 and end on December 7. During this time, beneficiaries can change Part D policies after comparing drug plan options.
CMS usually releases the information on plans by mid to late September.
Standard Initial Deductible for Part D in 2022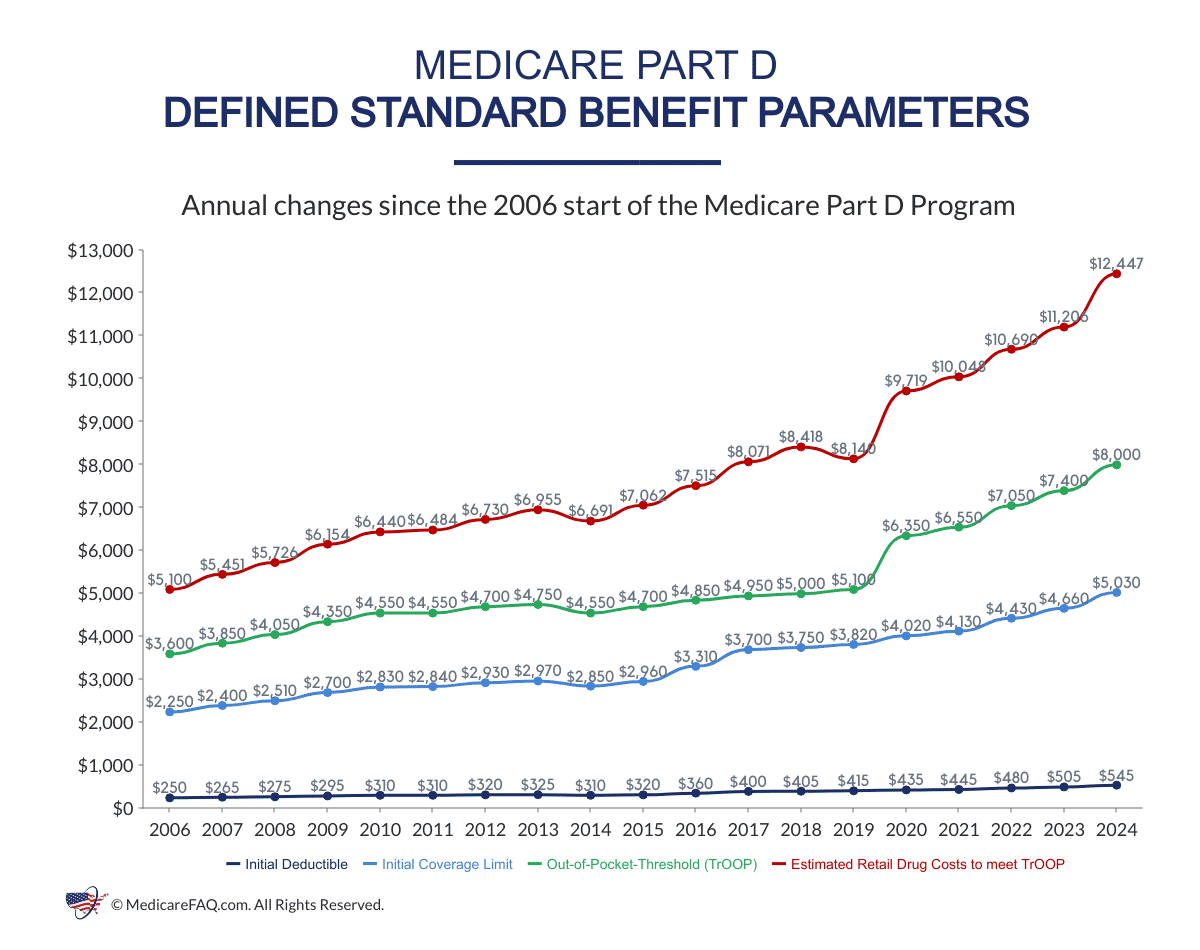 Coverage changes include a slight increase in the initial deductible for prescriptions. The maximum deductible is $480 in 2022.
The initial deductible goes toward your out-of pocket-threshold, or when you leave the donut hole and move into catastrophic coverage.
You pay deductibles before coverage begins. The maximum deductible amount in 2022 is $480, but that doesn't affect when you enter the donut hole portion of Part D coverage (after expenses of $4,430).
2022 Medicare Part D Prescription Drug Plans Initial Coverage Limit
The initial coverage limit sets the donut hole entry point. For 2022, that amount is $4,430. So, you'll be able to spend a little more on your medications before reaching the donut hole than in previous years.
Total Out-of-Pocket Threshold for Medicare Part D in 2022
Catastrophic coverage begins after the Part D enrollee reaches the total out-of-pocket threshold of $7,050 during the 2022 calendar year. The total out-of-pocket threshold is the amount a beneficiary must spend to exit the donut hole and enter into the Part D catastrophic phase.
Proposed changes to Part D coverage will impact the donut hole, otherwise known as the coverage gap. The coverage gap is the amount between when recipients reach their threshold of initial coverage and when they begin to receive catastrophic coverage.
The Donut Hole Brand Name Drug Discount will Increase
For 2022, beneficiaries will pay up to 25% of brand-name drug costs.
Brand-name drug manufacturers cover 70% of the costs in the coverage gap, with the policies paying 5% of costs.
Companies making brand-name medications must sign agreements to participate in the Coverage Gap Discount Program. Even though there is a discount, the entire cost of the drug will count towards the catastrophic coverage phase.
The Donut Hole Generic Drug Discount will Increase
If you reach the donut hole or coverage gap, the generic drug discount will be 75% in 2022. Your costs for generic drugs while in the donut hole will be 25% of the retail price of the drugs.
For 2022, the plans must pay 75%. Beneficiaries will only pay 25% of the cost.
FAQs
Compare Medicare Part D Plans for 2022
If you're unsure about drug costs in 2022 and would like an estimate of how much you'll spend, you can use this Part D plan finder. You can also join our Facebook Community to see what other beneficiaries are doing regarding their Part D drug plans this year.
Also, while no part of Medicare is mandatory, delaying enrollment can result in penalties. This also applies to Part D; delaying enrollment can result in higher costs.
For more help, give us a call at the number above or fill out an online rate form.