Medicare Part B is the part of Original Medicare that provides outpatient coverage for doctor visits and some medical services. Medicare Part B covers the drugs a physician or other hospital staff prescribes and administers in an outpatient setting. Several of the drugs Medicare Part B covers are administered in the form of an injection or infusion into the bloodstream.
Find Medicare Plans in 3 Easy Steps
We can help find the right Medicare plans for you today
Over the years, drug prices have gone up and pressure for drug reform has increased as well. This article analyzes Medicare Part B-covered drugs and how their costs impact beneficiaries.
Does Medicare Part B Cover Drugs?
If you receive prescription medications you would not normally give to yourself, Medicare Part B will cover the costs. Examples include medications administered by a physician in an outpatient setting.
To be outpatient, you must be able to leave the medical facility on the same day. However, Medicare Part B may not cover every drug you receive in an outpatient setting.
Ultimately, when it comes to overall drug coverage, Medicare Part B only covers a fraction of what Medicare Part D covers.
Medicare Part D typically covers prescription medication costs. You will usually use your Medicare Part D coverage at pharmacies or online pharmacies for the prescriptions you take at home.
Medicare Part B covers 585 drug products but produced a total spending of $37 billion in 2019 alone. This spending is due to the high cost of many Medicare Part B-covered drugs.
When looking at total Medicare Part B drug spending, 80% of costs come from 50 drugs alone. At the same time, the other 20% of the expenditure comes from the additional 535 drugs Medicare Part B covers. Thus, 80% of spending comes from less than 10% of covered drugs.
Medicare Part B Only Covers Part of Your Drugs
When looking at the top ten drugs, only two account for almost half of the amount spent on Medicare Part B drugs. The top ten drugs include one bone marrow stimulant, one osteoporosis drug, two macular degeneration drugs, two rheumatoid arthritis drugs, and four cancer medications. Below, you can see the costs these medications require from Medicare beneficiaries.
Find Medicare Plans in 3 Easy Steps
We can help find the right Medicare plans for you today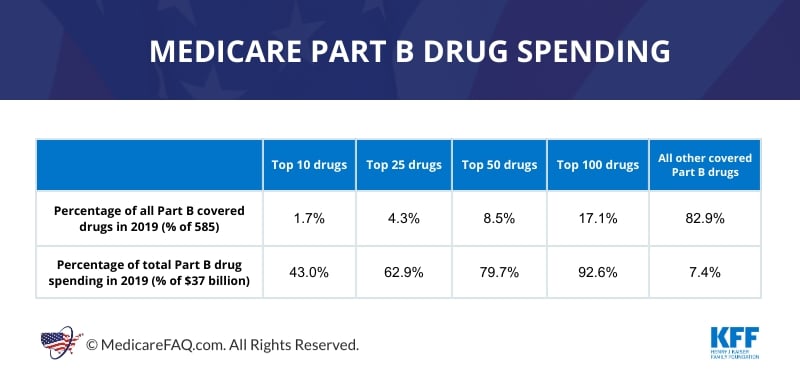 Top 10 Medicare Part B-Covered Drugs by Expense:
Below is a chart showing the highest percentage of spending on Medicare Part B covered drugs.
As you can see, Medicare Part B drug spending is highly concentrated with just a handful of drugs receiving coverage. The drugs with the highest spending treat severe conditions. However, the high cost of these potentially life-saving medications could steer many beneficiaries away from receiving the treatment.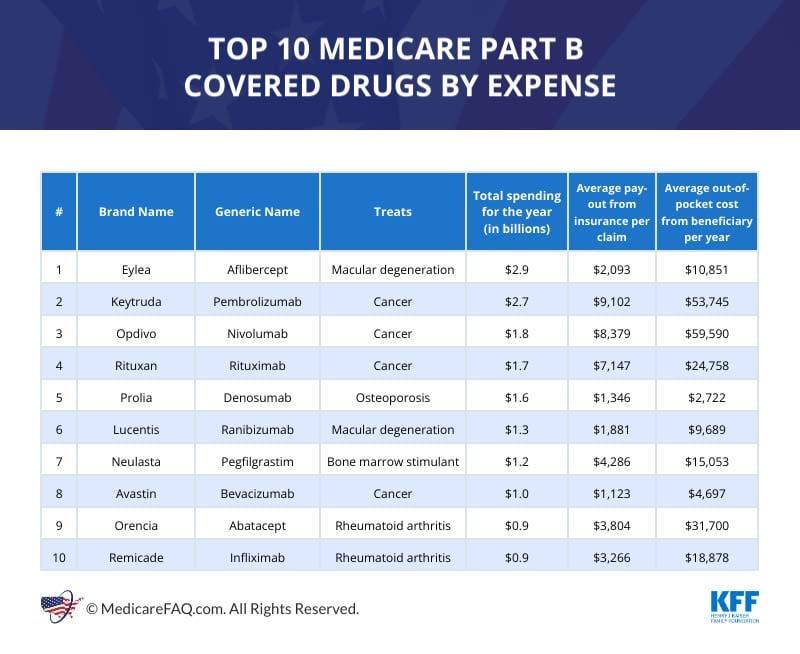 The High Cost of Medicare Part-B Covered Cancer Drugs
As you can see from the chart above, several of the most expensive Medicare Part B-covered drugs are a form of cancer treatment. Of the top ten most-expensive Medicare Part B-covered drugs, Keytruda, Opdivo, Rituxan, and Avastin all treat cancer and are administered in a doctor's office. Thus, these medications receive coverage from Medicare Part B.
In addition to Part B-covered cancer medications, Medicare Part D-covered cancer medications are also among the most expensive drugs available. In 2020 over $16 billion in total Medicare Part D spending went to cancer-related medications.
Original Medicare Drug Cost-Sharing

After you meet your Medicare Part B deductible, Medicare covers 80% of services. This leaves you responsible for 20% of all Medicare-covered service costs.
1 in 10 beneficiaries spent at least $5,000 on Medicare Part B drug cost-sharing liability.
Of the Original Medicare beneficiaries who utilized Medicare Part B drug coverage, the number who used Medicare Supplemental coverage is unclear. However, if these beneficiaries were utilizing supplemental coverage, their out-of-pocket cost-sharing responsibilities could have been much lower.
For example, a Medicare beneficiary with coverage through Medicare Supplement Plan G may have only been responsible for costs up to the Medicare Part B deductible. Once they met the deductible, Medicare Supplement Plan G would cover 100% of the remaining charges.
Additionally, a beneficiary with Medicare Supplement Plan N would be responsible for costs up to the Medicare Part B deductible and an additional $20 copayment for seeing a physician.
Medicare Advantage Drug Cost-Sharing

As a Medicare Advantage enrollee, you have slightly more freedom in choosing your Medicare Part B cost-sharing limits. Many Medicare Advantage plans have different coverage options. However, no Medicare Advantage company can charge more than 20% coinsurance for any Medicare Part B-covered drugs at an in-network provider.
However, this percentage is uncapped for out-of-network providers. In some cases, Medicare Advantage beneficiaries may be responsible for 100% of drug costs when visiting an out-of-network provider.
The good news is that all Medicare Advantage plans have a maximum out-of-pocket limit for both in-network and out-of-network costs.
Can Medicare Drug Costs Be Reduced?
To combat the rising Medicare drug costs, many support widespread drug reform to help lower the cost of prescription drug spending in the United States. In his most recent State of the Union address, President Biden called upon Congress to pass legislation to reduce drug costs, especially for those reliant on Medicare.
The Build Back Better Act passed through the House of Representatives in late 2021. This act offers multiple provisions to lower drug costs. However, this piece of legislation has not yet passed through the Senate.
The Build Back Better Act would allow the government to negotiate drug prices with manufacturers. These prices would then be the same across all insurance companies and plans. If the drug manufacturer and the government do not come to an agreed price, the drug company will pay a considerable tax.
The graph below from Congressional Budget Office data depicts the estimated drug savings under the Build Back Better Act.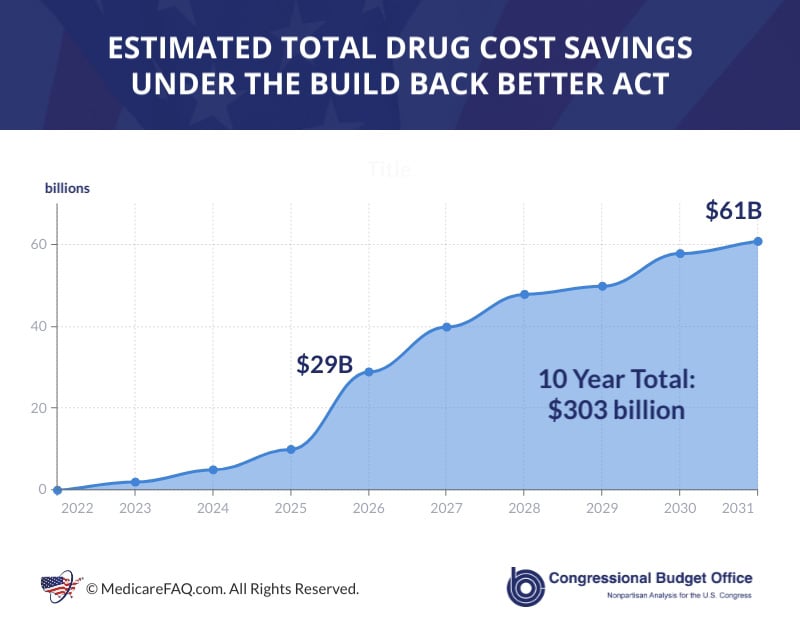 How to Save on Medicare Part B Drug Costs
If you have Medicare and need Medicare Part B-covered drugs, you may worry about how to afford high-cost medicines. A Medicare Supplement plan will be your best option to receive the most comprehensive coverage.

Most Medicare Supplement plans offer full coverage for the 20% coinsurance you owe on Original Medicare. So, your out-of-pocket costs will be limited, which allows you to utilize potentially life-saving drugs at a fraction of the retail price.

To find the best Medicare Supplement plan, contact us at the number above. We provide free plan comparisons and are dedicated to helping you find the best possible plan for your needs. If you cannot talk now, complete our online rate comparison form and we will do the hard work for you.

Enter ZIP Code
Enter your ZIP code to pull plan options available in your area.

Compare Plans
Select which Medicare plans you would like to compare in your area.

Get Quote
Compare rates side by side with plans & carriers available in your area.
Sources:
MedicareFAQ is dedicated to providing you with authentic and trustworthy Medicare information. We have strict sourcing guidelines and work diligently to serve our readers with accurate and up-to-date content.