Trump's $200 Drug Card for Medicare Beneficiaries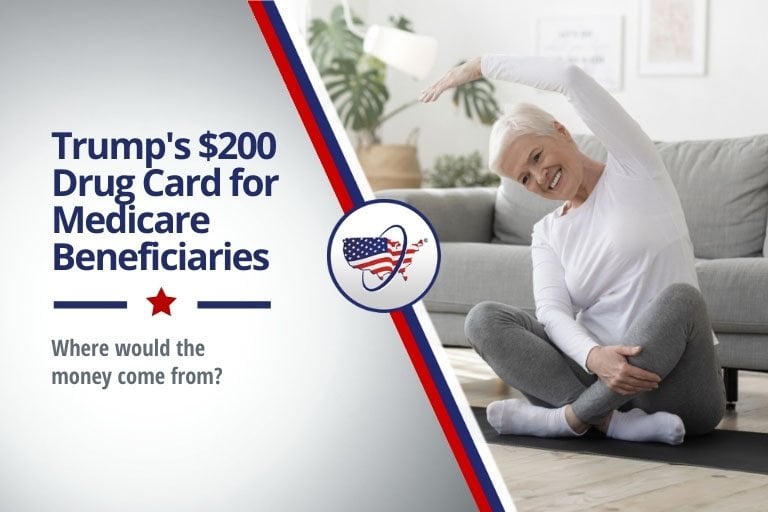 Last Updated on by
Trump announcing a $200 drug card for some people on Medicare is huge. For many Americans, prescription drug costs can be oppressive. In his fight for reelection, President Trump is presenting solutions to this burden for those on Medicare. Keep reading to learn more about his plan and the likelihood of $200 Medicare cards becoming available soon.
What You Need to Know About Trump's $200 Medicare Cards
Recently, the President announced that to help reduce drug costs for Medicare beneficiaries, his administration plans to distribute $200 payment cards. He stated that 33 million people would get these cards. While this is an appealing proposition, President Trump didn't immediately specify where the money for these cards will come. The White House states that the money will come from a demonstration under Section 402 and savings from the Most Favored Nation plan. However, the plan hasn't yet been implemented and is facing opposition.
What is the Most Favored Nation Plan
The President later said that he expects to pay for the payment cards with money saved from the Most Favored Nations plan. The plan refers to his direction to Heath and Human Services to reduce the prices of prescription drugs and other products covered by Part B. The model that Health and Human Services are testing strives to establish prices that don't cost in excess of the most-favored-nation price. The most-favored-nation price means the minimum price. Adjusted for Gross Domestic Product and volume, for pharmaceutical products sold in a member country of the Organization for Economic Cooperation and Development. The purpose of testing these models is to keep prices down by tying their prices to those in other countries.
When Will Trump's Drug Discount Cards be Distributed?
While the White House says that the cards will be going out as soon as possible, they say not all will go out prior to the election. Many people suspect that the President is attempting to secure the senior vote with his drug savings promise. Trump's Ameria First Health Plan for 2021 addresses the need for lower-cost prescriptions and the doctor shortage. By eliminating some of the administrative work, doctors can spend more time with patients and more ties. Ultimately, the cards would cost over $6.6 billion, a staggering number. President Trump says that the procurement is possible due to the funds to be saved by his plan. If Medicare recipients get the cards, it could help pay for the drugs many need. Initially, there was talk of the Trump White House mailing $100 cards to seniors before November; but, that didn't happen.
Can Trump Deliver the Promise of $200 Drug Cards to Medicare Recipients?
Like the previous plan, the $200 cards might not come to fruition either. Also, only about half of all the Medicare recipients will get a card. He has also not specified who would receive the cards. But, it's worth keeping an eye out for yours in case you do. Still, an Advantage plan or Part D plan will help anyone more in the long-run than one drug savings card. Some may say this is a political ploy. Others may say, Trump, is writing a blank check to win an election. Either way, never before seen cards and a lot of money on the line, I expect a congressional vote is necessary for Trump to legally issue these. Unless of course, there is a legal technicality making this possible for Trump. But, the last time a president took an unclear law and spent billions of Medicare funds without congressional approval, there were subpoenas issued and an investigation began.