Summary: Projected Costs are now available for 2024 Medicare Part D plans. Plus, exciting changes in federal healthcare drug coverage are available that will change how you pay for high-cost prescription drugs. Estimated Read Time: 4 min
Table of Contents:
The Centers for Medicare & Medicaid Services (CMS) recently announced important updates for Medicare beneficiaries. These updates include a projected decrease in the average monthly premium for Medicare Part D plans in 2024 and significant changes to the catastrophic coverage drug phase.
These developments will help provide beneficiaries with lower out-of-pocket costs and improved coverage options. Below, we discuss the details of these changes and their potential impact on you, the beneficiary.
Projected: Medicare Part D Premiums Decrease in 2024
CMS's announcement is exciting news for the millions of Medicare beneficiaries who rely on Medicare Part D benefits for prescription drug coverage each year. According to the latest projections, the average monthly premium for Medicare Part D in 2024 is anticipated to be $55.50. This is a nearly 2% decrease from the 2023 average premium of $56.49.
The stability in premiums can be directly attributed to improvements made to the Part D program through the Inflation Reduction Act, such as drug negotiations, accountability for drug manufacturers, and overall reduced costs for Medicare beneficiaries. These improvements help ensure the Medicare Part D program remains accessible and affordable for all beneficiaries.
However, it is important to keep in mind that these numbers are only projections at this point and are subject to change. We will keep you up-to-date with the latest Medicare Part D premium news as soon as the official amounts are released.
How Does CMS Determine the Average Projected Premium for Part D?
CMS's decision to release the projected average Medicare Part D premium is an act of transparency from the federal healthcare program. This average premium is calculated based on plan bids submitted to CMS by Medicare Part D plan carriers and serves as a valuable tool for individuals to comprehend overall premium trends.
This transparency empowers beneficiaries to make informed decisions during the upcoming Annual Enrollment Period, where they can choose from a variety of plan options available in their area for the following calendar year.
Choosing the right Medicare Part D plan for your healthcare needs is just as important as choosing the right plan for your budget. Having these numbers available to you ahead of time allows you to better understand how a plans monthly premium fairs, among others.
Changes to Medicare Part D Insulin Coverage in 2024
In 2024, Major changes are coming to insulin coverage through Medicare Part D. Insulin is a necessary drug for millions of Americans, and extremely high costs deter enrollees from receiving their necessary prescription each month. In January, Medicare Part D plans are no longer able to apply the Medicare Part D deductible to any insulin product listed on the plan's formulary or any vaccine recommended by the Advisory Committee on Immunization Practices.
Further, a Medicare Part D plan may not charge more than $35 for a month's supply of insulin in the initial coverage phase or coverage gap phase. This cost decrease is a huge win for those previously unable to afford their prescription and makes receiving life-saving medication accessible for a wider range of Medicare enrollees.
What is Catastrophic Coverage, and Where is it Going?
In addition to the premium decrease, the Medicare Part D program is set to undergo transformative changes in 2024, particularly in the catastrophic coverage phase. The catastrophic coverage phase is known for its high out-of-pocket expenses for beneficiaries with significant drug costs. The changes in this phase are designed to alleviate financial burdens for Medicare Part D enrollees with high-cost medications.
In 2024, Medicare Part D enrollees will no longer be obligated to pay the 5% coinsurance that is currently required during the catastrophic coverage phase. This change translates to a capped out-of-pocket spending threshold for Part D enrollees. Under the new structure, the catastrophic threshold for 2024 will be set at $8,000. This threshold includes out-of-pocket by the consumer, the amount spent by your insurance company, and manufacturer discounts on drugs during the coverage gap phase.
So, what does this mean for you? To put this change into perspective, the elimination of the 5% coinsurance in 2024 will result in substantial savings, potentially saving beneficiaries thousands of dollars. This saving will be evident to those who typically spend hundreds or thousands of dollars each month on prescription medications.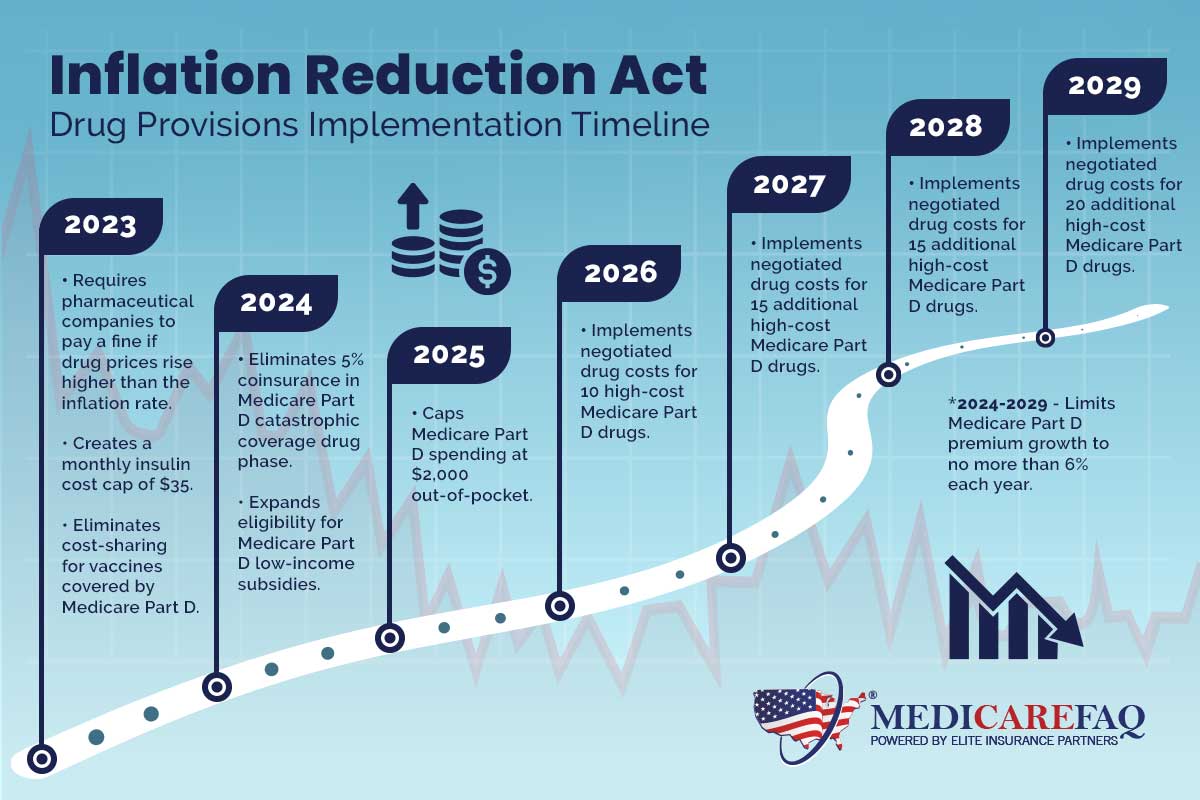 Changes to Medicare Part D Extra Help in 2024
In addition to the elimination of catastrophic coverage coinsurance and reduced insulin costs in 2024, Medicare Part D Low Income Subsidy or Extra Help program is also seeing a revamp in requirements.
Extra Help allows low-income individuals to pay $0 premiums for Medicare Part D coverage and offers fixed copayments for prescription drugs.
This program will be expanded to those who fall between 135% and 150% of the federal poverty line and meet the predetermined resource limit requirements. In previous years, Extra Help was only available to those making less than 135% of the federal poverty limit.
Preparing for Medicare Part D in 2024
The Medicare Annual Enrollment Period for coverage beginning January 1, 2024, is scheduled from October 15 to December 7, 2023. Be sure to research your plan options and compare your coverage to ensure you make the most informed decision possible regarding your 2024 Medicare Part D coverage.
During the Annual Enrollment Period, our agents can help educate you on the plans in your area to fit your healthcare and financial needs. Complete our online rate form to work one on one with a licensed agent in your area.