Guide to Health Insurance for People with Medicare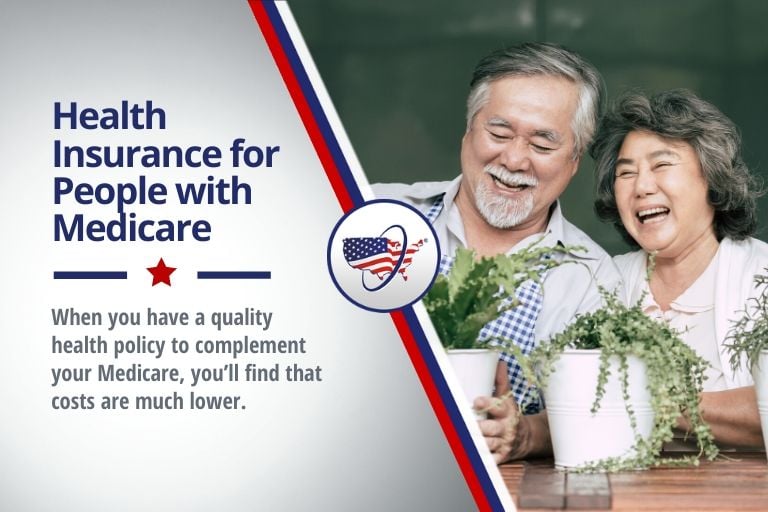 Last Updated on by
Health insurance for people with Medicare is necessary. It can be shocking to learn that Medicare doesn't cover everything.
But, when you have a quality health policy to complement your Medicare, you'll find that costs are much lower and more predictable.
There are different types of Medicare health plans, and we're going to discuss the options available throughout the country.
Keep in mind, the best plan for you is the one that brings you the most value. Insurance is more than just a premium.
What are the Different Types of Medicare Health Plans
There are several types of Medicare health plans. There are pros and cons to most options; the important thing is to choose what makes sense to you.
Medicare Supplement plans fill the gaps in Medicare; hence they are commonly called Medigap plans.
Part C Medicare Advantage plans are different; they have their own gaps in coverage but frequently cover Part D and include ancillary benefits.
Then, Medicare Savings Accounts are high-deductible Medicare Advantage plans.
Further, some people are eligible for employer healthcare retirement benefits. For example, some companies offer Medicare Advantage plans to their retired employees.
Again, the best plan for you depends on your situation.
Choosing a Medigap Policy in 2020
The top three most popular plans are Medigap Plan F, G, and N. But, depending on when you become eligible for Medicare, you may not qualify for Plan F.
Any agent will tell you that Medigap is more than a premium; you need the policy that brings you the most value. And, since premiums vary by location, eligibility, and more, it's impossible to say one plan is better than another.
Because each person will have a different need or want something different from their policy, for example, if you're someone that sees the doctor frequently, you'll want coverage that doesn't have copayments like Plan G.
But, if you rarely need a doctor and you take care of yourself, you may be comfortable with copayments like Plan N.
To choose the best Medigap policy in 2020, start working with an agent that has your best interests in mind.
Medicare Advantage Coverage Choices
No two Medicare Advantage plans are identical. They vary between the county and offer a variety of coverage options.
The biggest perk of Part C Medicare Advantage is the extra benefits. Many people refer to these as "all-in-one" plans.
But, there are many reasons why these plans are inadequate. Like, the doctor networks on these plans are NOT robust.
Yet, if you don't qualify for Medigap because you're under 65 or another reason, some coverage is better than none.
The Part C plans available to you will depend on where you live. Not all plans are available in all areas.
The Basics of a Medicare Savings Account
Medicare Savings Account plans aren't available everywhere and resemble a Health Savings Account. But, it's worth it not that they are NOT Health Savings Accounts.
The plan will have a high deductible and each year Medicare will deposit money into the Medical Savings Account. The money you use on covered costs will count toward your deductible.
These plans don't include Part D and you'll need to buy a separate policy for drug coverage.
Employer Health Insurance for People with Medicare
Some employers offer health insurance for people with Medicare. But, not all employers provide benefits for those going on Medicare.
If your employer provides options for coverage after retirement, talk to the benefits administrator about the best routes for you.
FAQ's
Guidance on Health Insurance When You Have Medicare
Health insurance for people with Medicare is available. If you're on Medicare and have questions or need help finding a policy, give our agents a call at the number above.
We can help you identify the best policy, walk you through the enrollment process, and help you along in your Medicare journey.
You deserve the best coverage for you and our agents know that. If you can't call now, fill out an online rate form to see the rates in your area today!